Who is the best full-back in the Premier League?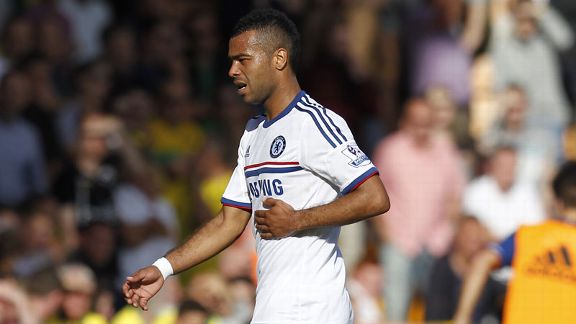 GettyImagesAshley Cole: Once ranked as one of the best left-backs in the world, but now can't get into the Chelsea team ahead of Cesar Azpilicueta.
In modern football there are increasingly few specialists, with advances in conditioning and analysis playing a pivotal role. Nowadays the majority of players are expected to be multi-fictional, able to impact a match in various phases of play. The role on the pitch that has perhaps adapted the most in this sense is that of the full-back.

These players are often the out ball for their sides, sometimes averaging the most touches on the pitch as they are expected to be able to get up and down the line to support attacking play as well as fulfill their defensive duties. It's fair to say that the days of the defensive full-back seem to be coming to an end. A look at any average heat map of players' touches in a game tends to show the right and left-backs stationed around the halfway line, positioned to bomb forward when needed but not leave space exposed on the flanks.

In recent seasons in the Premier League the side that has relied upon their full-backs perhaps more than any other has been Everton. There has been a slight change in emphasis as the Toffees switch to a more possession based approach under Roberto Martinez, but their full-backs remain integral to the system.

On the weekend gone by both where on the scoresheet for the Merseysiders, with Seamus Coleman adding to his goal from the opening day at Norwich and Bryan Oviedo -- replacing the injured but essential Leighton Baines -- also getting in on the act. Elsewhere Kyle Walker was in the news for an opener against United before his error led to Wayne Rooney's equaliser, while across the capital the absence of another England international was notable once again.

Ashley Cole has been dropped by Jose Mourinho of late, initially due to injury but since out of preference to Cesar Azpilicueta. The former Arsenal man has been one of the greatest full-backs of his generation but question marks have arisen in recent years as to whether he offers enough at both ends of the pitch. Very few offer the experience and nous that Cole can in a defensive sense but in this day and age that's seldom seen as sufficient.

WhoScored give us their run down of the best full-backs in the Premier League to date this season, with Mourinho's decision to drop Ashley Cole tough to contest after a slow start to the campaign.

Atop the pile after an impressive upturn in form is Newcastle's Mathieu Debuchy. The Frenchman has been able to successful marry the defensive and offensive duties of the modern day full-back, displayed in the fact that his statistically calculated strengths are aerial duels, crossing, key passes and tackling.

The right-back has garnered an average rating of 7.5 having won the second most aerial duels per game (four) and completed the third most clearances per game (5.8) of all full-backs in the league. Elsewhere he's averaged an impressive 2.8 tackles per game and is one of only seven full-backs to register more than ten key passes this season.

Trailing the Magpies man closely is Liverpool and England's Glen Johnson (7.46). The Reds' defender is the only other full-back among WhoScored's top 20 players thus far and the 29-year old represents the ilk of physical full-backs that are becoming more prominent. Johnson has the pace and power to affect the game at either end of the pitch, with only three full-backs having won more tackles per game (three) and none able to match the Liverpool man in terms of dribbles per match (two).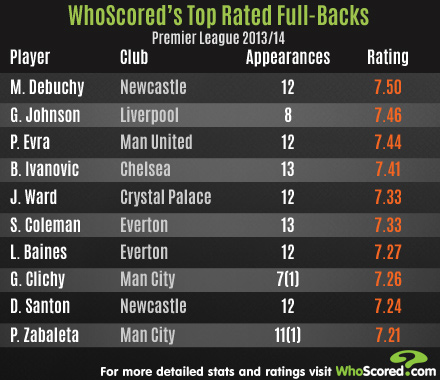 Other / WhoScored.com
United's Patrice Evra (7.44) is up next, and the experienced France international is one of those that has had to adapt his game over time. Much of his early career was spent in an advanced position on the left flank, only really establishing himself as a full-back during his time under Didier Deschamps at Monaco. That development has certainly helped him later on in his career as Evra has shown great longevity, arguably improving at United since turning 30-years-old. His figure of 2.7 tackles per game is the most at the club while only one other full-back has created more chances this season (17).

Chelsea's Branislav Ivanovic (7.41) is not far behind, while both Everton and City full-backs rank among the top 10. Where then, you might ask, is Ashley Cole?

As many as 43 players have made at least five starts at full-back this season. Of those players only 10 have a lower rating than the Blues defender to date (6.76). The 32-year-old has won a respectable 2.4 tackles per game this season, highlighting the fact that his defensive capabilities can rarely be called into question. However, he's won just five of 14 aerial duels, completed just three accurate crosses and embarked upon only two successful dribbles.

It seems that as Ashley Cole's attacking influence diminishes so too does his status in both the Chelsea and England side. It's certainly an era for attacking full-backs right now, and that much shows little sign of abating anytime soon.

All statistics courtesy of WhoScored.com, where you can find yet more stats, including live in-game data and unique player and team ratings.