Can Charlie Adam fit in at Stoke?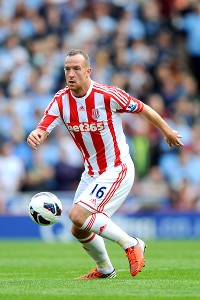 GettyImages / Laurence Griffiths/Getty ImagesCharlie Adam is either the key player, or he doesn't fit into the side. Which will it be at Stoke?
At Stamford Bridge last season, Charlie Adam appeared to have become a proper Liverpool player, as Kenny Dalglish's side recorded a fine 2-1 victory over the eventual European Champions.

The Scot played a crucial role in both goals. First, he energetically closed down Jon Obi Mikel as AVB-led Chelsea tried to pass out from defence, won the ball, and prompted a rapid Liverpool passing sequence leading to Maxi Rodriguez's cool finish. His contribution for the winner was even better -- a 50-yard pass out to Glen Johnson, who had stormed forward from right back to slide in a late winner.

It was a slightly sad sight to see him back at Stamford Bridge last weekend with Stoke City. Adam had been renowned because of his excellent vision and passing ability, but the Reds discarded him because of his inability to play "The Liverpool Way" -- or at least the Brendan Rodgers Way -- and has ended up at the league's most direct, simple team.

Of course, that is a simplistic summary -- Rodgers demands short passing football, and Adam's trademark was always his long, ambitious diagonal balls. In fact, his style more naturally suits Stoke. Away at Chelsea, there were two primary attacking strategies. The first was hitting long balls towards the far post for Peter Crouch, who could either score himself or knock the ball down to teammates. The second involved quick switches of play, attempting to get wide players Michael Kightly and Jon Walters running towards goal between the opposition centre back and full back. Adam's left foot can play a part in both moves, right?

Wrong. Tony Pulis elected to play Steven N'Zonzi and Glenn Whelan in the two deep central midfield roles. Adam was used as an advanced playmaker in support of Crouch, where he didn't know what to do with the ball on the rare occasions it came his way. Furthermore, he didn't even take the majority of Stoke's set pieces, which were generally the responsibility of Whelan. Once described as being worth 10 million pounds for his corners alone by Sir Alex Ferguson, is the 4 million pound Stoke signing now into negative value?

It was an unhappy game for Adam -- he was booked for an utterly needless foul on Ramires high up the pitch, received a warning from the referee shortly afterward, had an exchange of words with Pulis just before half-time and was finally withdrawn after an hour, replaced by Michael Owen. And why not? He was a better candidate for picking up Crouch's knock-downs.

Few Premier League players have experienced such a turbulent couple of years as Adam. He was promoted with Blackpool in 2010-11, highly rated but untested at the top level. Ian Holloway's side offered great ambition but lacked discipline, and Adam was their key man, a natural in a side based around long diagonal passes. In a more negative sense, he summed up their naïve determination to attack at the expense of shape and structure, but as Blackpool had an excellent first half of the campaign, Adam was linked with a move to a top club.

The problem was, Adam believed the hype. Blackpool supporters became frustrated with his selfishness, his overambitious passes and his insistence on doing everything himself. Holloway, having declared one of Adam's early-season passes as the best ball he'd ever seen, suddenly realised the issue. "It's got to be 75 percent short and quick and tidy, and 25 percent lovely jubbly. Not the other way around," he said. "He has to concentrate on playing simply, quickly, nicely and neatly, and forget all his World Cup Willie shots from the halfway line."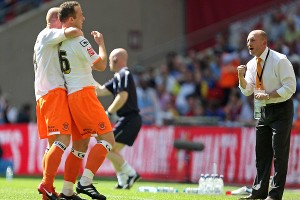 GettyImages / The FA/The FA/Getty Images"It's got to be 75 percent short and quick and tidy, and 25 percent lovely jubbly. Not the other way around," said Ian Holloway, Charlie Adam's coach at Blackpool.
Adam tried a few of those shots at Liverpool, too. Burdened by the task of becoming Liverpool's first reliable deep-lying playmaker since the departure of Anfield hero Xabi Alonso, Adam had a few moments like the one at Stamford Bridge, but failed to set the world alight and his departure was no surprise.

Adam is an unusual player. He's frequently criticised for his lack of mobility -- he lacks pace and stamina, and at Blackpool he had two midfield colleagues doing all his running. Regardless whether he was ahead of them or behind them, he didn't need to press, to chase, to close down -- he was the star man. He's not afforded that liberty elsewhere.

What kind of manager would cast aside a talented passer merely because he can't run around a lot? Well, Pulis, perhaps. But the point remains: A good footballer can compensate for his lack of mobility. Adam's technique isn't in doubt, but his footballing brain remains frustratingly underdeveloped; he's still too keen to play the killer pass. Maybe his advanced positioning is Pulis' attempt to calm him down and encourage neater, crisper passes, but this would mean a change of style from both Adam and Crouch, who is hardly ideal for sprinting onto measured through-balls.

Besides, if there's one side in the league that can easily accommodate a deep-lying midfielder who enjoys thumping ambitious, occasionally wayward long passes, it's Stoke. To do that, however, Adam should be dropping short and collecting the ball from the centre backs, and Pulis will surely try him there sometime -- Adam's two starts have been against Manchester City and Chelsea, where the midfield's main task is keeping a good defensive shape. Stoke will open up at home to Swansea this weekend, and Adam might be perfect for the system.

But if Pulis wants to recreate his Stamford Bridge strategy, Adam behind Crouch makes little sense; Stoke would be better with Walters there, and Adam on the bench. And this is the crucial point about Adam -- his skill set is so specific he's either the key player, or he doesn't fit into the side. At Blackpool it was the former, at Liverpool it was the latter -- which will it be at Stoke?