Lack of Moyes' identity to be tested vs. Everton
A recent development in our expectations of football managers is the insistence that they boast an overarching managerial "philosophy" or "ideology." It's apparently no longer enough to simply pick the correct players and formulate tactics to get the best from them -- there's a need for a grander, long-term, all-encompassing insistence upon a particular playing style.

While managerial strategy has been a crucial factor in top-level football for decades, these lofty expectations are relatively new -- but it's already become an entrenched factor whenever a new manager takes charge of an elite club. Seven of the current top nine teams in the Premier League have appointed a new manager over the past 18 months, and in almost every case it was easy to deduce their philosophy upon their appointment.

At Liverpool, Brendan Rodgers wants incessant ball retention. At Tottenham, Andre Villas-Boas espouses a high defensive line and quick, vertical passing. At Everton, Roberto Martinez demands possession play and heavy use of the flanks. At Chelsea, Jose Mourinho requires deep defending and quick counterattacking. At Manchester City, Manuel Pellegrini preaches ball retention and clever, integrated movement between versatile attackers. At Southampton, Mauricio Pochettino preaches strong pressing and quick, one-touch midfield passing.

- Donaldson: Moyes vs. Martinez
- Mitten: What's next for Rooney?
- Hirshey: Roo to the rescue vs. Spurs
- Moyes: RvP to play vs. Everton?

But Manchester United's David Moyes is something of an anomaly. He was regarded primarily as a reactive manager at Everton, who varied his strategy according to the opponent. Whether that's compatible with having a strong overall philosophy is up for debate -- he was regarded as a tactician rather than an ideologue. Aside from Everton's excellent play down the left in recent years between Leighton Baines and Steven Pienaar, your average football fan would find it difficult to summarise Moyes' playing style, especially when compared to the aforementioned managers.

"He had his ideas on what he wanted and how he would like to play and he would go through that in detail," said Moyes' former centre-back David Weir. "But he probably came at it from a defender's perspective." Among the Premier League's top managers, that makes Moyes unusual.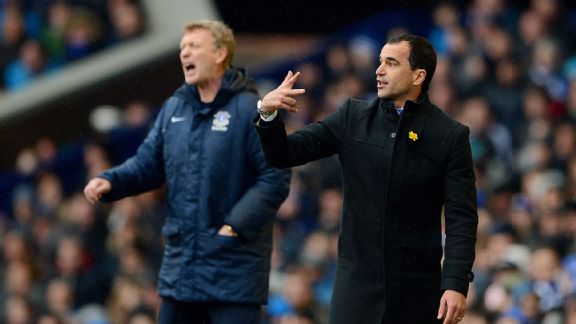 Michael Regan/Getty ImagesRoberto Martinez's clear style has made David Moyes' lack of an apparent footballing philosophy stand out even more.

The lack of a clear identity has caused Moyes three separate problems so far at Man United. First, he is unable to depend upon the "entertainment factor" to get United fans onside. Overall, United's support has been extremely supportive and encouraging during his tenure -- after all, these are not fans accustomed to showing dissent towards a manager. A Moyes chant was formulated before the season had even begun, one that is constantly audible at matches.

However, even loyal supporters have (at least privately) had doubts about Moyes. It's understandable considering his lack of pedigree and some underwhelming results, despite the current 12-match unbeaten run. The playing style of a Martinez or Pochettino might have prompted more genuine excitement.

Second, it's difficult to understand Moyes' ultimate target in terms of playing style. When Rodgers struggled in his first few weeks as Liverpool manager (partly because of a difficult fixture list, something Moyes also encountered this campaign), he could point to clear, visible signs of progress.

With possession dominance a key factor in Rodgers' belief -- at least at that time -- he could excuse poor results by marveling at Liverpool's ball retention. In fact, he didn't need to -- because fans understood Rodgers' intentions, and could see the possession play for themselves. Moyes can't play that card.

Third, and a consequence of the other two factors: The result becomes of paramount importance. It's inescapable -- if the side isn't trying to entertain and they're not slowly working towards an obvious end game, they must win.

Moyes is also in a difficult predicament because United's existing strategic identity under Sir Alex Ferguson is surprisingly unclear. Attempt to concisely explain Ferguson's strategy at United, and it would be significantly more difficult than explaining the beliefs of, for example, Arsene Wenger, Pep Guardiola, Fabio Capello, Carlo Ancelotti or Vicente del Bosque.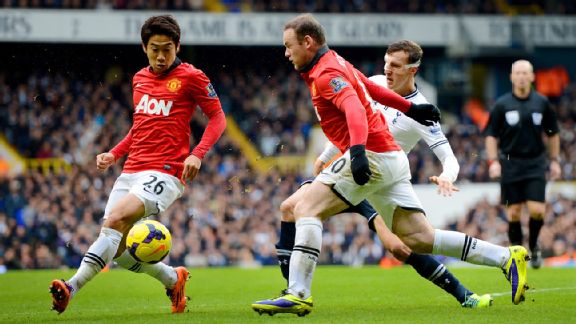 Michael Regan/Getty ImagesMan United lacks a definable style under David Moyes, yet it was always tough to summarize the club under Sir Alex Ferguson, too.

Ferguson's United were predominantly about astonishing self-belief, about the force of personality and the spirit within the side. His autobiography gives relatively few examples of on-pitch decisions (with the obvious caveat that positional changes and formation switches are rarely juicy enough to appeal to the mass market), and instead focuses upon how he maintained a motivated and cohesive group. Ferguson wasn't a poor strategist, by any stretch of the imagination, but he wasn't primarily a strategist either.

Besides, United's existing playing style, whatever you consider that to be, is also slightly problematic for Moyes because it doesn't need overhauling; United enjoyed consistent success under Ferguson, who departed by winning the title. It's hardly a dreadful starting situation, but in terms of playing style it's easier to be in the position of Villas-Boas replacing Harry Redknapp, or Mark Hughes replacing Tony Pulis -- in those situations, there's a specific desire from the board to evolve the football on show, and a "transition period" is acceptable.

Certainly some Moyesian elements have been obvious in United's performances so far. In particular, the overlapping of Patrice Evra is highly reminiscent of Baines' performances for Everton in the past few years, with the Frenchman's crossing being one of United's most promising methods of creating chances.

It was also interesting to see Phil Jones moving out wide to provide the cross for Wayne Rooney's first goal against Tottenham on Sunday. He was playing in a central midfield position, but one of Moyes' key beliefs is the need to create overloads down the flanks -- either two-against-one or three-against-two. The only way the latter can be created is with a central player moving out wide, and while the goal came primarily because of a Kyle Walker error, it also shows Moyes' methods starting to take shape -- although it's doubtful many fans noticed.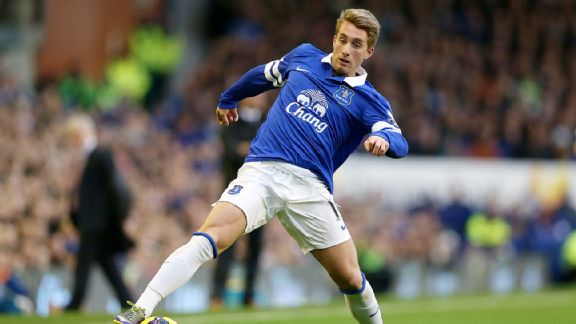 Clive Brunskill/Getty ImagesHighlighting the managers' differences are players like Gerard Deulofeu, as exciting but flawed young stars saw little time under Moyes.

Moyes' approach is in stark contrast to that of his replacement at Everton, Martinez, who is the classic modern football philosopher. For Everton, both possession and pass completion statistics are up around 4 percent compared to last season -- the Toffees have never previously played such exciting, adventurous football in the Premier League era.

In the sense that both managers rely upon width, Martinez has continued with some of Moyes' tactics, albeit in a more attacking format. Full-backs Baines -- unavailable this week -- and Seamus Coleman are allowed to push forward simultaneously, often with Gareth Barry dropping into defence. Pienaar and Kevin Mirallas play direct wide roles and have less responsibility to protect their full-backs.

The introduction of Gerard Deulofeu is even more significant, because the Barcelona loanee wouldn't have joined Everton had Moyes still been at the club. He's thrived in one-against-one situations out wide and while his defensive discipline remains a concern, Martinez believes his attacking potential more than compensates for his tactical immaturity.

By contrast, Moyes wouldn't subscribe to that belief and always took too long before trusting younger players -- the likes of Leon Osman and Coleman are older than many people think (32 and 25, respectively) because they took so long to establish themselves, despite their obvious talent. Meanwhile, many fans believed Ross Barkley should have been a regular from the start of last season -- Martinez has made him a key part of the side and has embraced his unpredictable positioning.

Meanwhile, Moyes is more pragmatic. Arguably, it's a braver approach -- there are no excuses for poor results. For Moyes, the scoreline is the only truth.

Defeat to Everton this week would be a significant blow -- not just losing, but losing to his former side, who are not just more entertaining but are evolving their style of play. Following two consecutive away draws, Moyes needs a performance. Or, rather, he needs a result.