Tactics Board: Rooney work ethic shines through
TOTTENHAM HOTSPUR 2-2 MANCHESTER UNITED

There are different ways to play as a lone striker and Roberto Soldado and Wayne Rooney provided a study in contrasts. The Tottenham attacker has been criticised for being a peripheral player who does not get involved enough in the build-up play. Against Manchester United he had 25 touches -- three fewer than against Manchester City seven days earlier, although he was substituted with 17 minutes remaining.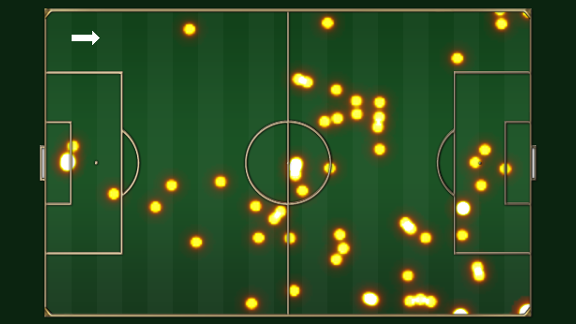 GettyImagesWayne Rooney's pitch map against Spurs.
In contrast, Rooney had 71, almost as many as Shinji Kagawa and Danny Welbeck managed between them. His pitch map is scarcely that of the conventional centre-forward and indicates how hard it is to mark him.

In many ways, Rooney played his usual game, as more of a roving No. 10, than as a No. 9, who might be expected to provide a fixed focal point in attack. The dots on the edge of his six-yard box indicate his efforts defending corners at one end, while the blob at the bottom right corner shows he takes them at the other. Indeed, his four clearances were two more than the Spurs' back four managed, and he is happy to come deep to get the ball. Soldado, who preferred to remain alone up front, was his antithesis and had only three touches in his own half.

CHELSEA 3-1 SOUTHAMPTON

Southampton play a pressing game and operate high up the pitch. Jose Mourinho's halftime answer was to abandon his usual 4-2-3-1 formation, bring on a second striker and look to exploit the space behind Mauricio Pochettino's back four. He brought Demba Ba on at the interval and the substitute's pitch map shows how involved he was in the final third of the pitch, either because Chelsea were able to play the ball over the top of the Saints' defence or, having gone from back to front quickly, they were in the area within 35 yards of the Southampton goal that is often only populated by the goalkeeper.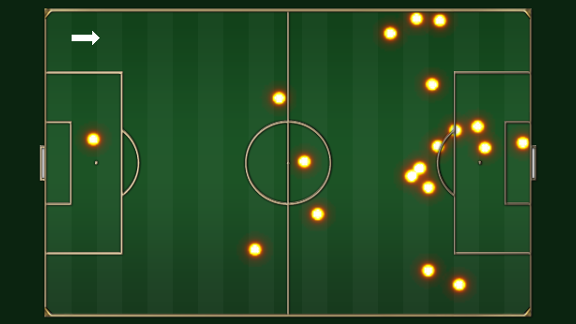 GettyImagesDemba Ba caused problems for Southampton.
CARDIFF 0-3 ARSENAL

It was a happy homecoming for Aaron Ramsey, who returned to his former club to score twice. The Welshman was involved more than any other player on the pitch, with 91 touches, and only Olivier Giroud had more attempts at goal. Ramsey's pitch map provides an idea of the range of his contributions.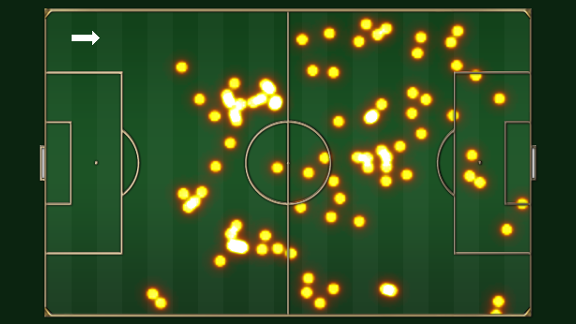 GettyImagesAaron Ramsey was a livewire against his old club Cardiff City on Saturday afternoon.
What it also illustrates is how far he gets forward and how often. In Arsenal's 4-2-3-1 formation, he has a starting position behind Mesut Ozil, but part of his task is to get beyond the German. It is a sign of his stamina how often he managed to do that. Whereas Ozil had only three touches inside the Cardiff box, and none within 15 yards of goal, Ramsey was on the ball six times when nearer David Marshall's net; on two of those occasions, of course, he scored, and while he had a more advanced role after Arsene Wenger brought on Mathieu Flamini, the majority of those touches came before then.

The other member of the central midfield trio provided the balance: While Arsenal are able to interchange positions with fluent football, Mikel Arteta was the defensive pivot in midfield. He was never on the ball within 25 yards of the Cardiff goal.

EVERTON 4-0 STOKE

Gerard Deulofeu scored one goal, made another and had five shots in a superb first Premier League start. His pitch map shows the type of player he is: the concentration of dots along the right wing are a consequence of a series of dribbles, often ending up near the byline and around 10 yards from goal. However, he also spent some of the game on the left and whereas he tended to go outside the Stoke left-back, Erik Pieters, he preferred to cut inside the right-back, Geoff Cameron, ending up in a more central area and meaning he could shoot from less acute angles.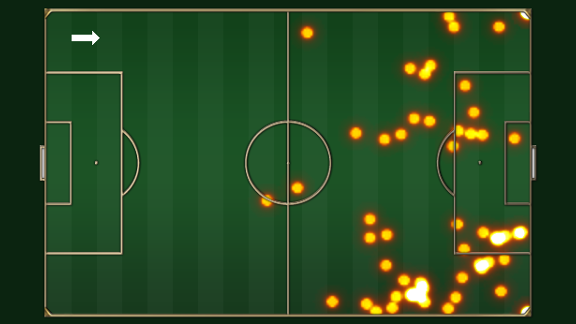 GettyImagesGerard Deulofeu caused problems all match down the right for Everton in their rout of Stoke City.
HULL 3-1 LIVERPOOL

Both managers made major decisions about their central defenders. Liverpool's Brendan Rodgers dropped Daniel Agger and recalled Kolo Toure while Hull's Steve Bruce switched to three at the back. The key men in protecting Allan McGregor's goal were on either side of that defensive trio. On the right, Curtis Davies made two tackles, five interceptions and seven clearances. On the left, as a map of Maynor Figueroa's defensive contributions shows, he made three tackles and interceptions and nine clearances. While Liverpool were poor, it shows how well defenders of lesser clubs have to play to spring an upset.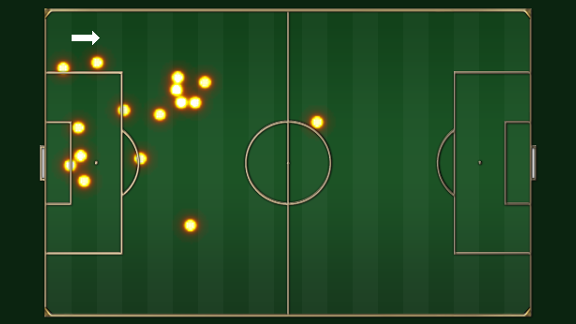 GettyImagesMaynor Figueroa's defensive influence.