Confusion reigns at White Hart Lane
Following Andre Villas-Boas' most difficult week as Tottenham coach, he would probably have wished for simpler opponents than the champions, Manchester United, this Sunday.

It's worth remembering, however, that when he faced United for the first time as Spurs coach last season, his side recorded a famous victory -- their first at Old Trafford since 1991 -- to kick-start his White Hart Lane reign.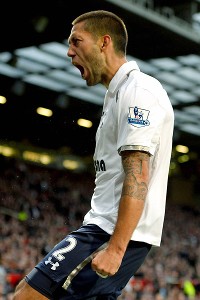 AllsportClint Dempsey's first goal for Tottenham clinched victory against Man United in September 2012.
The 3-2 victory was an extraordinary performance, and seemingly underlined Spurs' transformation under their new boss. Amazingly, they recorded just 26 percent of possession but were entirely deserving of their win, with the speed and incision provided from the midfield zone particularly effective.

Villas-Boas ordered quick, direct attacking from deep positions, with Gareth Bale scoring a superb counterattacking goal and Aaron Lennon performing well on the right flank, too.

But while those factors were evident under Harry Redknapp, Spurs' attacking was different under Villas-Boas. In particular, the performance of Mousa Dembele was marvellous. He continually dribbled his way past midfield opponents and roared toward goal, whereas his predecessor Luka Modric was a much calmer, more patient player.

Dembele's immediacy was the symbol of the new Spurs, while Jermain Defoe's performance up front was also excellent: He continually made dangerous decoy runs into the channels, opening up space for Clint Dempsey and midfield runners behind.

The defining feature of Villas-Boas' Porto was their cohesive movement, which enabled their quick attacking. The win at Old Trafford was a sign that Spurs appeared they would replicate that.

Fourteen months later, Tottenham have regressed. There is no need for panic: They remain in a respectable position in the league table, and last weekend's thrashing at Manchester City was an extreme example of their problems.

- Whoscored.com: What do the stats say?
- Darke: Pressure mounting
- Crace: Flaws cannot be ignored

However, it's now increasingly difficult to understand what type of football Villas-Boas has prescribed. Are Spurs attempting to play a direct style and attack immediately, or is there more of an emphasis upon ball retention and controlling matches?

It's worth emphasising those statistics at Old Trafford from last season: 26 percent of possession, but three goals. Last weekend at City, Tottenham managed 53 percent of possession and didn't score once. It sums up Tottenham's problems.

They're enjoying a great deal of the ball; 59 percent is close to the best in the league and an increase from the 53 percent enjoyed last season. Six percent might seem like a minimal increase, but in the context of Premier League possession statistics, with every side enjoying between 40 and 60 percent of the ball, it's a big jump.

Spurs have scored just nine goals in 12 matches, however. Three have been Roberto Soldado penalties while another has been an Andros Townsend cross that drifted into the far corner against Aston Villa.

Considering they have attempted more shots than any other side, Villas-Boas' side are staggeringly inefficient in the final third: Their attackers are competing for first place in the Premier League's worst shot conversion percentage, while Gylfi Sigurdsson has the worst corner success rate in the league, at 7 percent, and Spurs are the only side that haven't scored from a set piece. The stats pile up, the goals don't.

And while the Old Trafford victory summarised Spurs' excellence in forming reliable combinations between players, perhaps the most obvious weakness in this campaign so far is the complete lack of partnerships throughout the side.

Probably only Townsend and Kyle Walker, plus Sigurdsson and Soldado, have consistently looked dangerous together. Townsend and Sigurdsson were both absent for the defeat at the Etihad Stadium, so Spurs felt like a team of strangers.

For this, Villas-Boas must shoulder a significant part of the blame, because he's overloaded the squad with too many options of a similar standard. Look at the central midfield zone, for example, which features Sandro, Paulinho, Etienne Capoue and Dembele. All four are fine footballers, but it's difficult to understand the hierarchy.

Each of the quartet could expect to be starting, but one of football's biggest myths is the idea you can never have too many good players. Often, it leaves a manager with too many options and constant chopping and changing makes cohesion impossible to achieve.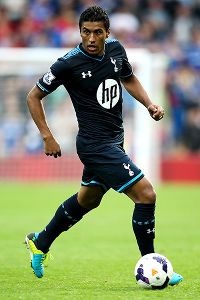 AllsportPaulinho cost Spurs almost 17 million pounds when he signed from Corinthians in June.
Paulinho has been first-choice, perhaps because of his sizeable transfer fee, but he hasn't been particularly impressive since his move from Corinthians. The other three have played various roles in different formats of the trio.

Sometimes three of these players have been used together whereas, on other occasions, two have started with Christian Eriksen, Lewis Holtby or Sigurdsson alongside.

The triangle of Sandro, Paulinho and Holtby has been used in three of the last four matches, but this format excludes Dembele, an inconsistent performer but arguably the midfielder who symbolises Villas-Boas' favoured style of football most obviously and the man who offers the most specific quality, with his midfield dribbling.

Both Paulinho and Holtby are peculiar footballers, difficult to categorise, which means it's equally difficult to find logical partners for them.

Paulinho hasn't been a disaster, and will come good, but a personal suspicion is that had the Brazilian not been at the club, other midfielders would have been used more regularly, and would have found both cohesion and balance together.

The same is true of Holtby. No individual is to blame, but there's just too much overlap between them in the Venn diagram of footballing qualities. No one has a defined role, aside from Sandro, and even he, widely admired by Tottenham supporters because of his solid, disciplined positioning, had an awful game against Man City.

Sandro was left isolated in front of the Tottenham defence and was therefore constantly forced into risky tackles. His first half included an own goal, a booking and being physically sick on the Etihad pitch, which doesn't even begin to sum up his troubles.

There's an argument that Sandro's defensive qualities are actually problematic considering Spurs' other midfielders aren't creative enough. Paulinho and Holtby are primarily physical, mobile and energetic players rather than playmakers, which means they could do with a more forward-thinking player behind them.

Juventus have the balance right, in that type of triangle: Arturo Vidal and Paul Pogba charge forward and create space for Andrea Pirlo just behind. If Pirlo was a defensive-minded player like Sandro, the system would be terribly flat.

That is just the midfield zone. Out wide, Villas-Boas has used three left-wingers in three matches. At the back, he's been forced to use his best centre-back at left-back. Michael Dawson, the captain, has started all 12 matches but is incompatible with the system.

Meanwhile, Sigurdsson isn't close to being in Spurs' best 11 individuals but feels like a logical pick considering he links well with Soldado and offers a goal threat from midfield. Eriksen helps knit the side together but needs time to adapt to the Premier League.

Erik Lamela is arguably Spurs' most talented player but has only started once in the league -- last weekend -- because of underwhelming substitute appearances and Europa League showings.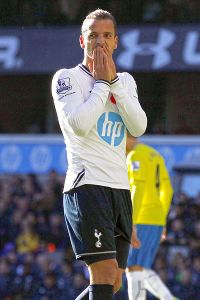 Ian Kington/AFP/Getty ImagesSoldado's struggles have been a microcosm of Tottenham's travails this season.
Soldado's movement has been disappointing, and while he can complain about the lack of service, when he has been presented with chances, he's wasted them.

Only once all season have Spurs won a league game in vaguely convincing fashion -- a 2-0 victory at home to Norwich -- which is why there's so much dissatisfaction among supporters, and supposedly in the boardroom, despite the club being just two points away from the Champions League places. The failings of other sides should not mask Spurs' own problems.

Dismissing Villas-Boas would be crazy at this stage, and few clubs can so justifiably claim this as a transition season: Spurs were something of a one-man team last season, did brilliantly to get a world-record fee for that one man and invested the money wisely in talented technical players.

The entire point of a transition season, however, is that there's a clear purpose and an easily identifiable stylistic target. Villas-Boas is supposedly the most stubborn coach around, refusing to compromise on his idealistic principles. At present, however, this is an alarmingly confused team.