What do the stats reveal about the plight of goal-shy Spurs?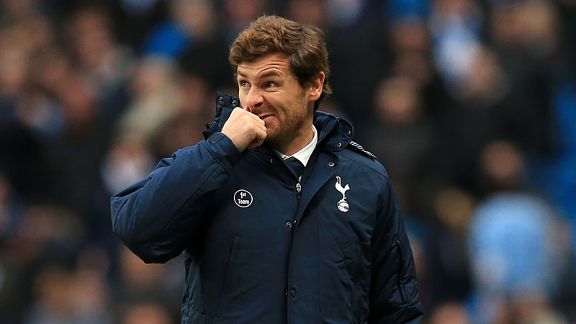 PA PhotosAndre Villas-Boas is reported to be under pressure at Tottenham.
As rumours continue to gather pace regarding the future of Andre Villas-Boas, Tottenham fans sit and wait helplessly, with little more to ponder than what went wrong in Sunday's 6-0 mauling at the hands of Manchester City and what might be around the corner with the visit of champions Manchester United to White Hart Lane this weekend.

Talk of the manager being on borrowed time seems rather misguided given that he is rebuilding a team that lost Gareth Bale in the summer after leading the team to a record Premier League points tally last season.

While the powerless continue to discuss where AVB has gone right and wrong over the past few weeks, there remains no denying that things need to improve. In the short term if they are to get anything from the United game, and longer term too if they are to mount any kind of challenge for a top-four berth.

The six goals shipped on Sunday was an anomaly. Not for Manchester City, who are the league's highest scorers, but for Spurs, who prior to the game -- and after Southampton lost 2-0 at Arsenal -- boasted the best defence in the top flight. Goalkeeper Hugo Lloris looked a shell of the player that has patrolled the Tottenham box so effectively over the past two seasons. His terrible attempted clearance less than 10 seconds into the game led to Jesus Navas' opener; that was only his second error that has led to a goal in 38 Premier League appearances. Previously so reliable, he will quickly return to his assured self, and the Tottenham defence that capitulated so meekly will be well-drilled and focused on adding to their league-high seven clean sheets.

Going forward, however, it was no surprise to see Spurs flounder. Excluding Roberto Soldado's three penalties, Spurs have managed six goals from open play this season, a tally that is the joint-worst in the league, along with newly promoted sides Hull and Crystal Palace. Comparatively, Everton, who managed 11 fewer goals (55) than Spurs (66) over the whole of last season, have netted 11 more than them (17) from open play after only 12 games of this campaign.

There have been different reasons cited for the problems. Danny Rose's absence at left-back meaning either right-footed Kyle Naughton or centre-back Jan Vertonghen creates an imbalance in the team; the fact that Spurs have still failed to find a replacement ball-playing midfielder for Luka Modric; Soldado isn't the world class striker they have been craving. All of these are contributory factors, and are to some extent true. The fact of the matter is, however, that problems were already there last season

.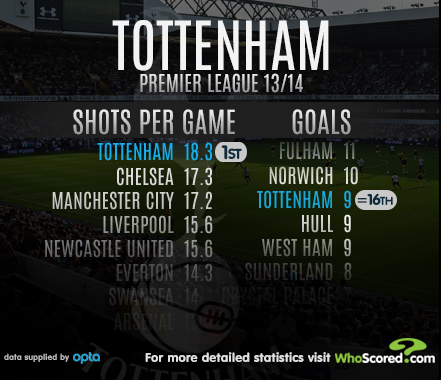 Other / WhoScored.com
Tottenham were already a team that dominated possession (53 percent average) and had a shed load of shots (17.9 per game), but in Bale they had a player that would rescue them. This season, it has been penalties coming their way, but those are not quite so reliable. Still, with the money spent over the summer, a goal tally that stretches into double figures shouldn't be beyond them.

Chances are being created. In fact, Spurs have had more shots (18.3 per game) than any other team in the Premier League having averaged the third most possession (58.8 percent). So they are keeping the ball, and are they are doing so high up the pitch, with a highest proportion of their play in the attacking third of the pitch (32 percent) in the league. This is leading to plenty of chances and the worst conversion rate in the league (4.1 percent), but the quality of those chances is part of the problem.

Fifty-seven percent of Spurs' shots this season have come from outside the area, a proportion topped only by Palace (60 percent) and Newcastle (59 percent), while a minuscule 4 percent have been inside the six-yard box, the third lowest proportion. Andros Townsend was a revelation for England in their recent qualifiers, but he has not actually been that effective for Spurs. While his presence on the pitch means something extra for the opponents to think about -- often an extra man on him -- he has adopted a shoot-on-sight policy that has not benefited his team.

A little more patience and probing might be the answer. In Christian Eriksen, they have a player who, although currently injured, has the ability to unlock a defence, as he showcased in making nine key passes in the recent loss to Newcastle. Tim Krul was Spurs' nemesis that day, but his 14 saves owed as much to poor finishing as good goalkeeping on his part. On a few occasions, Newcastle were split wide open, but the finishing of Paulinho, Soldado, Eriksen and others left Tottenham goalless.

What promising signs there were from that Newcastle game were quickly forgotten at the Etihad on Sunday. However, as we all knew when Bale departed, Tottenham would need time to rebuild and all the new players would need time to gel. There are lots of new elements to the team about which optimism wouldn't be misplaced, but there is a long road ahead if they are to turn things around. At the moment they are not playing well enough to win a top-four spot and with vast improvements needed, time is running out for Spurs and Andre Villas-Boas.

All statistics courtesy of WhoScored.com, where you can find yet more stats, including live in-game data and unique player and team ratings.