Could this be a make-or-break year for Arsenal's Theo Walcott?
Arsenal's 2-0 victory over Southampton was comfortable but forgettable.

The Gunners' goals came from a crazy goalkeeping error and a penalty, while the team's flair players like Santi Cazorla and Mesut Ozil were far from their best. In terms of long-term positives, Arsenal fans can point to three things: another clean sheet, Olivier Giroud ending his four-match goalless streak with two simple goals and the return of Theo Walcott.

Walcott's introduction on 70 minutes was greeted with a tremendous roar from around the Emirates (and polite applause from Southampton fans, who still regard the forward as one of them), which was in stark contrast to the frosty reception he was receiving this time last year before he finally signed a contract extension.

With Arsenal four points clear at the top of the league table, it's easy to forget they've been playing without their top goal scorer from last season. For all the reservations about his limited all-around ability, Walcott offers Arsenal two distinct qualities -- a tremendous burst of speed in behind the opposition defence and a cool head in front of goal. Arsenal's results suggest he hasn't been missed, but Walcott offers Arsenal another tactical option that should boost their attacking firepower.

Cross: Arsenal sending message to Europe
Mangan: Arsenal gifted goals

Walcott has been out for more than two months and has started only two matches alongside Ozil, Arsenal's record signing. The expected first-choice trio behind Olivier Giroud -- Walcott, Ozil and Cazorla -- has not yet played together in any competition.

Walcott's impact against his former club was minimal: He touched the ball just eight times in 20 minutes.

But there were a couple of examples of how Arsenal might benefit from his return. First, he stayed on the right during a direct attack, letting the ball come across his body into a wide position, before shooting powerfully past the far post. Later, he sprinted forward on a counterattack, and Ozil lofted the ball over the top of the defence, forcing Artur Boruc to sweep off his line and clear. Neither move was successful, but it gave Arsenal another dimension.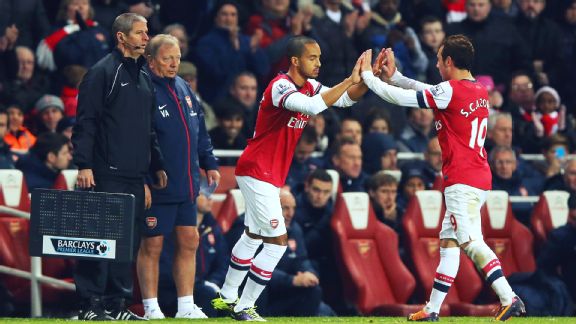 Clive Rose/Getty ImagesTheo Walcott returned to action on Saturday and showed Arsenal that he can add a dimension to the club's attack.
Arsenal deserve great credit for topping the table despite without Walcott, Lukas Podolski and Alex Oxlade-Chamberlain. They are Arsene Wenger's three most direct attacking options, but arguably only against Manchester United has their absence been a significant problem -- United defended extremely narrow, and Arsenal had no thrust down the flanks or pace in behind.

The cameo appearances of Jack Wilshere (who burst through the defence shortly after his introduction) and Serge Gnabry (who took advantage of the space out wide) emphasised that point.

In other games Arsenal have used the flanks very intelligently, partly because Ozil drifts wide, and partly because both full-backs have started the season well, with Bacary Sagna particularly dangerous with his crossing. But there's still a need for Walcott's immediacy.

"It is good to have Theo back because he is a player who goes behind the opposition without the ball," Wenger said ahead of the Southampton game. "We have plenty of players who love to have the ball, but going in behind the defence is an important quality.

"You miss a player like Theo, and you want to have everybody available for when you need to use them. You always want to find a perfect balance, and if you look at our results, our balance was not too bad. But Theo has different qualities to other players."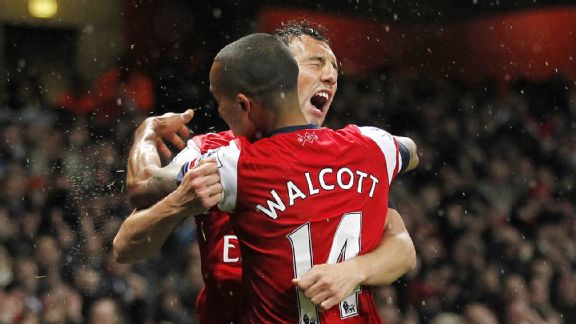 Ian Kington/Getty ImagesSanti Cazorla thrived last year by supplying precise killer passes to the speedy Theo Walcott.
Walcott should provide a passing option for Cazorla and Ozil, two masters of the through-ball. Cazorla, in particular, has been quiet this season, probably because of the lack of runs in behind. Spanish playmakers like Cazorla love drifting inside before playing incisive balls, but they need an outlet. Players who are typically "English" and make those runs complement them perfectly -- Juan Mata settled so quickly at Chelsea when Daniel Sturridge was making Walcott-esque runs past the opposition left-back, while David Silva is often at his best for Manchester City when paired with James Milner on the other flank.

Walcott will also help Giroud. The Frenchman scored both of Arsenal's goals in this contest but has dipped in form over the past month. Even these two goals were hardly a reflection of great individual play -- they were an open goal and a penalty.

For all Giroud's qualities -- aerial power, good link-up play, physicality -- Wenger has rarely used a central striker so lacking in speed.

Ian Wright, Nicolas Anelka and Thierry Henry were extremely quick. Emmanuel Adebayor and Robin van Persie weren't so rapid, but they certainly weren't slow. Giroud's top speed isn't great, and more crucially he takes awhile to get there -- he doesn't have the acceleration expected of most top-level forwards.

That has led to opposition defences taking the logical approach -- pushing high up the pitch, forcing the Frenchman away from goal and into a position where his scoring prowess isn't obvious. It also means they find it easier to keep it tight in midfield, restricting the space for Arsenal's passers.

The introduction of Walcott will make that approach less possible. When opponents start to defend deeper, Giroud can play closer to goal, where his qualities can shine. On a more basic note, Walcott can go down the outside rather than drifting into the middle and can provide Giroud with crosses -- they combined neatly for the only goal in the derby victory over Spurs in September.

2014 will be Walcott's eighth calendar year in an Arsenal shirt since his move from Southampton. He'll turn 25 in March, and it's tough to think of anyone in his mould -- a forward who depends primarily upon pace -- who has peaked in his late 20s.

This is Walcott's time to shine. He's never won a medal, having been a runner-up five times (the FA Youth Cup, the European under-21 championships, two League Cups and as a non-playing member of Arsenal's European Cup squad), and he still hasn't played at the World Cup, being unused in 2006 and missing the cut in 2010.

The next 12 months could be the most important of Walcott's career. 14 is the number he wears on his shirt, and '14 should be his year.