Tactics Board: Navas provides width in City rout
MANCHESTER CITY 6-0 TOTTENHAM

Manchester City's preferred wide men are wingers in name only. When Samir Nasri and David Silva are on the flanks, they tend to head infield, sometimes combining when close together. In contrast, Jesus Navas is the closest thing to a touchline-hugging, chalk-on-the-boots winger at the Etihad Stadium. Even as he opened his Premier League account with a brace against Tottenham, both taken from what might be deemed the inside-right channel, he operated largely as an outside-right. Indeed, his cross for Sergio Aguero's first goal came from a position Nasri and Silva rarely occupy.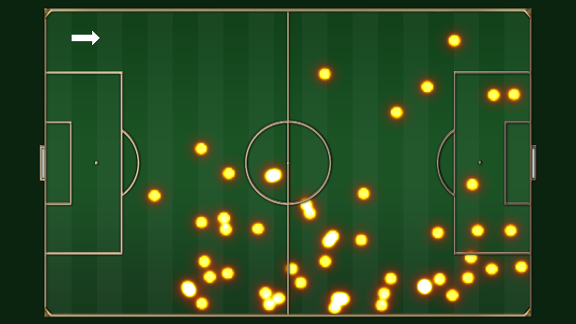 OtherJesus Navas stuck largely to the right flank.
As his pitch map shows, many of Navas' contributions occurred within 10 yards of the touchline. That had a dual benefit, enabling City to stretch the game laterally, and meaning Navas had an element of surprise when he came infield. That was often when City had the ball on their left flank, allowing him to come in behind Aguero, the right-sided striker, when the two forwards had shuffled across.

CARDIFF CITY 2-2 MANCHESTER UNITED

Marouane Fellaini has been compared, often unfavourably, to the many central midfielders Manchester United tried to sign in the summer. On Sunday, he was deputising for the premier player in that department who they already own. In the absence of the injured Michael Carrick, Fellaini was the right-sided central midfielder. As his pitch map indicates, he did much of his work in his own half and very little in the final third.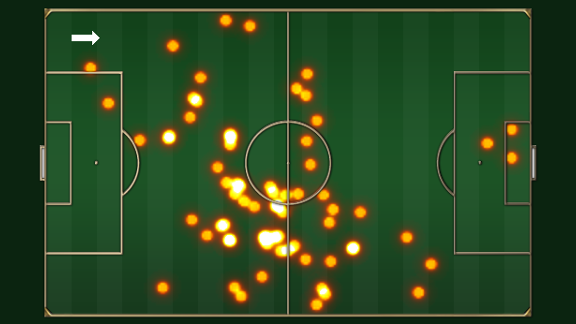 OtherMarouane Fellaini had few chances to get forward.
This is a recurring theme among David Moyes' midfielders, and a reason why they are yet to score a league goal between them. While Carrick is often described as United's holding midfielder, Moyes has tended to deploy two men in deep positions in front of the centre-backs. Indeed, Tom Cleverley, to Rooney's left, was equally close to his back four. The problem, perhaps in positioning both so far from the opposition goal, is that it is harder for them to create. Fellaini only completed one pass to a teammate in the Cardiff box and Cleverley completed two.

WEST HAM 0-3 CHELSEA

As Frank Lampard returned to his former club, he also returned to his former self. The Tactics Board three weeks ago showed a performance at Newcastle in which he didn't have a single touch in the opposing box. As he ended his longest Premier League goal drought, Lampard got forward again in time-honoured fashion, and a total of seven shots was testament to his persistence. Perhaps the key element in his positioning, however, was that John Obi Mikel started as a holding player, giving Lampard licence to advance.

At Newcastle, the 35-year-old had been paired with Ramires in the centre of midfield, forcing him to adopt the anchor role. At West Ham, with Mikel shielding the defence, he was able to operate around 10 yards farther forward and had far more touches in the final third. In contrast, Mikel had none, showing the clear division of responsibilities between the two.

EVERTON 3-3 LIVERPOOL

Romelu Lukaku showed most aspects of a modern centre-forward's game in his two-goal Merseyside derby debut. The Belgian is from the younger generation of strikers who, rather than growing up as half of an attacking duo, are accustomed to operating alone up front. Instead of playing against one central defender, he roams across the line. Perhaps it was significant that, as his pitch map shows, he spent more time on the right.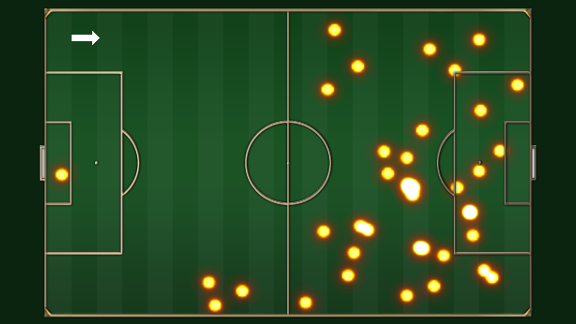 OtherRomelu Lukaku drifted out to the right.
He enjoyed success against Daniel Agger, Liverpool's left-sided centre-back, last season –- but, like Didier Drogba, displays an ability to take on an entire defence. He took part in five aerial duels and had five attempts on goal, scoring two.

The other key element for a lone striker is how involved he is: Lukaku had 43 touches, whereas Nikica Jelavic, who played alone up front in August's home game against West Brom, had just 18. It shows that Lukaku is a target man whose pace and aerial prowess enable teammates to find him.