Toni Kroos has earned right to be Bayern's key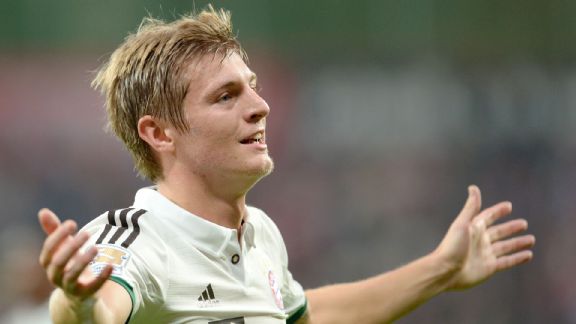 Christof Stache/Getty ImagesToni Kroos' intelligent approach to a variety of midfield duties makes him the real danger man for Bayern Munich.
This summer's speculation about Pep Guardiola's probable Bayern Munich system took a simple format, one that fell in line with the standard approach for season previews: They assessed the Bayern side from the previous campaign and then considered where the new signings would fit.

It was simple: Thiago Alcantara would probably play at the base of midfield and orchestrate play from deep, while it was widely assumed that Mario Gotze could play as the false nine, effectively in the role where Guardiola had played Lionel Messi on the way to transforming him into one of the world's greatest players. Along with the existing options from 2012-13 -- Bastian Schweinsteiger and Javi Martinez in midfield, Franck Ribery and Arjen Robben on the flanks plus Thomas Muller playing just off Mario Mandzukic -- Bayern had become an even more fearsome attacking weapon.

However, this analysis ignored one man: Toni Kroos. Indeed, Kroos was the forgotten man last season after an injury in the Champions League quarterfinal victory over Juventus ruled him out of the remainder of the campaign, denying him the opportunity to shine when Europe was purring about Bayern. Kroos was neither part of Bayern's victorious Champions League-winning XI nor was he an exciting new signing. But he might still be Guardiola's key player.

Perversely, Kroos' absence from last year's run-in might have actually helped Bayern. His major quality is his positional intelligence from the number 10 role he played last season; he can drop into midfield to help overload the centre of the pitch, but he can also position himself higher up, closer to the main striker, ready to give support.

This is an extremely simple concept, but it's rarer in practice than you might expect. A decent method of measuring this duality is assessing two separate statistics: a player's pass completion rate and his "key passes" figure. It's uncommon to see players excelling in both respects. Either they retain possession but rarely play penetrative passes, like Mikel Arteta, or they're very creative but concede possession readily because of their ambition, like Antonio Cassano, who is Serie A's third-most prolific creator of chances yet gives the ball away with one-third of his passes.

Kroos can do both, which was why his intelligence was so invaluable during the 2011-12 Champions League semifinal against Real Madrid. Kroos sat deep and helped control the midfield, giving Bayern the upper hand. His opposite number, Mesut Ozil, concentrated on working in the final third only and was therefore outshone by his compatriot. Kroos' ability to assure Bayern dominated matches would, theoretically, have been a crucial factor against Barcelona last season.

Without Kroos, Bayern played in a different style. Rather than attempting to outpass Barcelona, they played a more direct, purposeful and powerful game. Instead of Kroos' passing quality, they leaned on Muller's energy, strength and ruthlessness in the penalty area, and Barcelona simply couldn't cope. Bayern still would have won with Kroos but probably not 7-0 on aggregate. He's just a more patient, methodical and careful player, one who would have slowed the tempo rather than quickened the pulse.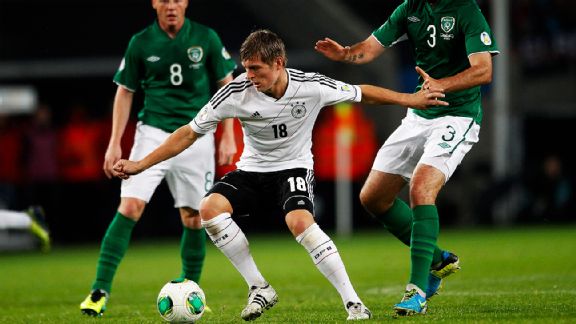 Boris Streubel/Getty ImagesKroos' size and physicality make him an even more difficult proposition for any opponent.

Regardless, Kroos remains a wonderful footballer capable of being the difference in the most important matches. Ahead of this weekend's trip to face Borussia Dortmund, Jurgen Klopp would do well to remember the situation in last season's corresponding Bundesliga fixture, when Kroos was utterly dominant.

In that match, Klopp switched from his usual 4-2-3-1 formation and instead played a 4-3-3. The change is minimal on paper but was crucial on the pitch. It meant that Dortmund played with two deep central midfielders and attempted to pack the centre of the pitch, pressuring Bayern in middle. Sven Bender was the deepest in a trio, rather than part of a duo, and he still charged into the midfield, closing down whenever possible.

Kroos played this situation brilliantly. He sunk into midfield to help Bayern keep possession but then skipped in advance of Bender to link up with Mandzukic. Dortmund couldn't deal with Kroos' freedom between the lines, and he repeatedly had opportunities to shoot from the edge of the box. His goal, the opener in the 1-1 draw, was a perfect example. He was in oceans of space during the buildup and then managed to evade both Dortmund centre-backs, drawn desperately out of position to attempt a block, before firing past Roman Weidenfeller.

These days, Kroos is playing a different role under Guardiola. The Spaniard's 4-3-3 formation means that Kroos is no longer playing as a number 10, which is a disappointment considering his brilliant play in that role. Instead he's tucked deeper, broadly playing the role that Guardiola carved for Andres Iniesta at Barcelona. There, he has proved extremely effective. In the 3-1 win away at Manchester City -- on paper, probably Bayern's toughest test under Guardiola so far -- Bayern's number 39 was wonderful.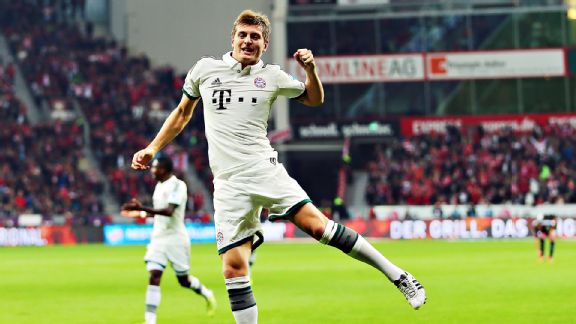 AllsportThough he missed some key games in Bayern's remarkable 2012-13 season, Kroos is undoubtedly the man to anchor their midfield.

It was textbook Kroos. He completed 74 of 76 passes to help Bayern control the game, but he also won five tackles, including three high up inside the opposition half, pressing to win possession quickly and effectively.

It feels like Kroos' skill set suits a diminutive, slender frame, but at 6 feet tall, his power lends another dimension. For the third goal, Kroos dispossessed an opponent before playing the key pass, allowing Robben in to score. He's the all-round midfielder, never simply performing one role.

In his new position, however, Kroos isn't playing incisive passes as frequently -- which, for long periods under Guardiola, was actually the obvious criticism of Iniesta. He has created just 10 chances and recorded a single assist in the Bundesliga this season whereas with Germany he's assisted in five of the side's last nine goals, an impressive statistic considering their wealth of playmaking options.

Guardiola has a defined idea of what he wants from his players, and while he has adapted his methods since moving to Bavaria, it would be fantastic to see Kroos allowed more creative freedom. Guardiola's emphasis upon ball retention is obvious, but honestly, Pep, Kroos is one of the few players in Europe who can simultaneously be incisive and reliable with the ball. Above all others, he should be Bayern's key player.