How France can turn around their fortunes vs. Ukraine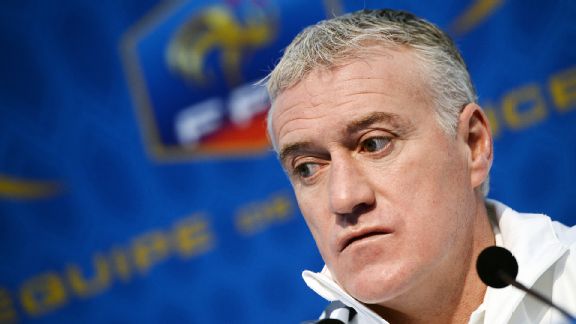 Franck Fife/AFP/Getty ImagesDidier Deschamps has a tough task ahead in rallying France from a 0-2 deficit but knows his reputation in his home country is on the line if he doesn't get Les Blues to the World Cup.
The number 84 is an important number in the history of French football. It was 1984 when France won the European Championship on home soil, led by exquisite Michel Platini, who scored nine goals in five matches -- two hat tricks, and a single goal in the other three matches.

But 84 has proved significant in an entirely different way this week. A poll by French newspaper Le Parisien asked its readers whether they still supported France despite the various reasons not to: from ill-discipline to poor individual performances. A whopping 84 percent said they no longer supported Didier Deschamps' side.

That figure isn't entirely shocking, given the French public's difficult relationship with the national team, but it illustrates what a desperate situation Deschamps finds himself in ahead of Tuesday's return leg against Ukraine.

The 2012 hosts lead 2-0 from the first leg after a fine second-half performance, and one of the key factors in their victory was the atmosphere in Kiev. The hostile, packed stadium was animated throughout, with a succession of Mexican waves featuring yellow and blue flags particularly prominent. The Ukrainian supporters roared their side on to victory -- France can't expect something similar this week in Paris.

For Deschamps, meanwhile, this is the biggest test of his coaching career so far.

This is a manager who has won Ligue 1 and reached the European Cup final -- it's not as if he is unaccustomed to big challenges. But, for the man who lifted the World Cup in 1998 in the Stade de France, failure to overturn Ukraine's 2-0 lead certainly would result in the sack. France is not a particularly forgiving country, and it's not unreasonable to suggest that Deschamps' reputation would never recover, at least in his homeland.

All is not lost, of course -- Ukraine aren't particularly formidable opponents away from home, and, although the result in the first leg was disastrous, the French performance wasn't completely disgraceful.

Deschamps has a succession of decisions to make, though, and the rare nature of this international week -- two quick-fire games against the same opponent, with a huge prize up for grabs -- means he's under the microscope more than ever. Every French football fan has a view upon the failings on Friday night, and each of them will have an opinion about how to solve the problems.

Here are the five major problems France encountered on Friday night, and how Deschamps might address them:

An uncertain centre-back partnership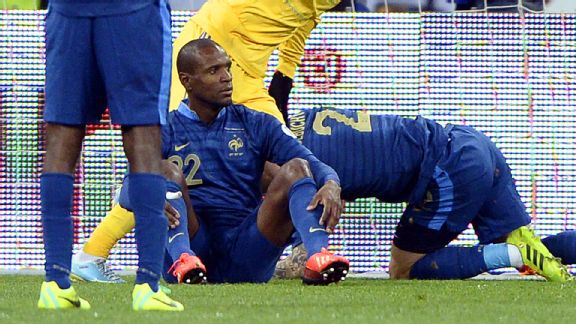 Franck Fife/Getty ImagesEric Abidal and Laurent Koscielny had their share of struggles against Ukraine's offense.
Against two wingers, Yevhen Konoplyanka and Andriy Yarmolenko, who repeatedly cut inside into the centre of the pitch, France's full-backs were often dragged into central positions.

When Laurent Koscielny stepped forward to close down Brazilian-born, deep-lying attacker Edmar, the back four found themselves in some terrible situations. Koscielny's late red card means he is suspended for the return leg, and Deschamps will hope Real Madrid's Raphael Varane is fit to replace him.

He could even change his centre-back partnership entirely -- Eric Abidal's return to the national side remains a remarkably impressive feat, but on Friday he looked immobile and slow when forced to cover behind Koscielny, and Mamadou Sakho might be a better option.

Not enough overlapping from full-back

After Patrice Evra's excellent start to the campaign for Manchester United, it was surprising to see him playing such a cautious role on Friday night. Franck Ribery consistently received possession with two Ukraine players directly in front of him, and the Bayern winger desperately needed more support to cut inside. Put simply, Deschamps must tell Evra to position himself higher, allowing Ribery more freedom.

On the other flank, Mathieu Debuchy was more aggressive with his positioning, but his crossing was disappointing. Deschamps should consider turning to Arsenal's Bacary Sagna. He has started the campaign in fine form, with his crosses consistently causing problems, and his relationship with Olivier Giroud is particularly dangerous in this respect.

A midfield combination lacking structure

Paul Pogba and Blaise Matuidi are two combative, energetic all-round midfielders, but neither is a truly defensive option -- both are better when given freedom to burst forward into attack. The combination was beaten too easily in Ukraine, with one forward pass often bisecting the two.

Deschamps, the original water carrier, will be fully aware of this problem -- but it's debatable whether he has any superior defensive options in his squad. Rio Mavuba doesn't represent a particular upgrade, and, with France needing to score at least twice this week, Deschamps will probably have to gamble on his existing midfield duo.

Samir Nasri

The player who received most criticism after Friday's 2-0 defeat was Samir Nasri. L'Equipe gave him a score of just 3/10 -- only the two centre-backs recorded equally poor marks. For various reasons, the Manchester City playmaker remains an easy target, and he actually contributed some incisive passes from a difficult role as the No. 10 in a 4-2-1-3 formation, given a huge responsibility to connect midfield and attack.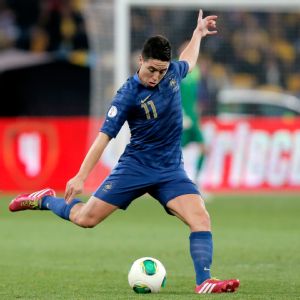 AP Photo/Efrem LukatskySamir Nasri struggled as a No. 10 for France but could be effective as a right winger.
But Nasri's wastefulness, on the ball and in front of goal, was frustrating, and Deschamps would be foolish not to turn to wonderfully gifted Mathieu Valbuena for the return leg.

The Marseille man is a brilliantly intelligent playmaker who varies his position constantly and is simultaneously reliable and incisive with his distribution, so it was surprising that he was left out in Ukraine in the first place. As the only man to feature in every France game since Deschamps took charge, Valbuena surely will be recalled in this time of crisis.

The lack of incision upfront

Ribery was quiet from the left, but his position is surely assured. Deschamps replaced Giroud with Benzema late on, but the Arsenal striker's link-up play and knock-downs were one of the few positives from a French perspective, and, providing the midfield charge forward and support him closely, he should be a crucial player in the return leg.

Deschamps' key decision is on the right flank, where he started Loic Remy on Friday. The inclusion of the Newcastle forward was understandable, given his fine club form, but he looked uncomfortable on that flank and was less impressive than his replacement, clubmate Moussa Sissoko.

Deschamps must consider his options carefully in this position. Remy offers a great goal threat, but primarily with his pace in behind the opposition defence -- will that be useful against a Ukraine side that will defend extremely deep?

In this position, it might be time for a wild card. Nasri actually makes sense tactically, but Deschamps will be reluctant to include him after Friday's disappointment, so how about Lyon's Clement Grenier? The clever all-around playmaker is comfortable on the right flank and offers dribbling ability and good one-touch play, plus he's a danger from free kicks -- France won plenty on Friday evening against a physical Ukrainian back line. It is time for Deschamps to throw in the grenades, which might mean throwing in Grenier.

But make no mistake -- France are up against it. With the away goals rule applying, even a 3-1 or 4-2 France victory would send Ukraine through. Considering the fallout from France's previous failure to qualify for the World Cup, in 1993, took nearly two decades to resolve, Deschamps has some very, very important decisions to make.