Four potential UEFA playoff difference-makers
After the two intercontinental play-offs proved something of a disappointment, with Mexico and Uruguay thrashing New Zealand and Jordan respectively, the four European play-offs are set to be much tighter affairs.

Here are four key players who could have a crucial impact in the quartet of two-legged ties.

Portugal vs. Sweden: Pepe
A contest that has widely been billed as Cristiano Ronaldo against Zlatan Ibrahimovic, you could also view it in another, equally reductive way: the side that consistently possesses everything but a striker against a side that currently only possesses a striker.

Sweden's hopes of progressing start and end with Ibrahimovic. He's both a vital creator and their major goal scorer, which means that Portugal's major task is to stop the in-form PSG striker. If he remains quiet, Sweden will struggle to score and Portugal will (in theory) have enough to qualify.

The man with most responsibility for stopping Ibrahimovic is Pepe, the Real Madrid centre-back. Although he and Ronaldo both missed Portugal's first two training sessions this week because of injury, both are expected to start Friday night's contest. "[Sweden] are trying to pass the pressure to Portugal," acknowledges Pepe. "But I think there is a 50 percent chance for each side."

Pepe has a mixed record when playing against Ibrahimovic -- although the Swede has never scored when playing against the Brazilian-born centre-back, he always causes Pepe problems with his movement, particularly when he drops into deep and wide positions. In Milan's 2-2 draw against Real Madrid in 2010, for example, Pepe made a big mistake when trying to cut out a pass to Ibrahimovic in a wide position, allowing the striker to cross for Pippo Inzaghi's goal.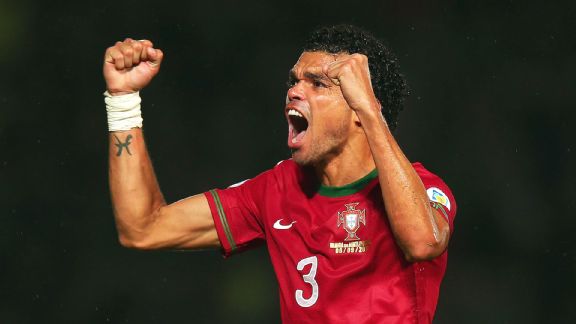 Bryn Lennon/Getty ImagesPepe has a history of facing Zlatan; might he be the key in their playoff battle?

Many forwards appear scared by Pepe's physicality and his penchant for tough tackles, but Ibrahimovic has both the strength and the skill to take him on with great confidence, demonstrated by this minor piece of showboating when the two met in preseason. Knowing Pepe, he'll remember that, and might be keen to put an early "reducer" on his opponent Friday evening.

Ukraine vs. France: Andriy Pyatov
France will have significantly more scoring chances than Ukraine over the course of this two-legged tie, but the 1998 champions always seem to have a problem converting dominance into goals when the pressure is on. They've flopped at the past three major tournaments and famously needed Thierry Henry's handball to get past Ireland at this stage in 2009.


Again, there's no guarantee of goals this week: Karim Benzema's international form has been dreadful in recent years -- it took the Real Madrid striker until the final three minutes of the group stage to register a goal -- and while Olivier Giroud has enjoyed a good opening to 2013-14 at Arsenal, he's yet to establish himself fully at international level. As such, Franck Ribery is France's top goal scorer in qualifying so far.

But France are sure to create chances, especially because Ukraine's centre-back combination of Oleksandr Kucher and Yevhen Khacheridi is the epitome of "lumbering." Therefore, goalkeeper Andriy Pyatov is sure to play a crucial role -- the Shakhtar Donetsk goalkeeper has a reputation for making mistakes in the Champions League, but has been a fine servant at international level.

Having conceded just six goals in Ukraine's qualifying games, Pyatov comes into this contest in fine form. The only problem will be his change in role: with Shakhtar he has little to do for long periods, while Ukraine's qualification group pitted him against some very defensive-minded teams. He'll be overworked this week and needs to produce some fine saves.

Greece vs. Romania: Ciprian Marica
It's impossible to think of Greece at the international level without recalling their famous triumph at Euro 2004, and while that tournament is almost a decade ago -- there are barely any survivors in the current squad -- there's a familiar feel about the side. Their final results in the qualifying group were 1-0, 1-0, 1-0, 1-0 and 2-0 victories -- they won every game, aside from the two matches against Bosnia.

The above suggests that Greece are a solid, unspectacular and functional side capable of grinding out results against relatively mediocre opinion -- so the smart money will be on Fernando Santos' side to win 2-0 on aggregate against Romania.

However, while Greece's Euro 2004 triumph depended upon scoring from set pieces, their major problem in the qualification process has been their poor defending of such situations. In the 3-1 loss to Bosnia, Edin Dzeko scored twice, both with headers from free kicks.

As such, delivery from wide players towards Romania's main centre-forward could cause problems, which makes Marica the tie's key player. Now plying his trade to the south of Madrid with Getafe, the 28-year-old often features as a second striker or in a wider role at club level, but for Romania he plays the role fitting his No. 9 shirt number. He rounded off an impressive group stage with a fine header against Estonia, his fifth goal in the group.

Friday will be one day before the 10th anniversary of his Romania debut, and his record of 24 goals in 66 appearances is significantly better than his statistics at club level, partly because of his different role. He might be more influential in the return leg -- only six of his 24 goals have come away from home.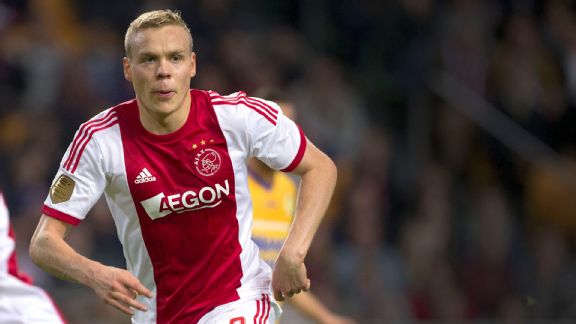 VI Images/Getty ImagesSigthorsson has emerged from nowhere in recent months to serve as Iceland's new attacking vanguard.
Iceland vs. Croatia: Kolbeinn Sigthorsson
At the start of the qualifying process, no one would have expected Sigthorsson to be a key player -- he didn't start the first four games of the group, and besides, he plays for a country that have never previously qualified for a World Cup.

However, the pacey Ajax forward has forced his way into Lars Lagerback's first XI, forming an excellent partnership with veteran Eidur Gudjohnsen, who plays as a deep-lying forward and brings guile, experience and patience to Iceland's attacks. Gudjohnsen and Tottenham's Gylfi Sigurdsson are wonderfully talented ball-players, but both clearly lack pace -- which makes Sigthorsson's role in the side particularly crucial. A wunderkind who was supposedly first asked for his autograph at the age of 10, he's arguably the most obvious personification of Iceland's talented young generation.

Having scored four times in the final four games of the group stage and against four different opponents, Croatia should be terrified of Sigthorsson. The Croatians have a new manager in Niko Kovac, an uncertain defensive partnership and are in terrible form -- Sigthorsson is exactly the type of young, quick, ruthless striker that could tear them apart.