Wilshere as part of a deep double pivot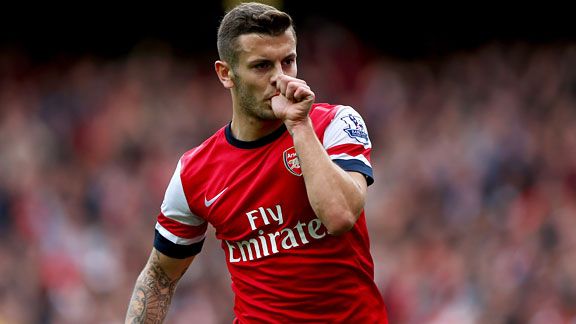 GettyImagesWilshere has put a teammate through on goal an average of 0.37 times per game, by some distance the best of all English players in the Premier League.
Jack Wilshere has been carrying the hopes and dreams of English football for all too long given that he is still only 21 years of age.

Andros Townsend's recent emergence as a potential star of next summer's World Cup in Brazil will have relieved some of the pressure from Wilshere, but the Arsenal midfielder will likely still be the main man for Roy Hodgson in Rio.

Everything is in place for him to become the hub of the England team. He has the ability to walk into just about any team in the Premier League, the skill and tricks to excite a crowd, the temperament to match that of England stars such as Wayne Rooney and a young David Beckham and the off-field discrepancies to boot.

- Wenger: Wilshere best in deeper role
- McNicholas: Arsenal are still slow starters

However, a lack of starts in recent weeks have resulted from poor form coinciding with his Arsenal teammates' flourishing, so frustration has permeated his game. Frustration and a feisty temperament such as Wilshere's is not a good mix, however, and he runs the risk of taking it out the wrong way.

Twenty minutes after replacing an ineffective Mathieu Flamini at Old Trafford at the weekend, Wilshere let Patrice Evra get the wrong side of him and wrapped his arm around the Frenchman to halt his progress down the left flank. A fourth yellow card of the season ensued for Wilshere, meaning that only Flamini (five) has picked up more cards than him of all players in the Premier League.

Wilshere has been carded every 158 minutes this season; over 60 minutes more frequently than any other player to have made at least 10 appearances. Flamini's fouls are often the result of rash challenges, though, while Wilshere's are born of his growing displeasure with himself and lack of a consistent run in the first team.

Having been told from age 18 that he was in the first-team plans at the Emirates and would go on to achieve great things, consistent injury problems scuppered his progress. Now, finally over the persistent ankle injuries that ruled him out of Euro 2012 and much of last season -- at least to the extent that he has been available for Arsenal for the most part of this campaign -- it must be difficult for him to accept that he isn't currently good enough to be playing regularly for the club he loves.

But that is exactly the case this term. His boss Arsene Wenger said this week, via the club's Twitter account, of Wilshere: "His best position is as a deep-lying midfielder, where he can be a distributor. He has a good burst and vision," and he's certainly not wrong.


Arsene says: "His best position is as a deep-lying midfielder, where he can be a distributor. He has a good burst and vision" #AskArsene

— Arsenal FC (@Arsenal) November 12, 2013


Wilshere is most effective picking the ball up deep and driving forwards with it. No other English player in recent memory has been so efficient in moving the ball upfield at such pace and ease from defensive positions, and he is at his most comfortable doing just that.

According to WhoScored.com's statistically calculated rating system, 11 of his 12 best Premier League performances have come when playing in defensive midfield, rather than a number 10 role or out wide. Furthermore, Wilshere has dribbled past an opponent four times or more in 13 of his 58 Premier League starts, with 11 of those 13 appearances coming when playing as part of a deep double pivot in the Arsenal midfield.

He has averaged 2.47 successful dribbles per game playing in defensive midfield, compared to 1.55 when fielded elsewhere. That might make sense, with more time on the ball to turn and run at players and less pressure on the ball when playing deep, but few other English players in recent memory have played with such a style in such areas.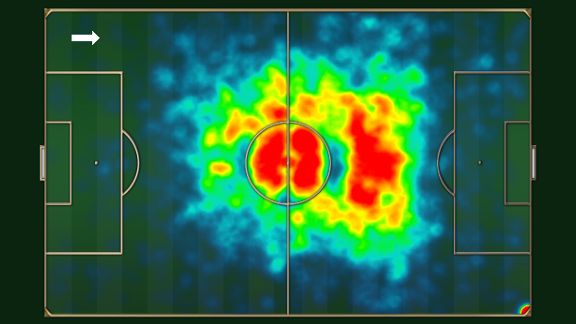 Other / ESPN Stats & AnalysisThis heat map shows that Jack Wilshere's touches for Arsenal have come across two main midfield positions.
Wilshere has, in terms of his ball-carrying abilities, been compared to Paul Gascoigne, but he of course played much higher up the pitch. In a country where central midfield has been made up of tough-tackling David Batty and Paul Ince, followed by the more technically gifted but attack-minded and goal-scoring likes of Steven Gerrard and Frank Lampard, Wilshere was something new and exciting, with a decidedly "un-British" style of play.

What further sets Wilshere apart is his ability to then pick a pass once he has worked an advanced position for himself. Since the start of last season, Wilshere has put a teammate through on goal an average of 0.37 times per game; by some distance the best of all English players in the Premier League, while only the likes of Philippe Coutinho, Santi Cazorla, David Silva and Jordi Gomez can better him.

It is surely only a matter of time before Wilshere wins his place back in the Arsenal team, but given the quality on offer at the Emirates, that might come after he returns to the England first team.

When that happens, he will have to displace one of Lampard or Gerrard in central midfield, providing Daniel Sturridge maintains his form sufficiently to retain his spot up front and Wayne Rooney is thus deployed in behind him. Accommodating both Lampard and Gerrard has proved problematic for many an England manager over the duration of their careers, and with both in the twilight of their careers and Wilshere only going to improve, his inclusion at the expense of one of them is certainly the answer.

Wilshere has previously been deployed in a No. 10 role for his country, but Hodgson would do well to heed the words of Wenger and use the player who could well be the future of English football where he is at his best.