The two sides of Moyes' match-winning plan
Back in 1981, when Jimmy Hill introduced the "three points for a win" rule into English football, his reasoning was that it would make the game more attacking. More specifically, he wanted to improve the final 20 minutes of matches, as he felt too many contests petered out, with both teams settling for a draw.

In Hill's opinion, spectators remembered the final section of a match most clearly and, if that part of the contest was boring, they would erroneously remember the entire match as boring, putting them off returning next weekend.

It is debatable whether Hill's plan worked, but his general outlook upon the game remains very interesting. The 2003 Champions League final between Milan and Juventus, for example, is frequently remembered as 120 minutes of tedious, cautious football and as one of the worst finals in recent football history.

In fact, the first part of the game was perfectly enjoyable; it was only in the second hour that things became slow. In keeping with Hill's theory, everyone only remembers the end.

Manchester United's 1-0 win over Arsenal on Sunday was not a match that became boring towards the climax, but it was a contest in which the final 20 minutes did not accurately sum up the overall pattern of play.

In the latter stages, the hosts spent long periods defending deeply, narrowly and slightly nervously, soaking up pressure from Arsenal. David Moyes is often considered a defensive, reactive manager and any sceptical United fans yearning for a more open, adventurous game might use this victory as evidence of his caution.

However, one of the key parts of United's performance was their opening 10 minutes. With Arsenal using five central midfielders spread across the width of the pitch, it was widely expected that the away side would dominate the contest from the outset, overloading central positions, retaining the ball comfortably in that zone and breaking throughout the home midfield easily.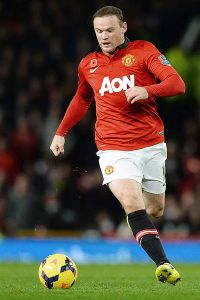 Paul Ellis/Getty ImagesWayne Rooney's all-action display was a key factor in United's victory.
Moyes was clearly worried about this area and asked his wide midfielders to play extremely narrow, using Phil Jones as a defensive-minded scrapper and handing Wayne Rooney a more disciplined role than usual. He was asked to drop into midfield, a job he embraced and played successfully -- which hasn't always been the case in recent seasons.

Far from Arsenal dominating from kickoff, United got into their stride immediately. In the first ten minutes, Moyes' side enjoyed 67 percent of possession, often inside the Arsenal half. They lacked penetration, and much of the play was in front of Arsenal's midfield -- they didn't create anything close to a clear-cut chance.

But the spell of possession was still vital, because it put United in command of the game and sent a message to Arsenal. It would have been easy for United to bully them physically, perhaps in the manner they did in 2004-05, the famous game that ended Arsenal's 49-match unbeaten run in the Premier League.

Instead, this was more controlled. Under Sir Alex Ferguson, United had a reputation for flying out of the blocks in big home matches, putting the opposition under pressure from the start. This wasn't quite that impressive. Arsenal were well organised in open play and their lack of pressing high up the pitch suggested they were relatively comfortable with much of United's passing.

Nevertheless, it was an improvement: United's start to matches under Moyes this season had been extremely poor. Whereas last season they scored 20 percent of their league goals in the first 15 minutes, this campaign that number is just 6 percent, with Antonio Valencia's strike against Fulham last weekend the only one of their 18 goals scored in the opening quarter of an hour.

- Brewin: United's deadly duo
- Payne: Van Persie grounds Arsenal
- McNicholas: Arsenal's missed opportunity

Robin van Persie's 29th-minute strike hasn't changed that statistic, but United's early performance shouldn't be forgotten. By the end it was what you expect from Moyes in a big game: two deep banks of four, making sure to prevent the opposition from finding space in dangerous central areas.

That's inevitable when 1-0 up against a side as technically talented as Arsenal. However, Wenger's men failed to start playing until half-time and, while the Gunners' sloppy possession play contributed, one can't ignore United's positivity.

Their possession play against a top-quality opponent is promising. United must control games more positively than they've demonstrated at the start of 2013-14. So far, they've enjoyed 55 percent of possession this season, better than average (obviously) but only eighth-best in the league as a whole. Their pass completion ratio -- a category in which they led last season -- has also fallen.

Moyes is accustomed to an Everton side that sits back and plays cagey football, one for which expectations were lower and a point away from home, or against a good club, was considered a fine result.

United have never been obsessed with possession play in the manner of Barcelona but they must have the ability to command matches. Indeed, the best sides are able to play in two separate manners: proactively or reactively. They control the ball or, if not, they control the space.

Watch the first and last 10 minutes and United were an entirely different side from one to the other. They should have offered more goal threat in the former period and protected their back four more effectively in the latter but, strategically, Moyes' men showed they are more adaptable than we expected.