Tactics Board: Ozil goes missing against United
MANCHESTER UNITED 1-0 ARSENAL

A feature of Mesut Ozil's game normally is just how prominent he is. The Arsenal playmaker is willing to roam far and wide to get the ball. Yet in the first half at Old Trafford he was unusually anonymous. That reflected on how well Phil Jones, in particular, played against him and how United patrolled the area in front of their centre-backs. Ozil's first-half pitch map shows how rarely his team-mates got him on the ball in the No. 10 position (in contrast, there are a cluster of dots near either touchline) and how United kept him out of the positions where he can do most damage.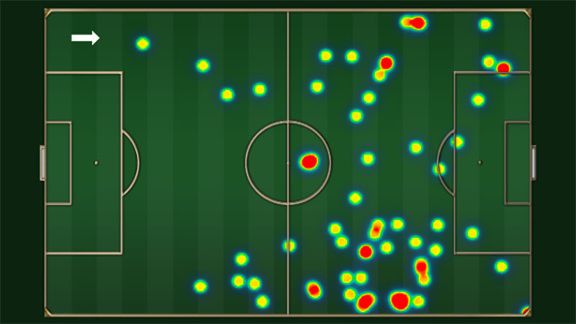 OtherMesut Ozil's Arsenal team-mates rarely got him on the ball in the No. 10 position.

Ozil saw more of the ball in the second half when Jones had to move into defence to take over from the injured Nemanja Vidic but, once again, David Moyes' compact, narrow system ensured there wasn't much space in the area where he prefers to operate.

SUNDERLAND 1-0 MANCHESTER CITY

Manchester City had 24 shots and 63 percent possession. They still lost at the Stadium of Light. One of the reasons was the former Manchester United defender Wes Brown, and his pitch map indicates how much Sunderland were under siege.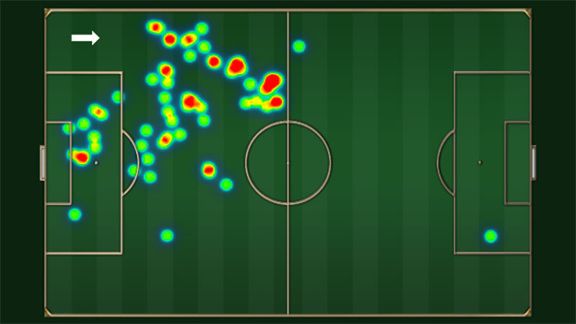 OtherWes Brown's play shows how much Sunderland were under siege.

The number of touches in his own penalty area show just how deep the Black Cats were at times while many of Brown's other contributions, within 10 yards of the box, are a sign that they were on the back foot but also, wary of Sergio Aguero's pace, they did not risk a high defensive line. In total, Brown blocked two shots, made four tackles, six interceptions and eight clearances to help his side preserve their clean sheet.

CHELSEA 2-2 WEST BROMWICH ALBION

When chasing a game or searching for a winner, Jose Mourinho's favourite tactic appears to involve replacing his left-back with another attacking talent and switching to a back three. It is a move he has made against Norwich, Cardiff and now West Bromwich Albion. That right-back Branislav Ivanovic has spent much of his career playing in the middle of the defence which means it is logical for him to move infield alongside the centre-backs when Mourinho swaps system.

Except that, as Ivanovic's pitch map for the final 17 minutes of the Albion game shows, he hardly operated as a conventional central defender.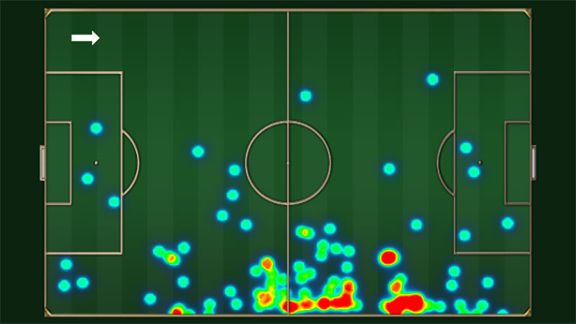 OtherDuring the final minutes against West Brom, Branislav Ivanovic raided down the flanks for Chelsea.

Some of his touches were those of a raiding right-back, breaking forward on the flank. Yet it was also notable he had four touches in the Albion box in that time -- two more than Juan Mata, for instance -- and while Ivanovic goes up for set-pieces, some were in open play. It was a sign how adventurous he was and how involved: no one was on the ball more over the 90 minutes.

There were other implications of Mourinho's tactical change. Eden Hazard and Willian became ersatz wing-backs, though that description is a little inappropriate: neither was back very much at all. Hazard only had two touches in his own half in that time, neither of them in the third of the pitch nearest Petr Cech's goal, and by overloading with forward-thinking players, it became an attack-versus-defence exercise. Meanwhile, Albion switched from 4-2-3-1 to 4-5-1 and then 5-4-1 in their efforts to hold on to their lead.

LIVERPOOL 4-0 FULHAM

Look at Brendan Rodgers' team sheet and the Liverpool manager selected four defenders, four midfielders and two strikers. Whether that made his formation 4-4-2 is a moot point: some called it 4-1-3-2 while another interpretation is that Philippe Coutinho, while ostensibly stationed on the left wing, was granted the freedom to play wherever he wanted.

Rodgers has said before that the Brazilian is at his best as a No. 10 and, in many respects, he played as one. His pitch map shows he contributed comparatively little outside the width of the penalty boxes but was hugely involved in a central area behind the two strikers, Luis Suarez and Daniel Sturridge.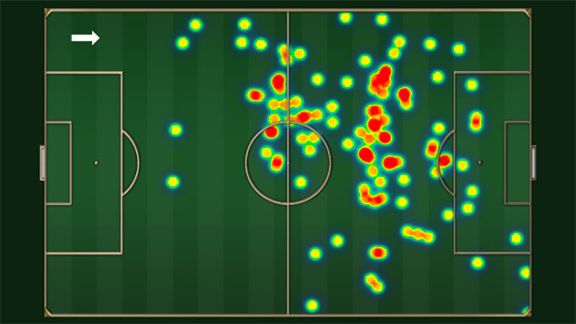 OtherPhilippe Coutinho operated mainly behind Liverpool's two strikers.

It meant that, in effect, he was playing directly in front of the anchorman Lucas and behind the centre-forward; that Brazilians tend to be more used to a 4-2-2-2 formation than the English perhaps explains it.

It also allowed Coutinho to be prominent throughout. Only Lucas attempted more than his 90 passes and only Suarez had more than his nine shots, and as the Brazilian made his first start since September, it explained why Rodgers, who had been playing 3-5-2, changed his system to accommodate the flair player.