De Gea, Szczesny extend grand goalie traditions
In goal, Manchester United and Arsenal have experienced a very similar journey throughout the Premier League era. Throughout the 1990s, both depended upon reliable, world-renowned goalkeepers. United boasted Peter Schmeichel, while Arsenal called upon David Seaman.

They were polar opposites: Schmeichel was renowned for spectacular saves, huge throws downfield, an obsession with screaming at his defenders, and a habit of charging up front to score late goals. Seaman was the quiet, calm, consistent introvert -- he rarely made mistakes and never made a save appear more spectacular than necessary. His defining feature was his old-school moustache and, away from the pitch, his love of fishing. The duo left their clubs similarly, captaining their side to a trophy in their final appearance -- Schmeichel the European Cup and Seaman the FA Cup.

Furthermore, each club has since featured only one adequate successor. Edwin van der Sar and Jens Lehmann were experienced goalkeepers but endured difficult moments -- both men flopped in Serie A, for example. Van der Sar was 34 and cost 2 million pounds; Lehmann was 33 and cost just 1.5 million. They were apparently cut-price, short-term solutions, yet both proved to be extremely successful. Van der Sar won four titles and the European Cup in 2008, even setting a Premier League record when he went 1,311 minutes without conceding. Lehmann was part of Arsenal's Invincibles side of 2003-04 and holds the equivalent record in the European Cup (853 minutes).

- McNicholas: Mertesacker stands tall for Arsenal
- Klopp: Arsenal can win UCL
- Okwonga: Karma in play as United suffer UCL draw

Aside from those two duos, both sides have struggled between the posts. The experiences of Mark Bosnich, Richard Wright, Roy Carroll, Manuel Almunia, Massimo Taibi, Rami Shaaban and Tim Howard are best forgotten. Perhaps, however, both clubs have seen the emergence of their third top-class goalkeeper of the Premier League era.

David De Gea and Wojciech Szczesny are both only 23 years old, but they are into their third season as first-choice keeper. They have encountered problems. Both have made mistakes, faced criticism and found themselves warming the bench. In light of Joe Hart's demotion at Manchester City, it's interesting that both have also benefited from a sustained period as a substitute.

De Gea always felt respected by Sir Alex Ferguson even when United's former manager played Anders Lindegaard instead. "The faith that he showed in me at all times was very important," the Spaniard said. "To know that he was behind me all the time and backing me up was great, and it's probably one of the reasons that I've continued to improve: that confidence he showed in me."

Ferguson used Lindegaard at specific moments, mainly when he felt De Gea required a rest. "Having Anders as a backup, in terms of giving the lad a break at the right time, is proving its worth," the manager said back in 2011. "Anders is an outstanding goalkeeper and has a little bit more experience."

"The competition for places is tough, as it should be in a club like this," Lindegaard once said. "It only makes us better as individuals." De Gea responded to Lindegaard's challenge and subsequently improved.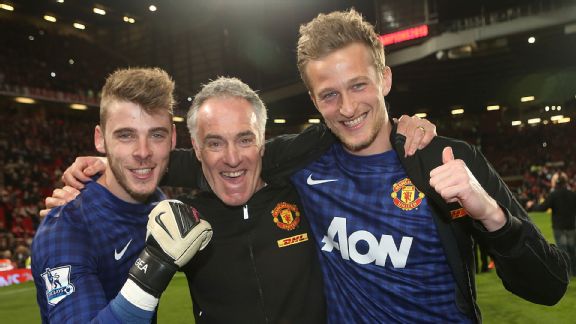 John Peters/Man Utd/Getty ImagesDavid De Gea benefited from the tutelage of Eric Steele and the competition from Anders Lindegaard to become the goalkeeper he is today.

Szczesny has also developed his game thanks to increased competition -- by his own admission. "I raised my standards when Lukasz [Fabianski] got his chance in goal," he told Arsenal's match-day programme earlier this season. "When you realise your position is not safe, you give it that little bit more -- 110 percent rather than 100 percent." Which, using the footballer-to-fan percentage conversion scale, means Szczesny wasn't giving 100 percent.

Szczesny and Fabianski have been good friends for nearly a decade and regularly travel on Poland duty together. It's helped that there is now "outside" competition following the arrival of Emiliano Viviano in the summer: The Italian international is an unnervingly constant reminder to Szczesny of his need for complete dedication. Viviano even moved into an apartment right above Szczesny's, just 15 minutes from Arsenal's training ground.

Indeed, De Gea's and Szczesny's development into reliable first-choice goalkeepers is not primarily due to an improvement in positioning or a different approach to shot-stopping -- it's because of a change in overall attitude. Former United goalkeeping coach Eric Steele recently told the highly respected United We Stand fanzine of his previous concerns about De Gea's all-round professionalism. "There were lifestyle issues: He'd sleep two or three times a day. He'd have his main meal late at night. He'd eat too many tacos."

Steele also accused De Gea of being "lazy" when it came to learning English -- the keeper eventually got around the problem by watching English television with the subtitles turned on, but Steele also learned Spanish himself in the intervening period. Steele departed after David Moyes' appointment but is credited with turning around De Gea's form -- Steele became a paternal figure, improving De Gea's overall lifestyle and his goalkeeping technique.

Szczesny can sympathise with De Gea's struggle to adapt to English life. He admits that he found the move to London difficult at first -- he relocated from Warsaw at age 16, but was given freedom to adjust without the pressures of first-team football and now loves London.

Steele's worries about De Gea involved sleeping and eating, problems that are apparently shared by Szczesny. He's fond of an afternoon nap and openly admits that he used to skip breakfast because he preferred an extra 15 minutes' sleep instead. He enjoyed a Pepsi before training in the morning, and although he's conquered his love of sweets, his secret vice is pizza.

"As times goes on, you realise it's the little details that win you games in football," Szczesny told Arsenal Magazine last year. "You could be one kilogram too heavy and just get your fingertips to the ball but not quite turn it around the post -- so that one [trip to] McDonald's during the week could have made all the difference!" At least he hasn't been accused of stealing a donut from a supermarket as De Gea once was.

Both players have also improved physically over the years. De Gea notoriously struggled with physical pressure in his early days at United. Steele remembers that "one issue was that he was just 71 kilos. We worked to make him more powerful ... we pushed protein drinks on him straight after training. We physically made him drink. We had him in the gym a lot. He hated it, they don't do the gym in Spain as much, but we needed to build his core strength."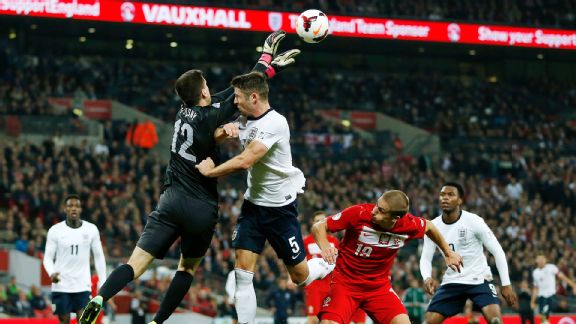 Adrian Dennis/AFP/Getty ImagesWojciech Szczesny has bulked up considerably compared to De Gea but still has trouble asserting himself in aerial battles off his line.

Szczesny was more proactive in this respect. He made weight training a key feature of his physical development as a teenager, although not without risk -- he endured a horrific accident as an 18-year-old at Arsenal's training ground when he slipped while lifting a heavy weight, fracturing both his arms.

"On the field, you have to say the English league is more aggressive and there's more physical contact in the game," De Gea told The Telegraph in October. "As a keeper, that's always going to make things harder for you."

Szczesny is naturally stronger but has also found physical attention difficult. When asked to name his toughest opponent, he didn't select Luis Suarez or Wayne Rooney, but ex-Bolton striker Kevin Davies -- an old-school target man, infamous as the Premier League's most prolific fouler because of his physicality while competing for aerial balls. Szczesny hates playing away at Stoke, and if he could change one thing about English football, he says he would give goalkeepers more protection.

The Pole lost in his Premier League debut at Old Trafford and endured his most miserable Premier League match there in 2011-12, when he conceded eight goals. Nevertheless, this is the away trip he looks forward to most "because of the reputation of Old Trafford and because you want to play in the very biggest games as a footballer." He considers Schmeichel the greatest goalkeeper of all time and even studied videos of the Dane before mimicking his famous "star jump" saves.

Szczesny has also fiercely defended De Gea, voluntarily springing to his opposite number's defence after the Spaniard made a mistake when United were eliminated from the Champions League at Basel in 2011-12. "I don't agree with the De Gea criticism -- he's potentially one of the best goalkeepers in the world but needs time to get his confidence at Manchester United," he tweeted. "You have to perform at your best every game when you play for big clubs, and when De Gea is at his best he is unreal! Give him some time." Szczesny stopped tweeting shortly afterward, though. "I wanted to make sure people judged me on what I did on the football pitch, rather than on my activities off it," he explained.

However, as both he and De Gea have discovered, improved professionalism away from the pitch can result in improved performances on it.