The more things change, the more they stay the same
Washington "Pulpo" Etchamendi never quite got the fame his quick wit and sharp tongue deserved. His top lip warmed by a pencil moustache, he was a portly figure, and no mean manager either. He spent much of his career in his native Uruguay with clubs like Defensor Sporting and Liverpool before taking charge of Nacional and leading the Montevideo side to three league titles and, in 1971, their first ever Copa Libertadores.

What little renown he had, though, was more for what he said than what he did. Etchamendi had a fine line in well-timed quips. Asked by a journalist why he dressed so badly, he replied: "I don't get dressed, I just cover myself up." When his goalkeeper told him he had conceded a goal because he wasn't expecting the ball to come at him from that angle, he answered: "What were you expecting? A potato?"

Before a game in Argentina against Jose Pizzuti's Racing Club, he claimed his opponents, famous for their stylish, adventurous football, only "played that way because Pizzuti is single." "He goes home, has a barbecue, his mother looks after him. I have to pay the bills," said Etchamendi. "I can't go out there and attack like a madman."

A personal favourite, though, is his description of tactics. "A formation is perfect," he said, or words to that effect, "before the game. Everyone is in the right place. The problem is that then the game starts and the players ruin it by running around."

It can be hard to tell, at times, how much formations and systems matter. The shorthand we use to describe them, certainly, is lacking. Another South American manager, Cesar Menotti, used to call 4-4-2, 4-3-3 and the like "telephone numbers." They bear no resemblance to what actually happens on the pitch.

Watch a team with the ball and without it and the way you would characterise their shape is very different. They will attack with five players, maybe more, and defend with just as many, with their midfielders -- in particular, but not in isolation -- occupying very different positions.

The labels, the telephone numbers, given to formations are necessary oversimplifications to give a vague idea of what a manager is trying to do. This is because the basic state of the game is chaos. Players are naturally inclined to run to whichever part of the pitch contains the most space.

A manager's job is to implement some sort of structure, to systematise the chaos. Whether a manager is any good can be ascertained by how much success he or she has in bringing order to the mayhem. That is football's core tension: nurture against nature, system against soul.

But even those oversimplifications are now too outdated to be of much value. There has been a shift in recent years away from formations that are viewed in three dimensions -- 4-4-2, 4-3-3, 4-5-1 -- towards a fourth level.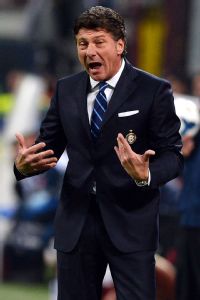 Claudio Villa/Getty ImagesWalter Mazzarri has earned praise for his tactical thinking.
The most common approach, at the very top level, is now some form of 4-2-3-1, or 4-1-4-1. Liverpool are playing a 3-4-1-2; Walter Mazzarri's Napoli did the same, with rather greater success. Marcelo Bielsa made 3-3-1-3 fashionable with Athletic Bilbao, while Brazil play a sort of 4-2-2-2.

There are managers who are experimenting with even more complex systems. For example, Jorge Sampaoli, now in charge of Chile, favours a five-tier structure, defined loosely as 3-3-1-2-1. Still, though, this is not enough. And it is not enough because the very way we look at football has become outmoded.

Speaking at the London Sports Writing Festival last month, tactics guru Jonathan Wilson noted that the single greatest shift in the way football is played came in the years after World War II, with the invention -- or at least the popularisation -- of pressing. This, Wilson believes, is down to the fact that players' diets had improved sufficiently after the end of rationing to allow them to close opponents down effectively.

His theory fits neatly into football's history, which is essentially that of a game responding to external stimuli. It is there in the styles of play favoured by different nations -- the long-ball game exists in England because of the state of the pitches, while Italian football is slower because it is warmer, that sort of thing -- and it is there in the rise of certain tropes and trends. The free-flowing Ajax of Johan Cruyff, for example, can be interpreted as an extension of the cultural and artistic explosion in 1960s Amsterdam.

That process has not stopped. Fitness and conditioning have improved markedly in football across the world in the last 30 years. Players are a different shape and are capable of different things, particularly in terms of athleticism; football is faster, fitter and stronger now than it ever used to be.

And that influences how the game is played and how it is structured. The death of the 4-4-2 is, at least in part, attributable to the fact that having two players on each flank is unnecessary; one can cover the ground just as well, as Dani Alves does for Barcelona, for example.

The strike partnerships that have marked the start of this season's Premier League -- Suarez and Sturridge, Rooney and van Persie, Aguero and Negredo -- seem almost retro because it is more than a decade since managers decided one player could do the work of two up front, freeing up an extra man to wrest control in midfield.

One-tone midfielders are disappearing, too, both the purely defensive ones -- Claude Makelele -- and the elegant, mercurial No. 10s, like Juan Roman Riquelme. In their stead are players capable of doing both, like Toni Kroos and Paul Pogba, midfielders as comfortable as the anchorman or the creator-in-chief. Football's demands and its shape are changing radically.

This raises two questions, then: what will it look like in the future and how will we write it down?

Let us work from the back. If you only need one striker, then you can probably play with just two designated central defenders. In front of them, a rotating midfield pivot -- as favoured by Andre Villas-Boas at Tottenham -- and two wing-backs, capable of doing a job that formerly required two people.

Then perhaps two advanced playmakers -- who can track back when required -- and finally a forward line of three, as popularised by Barcelona, where any of the three can occupy any one position.

Write that down. It looks an awful lot like a variation of 2-3-5, the formation that was en vogue nearly a century ago and that was known as the W-M.

Football has changed and morphed and developed and grown, in tune to the society of which it is a part. It has invented false nines and rotating sixes and inverted wingers and it has gone back to what it once was.