Tactics Board: Arsenal midfield overwhelms Reds
EVERTON 0-0 TOTTENHAM

Tottenham play a pressing game, trying to pin their opponents back and win the ball high up the pitch. That is one reason why Everton central midfielder Gareth Barry was so deep for much of the match, as his pitch map shows: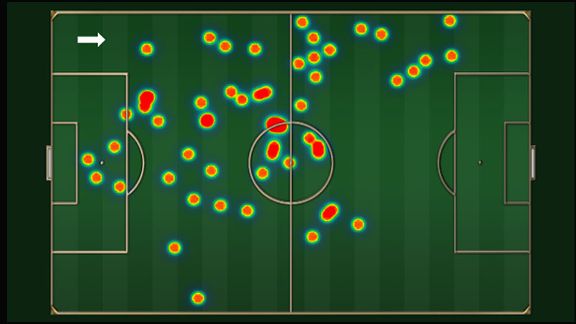 ESPN Stats & InformationGareth Barry played quite deep throughtout Sunday's match versus Spurs.

But there was another factor: under Roberto Martinez, when Everton have the ball at the back, the two central defenders, Phil Jagielka and Sylvain Distin, often split and Barry drops in between them, sometimes to collect the ball from goalkeeper Tim Howard. It is a favourite tactic of Barcelona's, but not one Everton used often under David Moyes. That newer emphasis on passing, even when near their own goal, accounts for several of Barry's touches just outside the penalty area in a central position.

ARSENAL 2-0 LIVERPOOL

When a team playing 4-2-3-1 takes on a side with a 3-5-2 system, a logical tactic is to keep the wingers wide and to try to outnumber their opponents on either flank. That isn't really the Arsenal approach, however. A theme of recent Tactics Boards has been that their wingers aren't really wingers. Instead, Arsene Wenger selected three No. 10s behind lone striker Oliver Giroud against Liverpool and, even if there were reasons to hug the touchline, they actually had a wandering brief.

Santi Cazorla is a particular case in point. More even than Mesut Ozil and Tomas Rosicky, he had a tendency to turn up all over the pitch. Ostensibly on the left, the cluster of dots on the right reflect his move to the opposite side after Rosicky was replaced when Arsenal were defending a 2-0 lead. Before then, however, he was elusive. His goal came from what might be regarded as a central midfielder's run into the Liverpool box. His immediate opponent, Liverpool right wing-back Jon Flanagan, did not follow him then (perhaps he should have done), but one effect of Cazorla's licence to roam is that while Liverpool picked three central midfielders, he gave Arsenal a numerical advantage there. In theory, Lucas Leiva, Steven Gerrard and Jordan Henderson were up against Ozil, Ramsey and Mikel Arteta, but Cazorla and Rosicky succeeded in flooding that part of the pitch, giving them an overload and finding space between the lines and ahead of Liverpool's three centre-backs. While Brendan Rodgers changed to 4-4-2 in the second half, that gave them still fewer players in the centre of midfield. In a way, it was an admission Arsenal had won the midfield battle.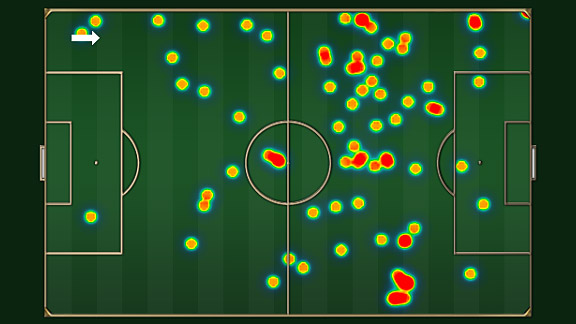 ESPN Stats & InfoSanti Cazorla had free reign in Arsenal's win over Liverpool.
NEWCASTLE 2-0 CHELSEA

Consider the pitch map pictured below: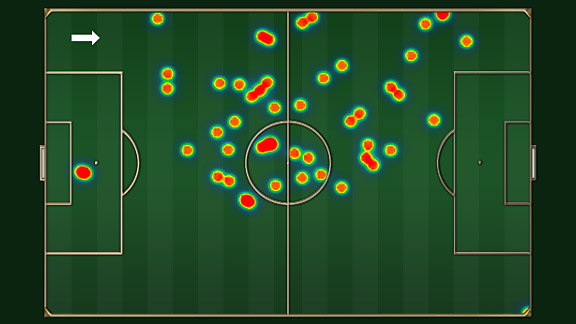 ESPN Stats & InfoChelsea midfielder Frank lampard failed to register a single touch in the Newcastle area.

The chances are that, unless they knew otherwise, few would guess it was Frank Lampard's. The most obvious element is that the midfielder with the record number of Premier League goals to his name (166) did not have a single touch in the Newcastle penalty box. Nor, indeed, did he have a shot from long range either.

In part, it is a sign of Lampard's reinvention as a deeper-lying midfielder. Yet it also highlights how, when Ramires partners with the Englishman in the centre of the pitch, Chelsea lack a natural holding player, meaning Lampard has to sacrifice himself in a different role. While the Brazilian has the greater stamina and, unlike the Englishman, played the full 90 minutes, he was never on the ball in the Newcastle box either; it is a reflection both of Jose Mourinho's tactics away from home and of the effectiveness of the United midfielders.

Lampard has long been efficient. For a defensive midfielder, however, the 35-year-old was wasteful in possession, only completing 76 percent of his passes at St James' Park. It was also notable that Mourinho substituted Lampard once Newcastle took the lead, a sign of the Portuguese's dissatisfaction.

FULHAM 1-3 MANCHESTER UNITED

Manchester United's burst of three goals in 13 first-half minutes ensured the focus was on their attacking talents. At the back, however, Nemanja Vidic made his first Premier League appearance for four weeks and delivered a defensive display.

A map of the Serbian's defensive contributions shows how busy he was: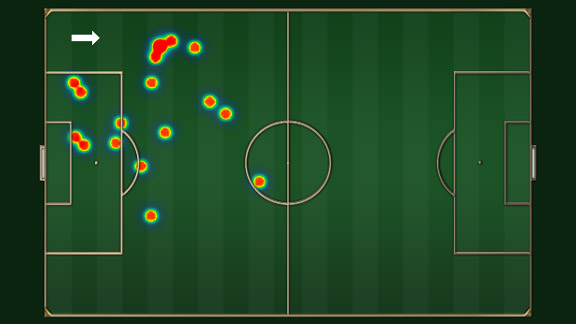 ESPN Stats & InfoLeft centre-back Nemanja Vidic was active from the start for United against Fulham.

He made two tackles, three interceptions and 12 clearances. As the map shows, David Moyes has continued where Sir Alex Ferguson left off in using Vidic as the left-sided centre-back. For most of his United career, he operated on the right and Rio Ferdinand on the left before the Scot switched them in November 2011.