Emirates encounter promises a clash of partnerships
While Arsenal's excellent beginning to 2013-14 has owed much to Mesut Ozil's arrival, Mathieu Flamini's return and Aaron Ramsey's sudden transformation into a top-class midfielder, the Gunners' form has actually been very good over the course of 2013.

No side has collected more points than Arsenal this calendar year and the Gunners have lost just one of their last 19 league matches, on the opening day, at home to Aston Villa.

The turning point, it seems, was in the wake of the defeat to Tottenham at White Hart Lane in early March, a match in which Arsenal's defensive positioning was awful. The back four was repeatedly opened up by a combination of through-balls and runs in behind, because of Arsenal's high defensive line, combined with no pressure on the ball.

Since then, Arsene Wenger has played club captain Thomas Vermaelen just once, instead depending upon a partnership of Per Mertesacker and Laurent Koscielny. That defeat to Villa aside, Arsenal's defending has been extremely impressive and the combination in central defence gives the Gunners a security they haven't enjoyed for years.

- Arshavin critical of Arsenal fans
- Wenger defends squad depth

This weekend, however, sees their biggest test yet. Since establishing themselves as Arsenal's first-choice duo, Mertesacker and Koscielny have yet to face a strike duo as potent as Luis Suarez and Daniel Sturridge, and the contest between two of the league's best partnerships will be absolutely fascinating.

To understand why, we first have to consider precisely how Koscielny and Mertesacker defend. They are a classic partnership in the sense that they complement each other's style perfectly: Koscielny is younger, more mobile and more technical, whereas Mertesacker is more experienced, sturdier and does the basics reliably.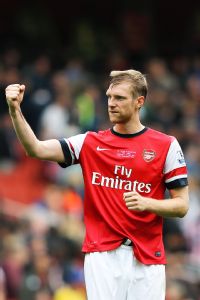 Ian Walton/Getty ImagesPer Mertesacker has helped solidify a previously shaky Arsenal defence.
They are different players, but work well together. "It's really important that you work as a unit in the back four, that there's no one who thinks in a different way or defends differently," Mertesacker told Arsenal.com last season.

Although Koscielny is noticeably the better player in possession, the more interesting difference is their approach when defending. "On man-marking, I don't let the striker breathe," said Koscielny. "I love one-on-one challenges … my aim is to never let the striker open on his good foot to go towards goal. You have to be very intelligent."

The Frenchman's game has evolved since playing alongside Mertesacker, rather than Vermaelen. The Belgian always closed down strikers quickly when the ball was played into feet, so Koscielny often took up covering positions.

Now, Koscielny plays an extremely proactive role and finds Mertesacker sweeping up behind. The German's most obvious weakness is his lack of pace, so he generally positions himself much deeper, ready to cover if Koscielny is beaten. Mertesacker, says Arsene Wenger, is "tactically one of the best defenders in the world."

"It's the only position where you need familiarity," said Tony Adams, Arsenal's greatest centre-back of all time. "I think that's what really helped Koscielny and Mertesacker, that they got to know each other's game. For me, Mertesacker is a zonal defender and Koscielny is a man-to-man marker. They got to know each other's game because they played with each other week in, week out."

Adams highlights the difference well: Kosicelny sticks tight, Mertesacker stays in position. But Arsenal are accustomed to playing against lone strikers, especially at the Emirates. This weekend, they'll be up against an old-fashioned strike duo.

That creates a very different situation. The beauty of Liverpool's 3-5-2 system is that it allows Suarez and Sturridge to stay high up the pitch, whereas a 4-4-2 system also features two forwards but one is generally asked to drop into the midfield zone and help win the numbers game in the middle. Liverpool already have three central midfielders, so the strikers can focus upon attacking.

"When you have a very good striker, and a very good partner, for defenders it is difficult because they have to give their attention to two players -- not just one," said Suarez this week. "If maybe two defenders come towards me, this creates space for Danny."

The relationship has worked better than anyone could have expected. "It's a natural partnership between us, it's almost telepathic," said Sturridge. "The relationship we have means we know when to pass to each other and when we're going to make runs. It's just a totally natural thing."

Usually, Suarez moves short and receives possession to feet, whereas Sturridge stays higher up, trying to make runs in behind. But the two have developed a fine understanding and often reverse the roles: Sturridge will come short, Suarez will move towards goal.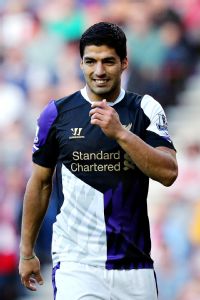 AP Photo/Scott HeppellSince returning from suspension, Suarez has scored six goals in four games.
They never make the same movements and genuinely seem to have a fantastic relationship. In just four matches together this season, Suarez and Sturridge have combined to score 10 goals. "I am not sure there are two better in the league," said Brendan Rodgers.

It will be particularly interesting to see how Koscielny and Mertesacker cope. Koscielny will look to stick tight to Suarez, and while the Frenchman always backs himself in one-against-one situations, few strikers are better at wriggling away from pressure. Koscielny must win those battles, especially because Mertesacker will be left isolated against Sturridge, one of the division's quickest strikers.

Although the battle between the duos will be fascinating, Arsenal must surely prevent being exposed two-against-two at the back. This is the peculiar thing about Liverpool's 3-5-2: the opposition can get joy down the flanks by pushing their full-backs forward to create overloads, but that's highly dangerous when Liverpool win possession and transfer the ball quickly into attack.

Suarez and Sturridge have both previously played out wide and know how to roam the channels, dragging opposition centre-backs out wide before beating them for pace.

The lack of Mathieu Flamini is a particular blow to Arsenal, as he's provided a reliable shield for the centre-backs and could have been crucial in preventing Suarez finding space between the lines. Mikel Arteta will have to play a very cautious role as Arsenal's primary holder.

Usually, the key battle in a game is a direct clash between two individuals. For this game, however, it will be a battle between two partnerships.

There are few better things in football than a solid, reliable relationship between two teammates, and the contest between Arsenal's centre-backs and Liverpool's centre-forwards will be one of the most intriguing events of the Premier League season so far.