Aguero shows his versatility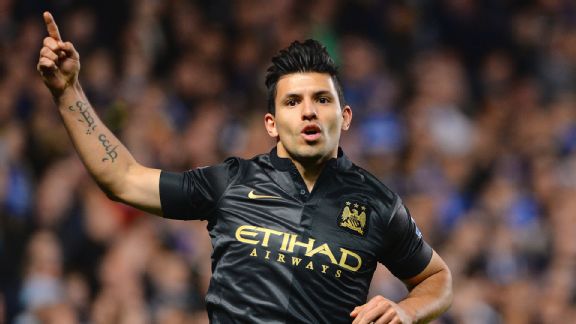 Shaun Botterill/Getty ImagesAguero has ten goals in 11 games in all competitions in 2013-14.
There are players that obviously fall into positional stereotypes and there are players who transcend them. Sergio Aguero is the latter.

Traditionally, Argentina produces two types of forwards. Most famously, the country loves small, diminutive, outrageously talented number tens, but they also produce a succession of old-school, all-round strikers. Diego Maradona, Lionel Messi and Juan Roman Riquelme wear number ten, while Mario Kempes, Gabriel Batistuta, Hernan Crespo wear number nine.

Subsequent New Maradonas -- Pablo Aimar, Andres D'Alessandro, Messi -- have enjoyed mixed success. Equally, Gonzalo Higuain was inevitably compared to Batistuta. No comparison is perfect, but it is a useful shorthand way of describing a player's basic characteristics.

Some players belong somewhere between. One of Aguero's predecessors in this respect was Javier Saviola, at one point the hottest prospect in world football before his move to Barcelona, where he hit 49 league goals in three seasons. At a time when Barca were far from the force of the last five years, that was a respectable tally.

But there seemed something incongruous about Saviola – physically he was suited to being a slender, creative playmaker, but stylistically he wanted to play upfront, on the shoulder of the last defender. His individual contributions were always decent, but he left managers slightly perplexed.

His natural ability has never been in question, and nor has his professionalism but, realistically, his career peaked at 23 and he spent the rest of his time playing on loan, as a reserve, or in minor leagues. He retired from international football at just 27, although he's started the season well at Olympiakos, still only 31.

Certainly, Aguero isn't going to endure a decline like Saviola's. He has already hit heights Saviola couldn't have dreamt of, not least when scoring the most important goal in the history of the Premier League against QPR last year. But the story of his fellow Argentine sums up the perils of a player having a confused role.

"He is a top player," says coach, Manuel Pellegrini, of Aguero. "I always talk with Sergio about the fact that he, for me, is one of the five top players in the world. He must try to demonstrate it in every game he plays. He is playing with more intensity when we don't have the ball and he has a lot of quality to make the difference."

He might be top five in terms of ability but he is not in terms of consistency.

It feels like Aguero should be contributing more. That feels like a strange thing to say considering his record at City: 42 goals in 72 games, but there remains untapped potential. Aguero has the ability to become the Premier League's most lethal striker and its most revered footballer.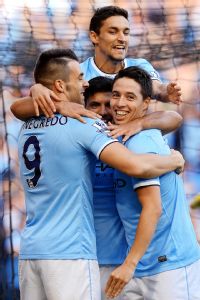 Andrew Yates/Getty ImagesAguero has found success with Alvaro Negredo this season.
Aguero's role has always been a little uncertain. He's most frequently been fielded alongside Edin Dzeko and this season Alvaro Negredo seems to have replaced the Bosnian as City's first-choice number nine. It makes sense: a tall, static central striker to support a nippier, skilful attacker.

The confusing thing about Aguero's relationship with a player in that mould, however, is his positioning. Check the average position diagram after a match with the Aguero-Dzeko combination and Aguero is generally positioned higher up the pitch, sprinting in behind the defence. Under both Roberto Mancini and Pellegrini, City have been keen to use a two-man strikeforce, despite the apparent desire of sporting director 'Txiki' Begiristain to play a 4-3-3 system.

Aguero isn't actually involved in build-up play much: his pass-per-game statistics are similar to that of Marouane Chamakh, for example. And while Dzeko and Negredo can come towards the ball in order to link play, they're hardly acting as a third central midfielder. The narrowness of David Silva unquestionably helps the problem of creativity from the middle of the pitch, but sometimes you wonder whether there's too much congestion in central attacking positions, whether Dzeko, Aguero and Silva are performing the job of two men.

Indeed, it's worth remembering that City won the title in 2011-12 following the return of Carlos Tevez from his six-month exile. A spring stumble brought just one win in five matches and Manchester United seemed destined for the league but Tevez's return coincided with City storming back to win their final six matches, albeit in rather desperate fashion on the final day.

Still, the roles were clear – some feared the Argentines would be too similar to play together but Tevez played as the number ten and Aguero sprinted in behind. In their first match as a duo, City thrashed West Brom 4-0: Aguero scored two and assisted two. He hit two more the next week at Norwich, with Tevez bagging a hattrick, and dominated in the win over Wolves, scoring again. Mancini went with the Tevez-Aguero combination for the final three matches, with Dzeko -- a natural plan B -- used as a supersub.

It was intriguing to see Aguero deployed as a lone forward in the 2-1 defeat to Chelsea on Sunday. Although he finished on the losing side, he was named man of the match shortly before Fernando Torres' winner. With five midfielders dominating the centre of the pitch, Aguero had license to stay high up and constantly sprint in behind without City being weak in the centre of the pitch – the timing of his runs was superb, and his unerring ability to strike the ball first-time, from astonishingly acute angles, was summed up by his brilliant equaliser.

"For most of my career I've played behind a striker, but close enough to form a partnership with them," he told FourFourTwo magazine earlier this year. "That's where I think I play best. I'm looking forward to playing with Dzeko, Negredo and [John] Guidetti this season and being right by their side."

Aguero correctly believes there's more to his game than simply being a finisher but that's no longer a compelling argument for why he should be used in a deeper position. Almost every out-and-out striker these days can do more than merely score goals: last season's top Premier League goalscorers were Robin van Persie and Luis Suarez, two players equally comfortable outside the box. The primary strikers for the elite teams are now part-number nine, part-number ten.

That perfectly describes Aguero and while Negredo and Dzeko remain his most likely partners for him this season, a relationship between he and Stevan Jovetic perhaps has the greatest potential. Both are mobile, skilful, adept at linking play and can score goals. Jovetic could play as the second striker, Aguero could play on the shoulder of the last defender.

There's more to come from Aguero and more to come from Manchester City.