Tactics Board: Roaming Torres torments City
CHELSEA 2-1 MANCHESTER CITY

Sometimes when teams play with a lone striker, the player has a fairly restricted brief: to operate within the width of the penalty area, for instance, serving as a target for teammates or offering them a presence in the penalty box. What Fernando Torres' pitch map at Stamford Bridge shows was how far and wide he roamed in his match-winning display. It made him harder to mark for the City central defenders, Martin Demichelis and Matija Nastasic: He was always up against one. Indeed, there were times when he was up against neither, either in the fullbacks' or the central midfielders' zone of the pitch.

There was no one area where Torres was consistently involved. Instead he was willing to go to either flank and to run at defenders. Both were apparent when he created Chelsea's first goal. In something of a role reversal, it was winger Andre Schurrle who arrived in the six-yard box for the tap-in. The touch closest to the City net, of course, was his 90th-minute decider.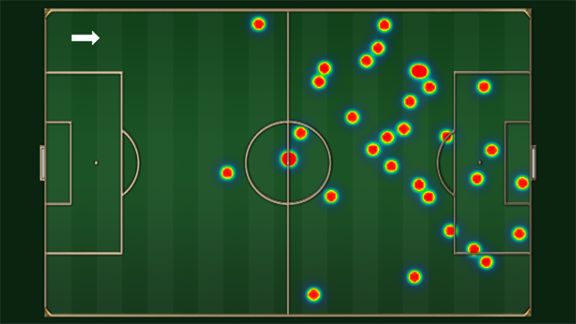 Fernando Torres' unpredictable movement stretched Man City.
LIVERPOOL 4-1 WEST BROMWICH ALBION

Many a team would be happy to finish a game with statistics of eight attempts at goal with five on target and three going in. Luis Suarez managed that on his own at Anfield on Saturday. The diagrams show how he bombarded the Albion net. They illustrate his range -- the furthest came from 36 yards out and Suarez had five efforts from outside the box, including his 20-yard headed goal.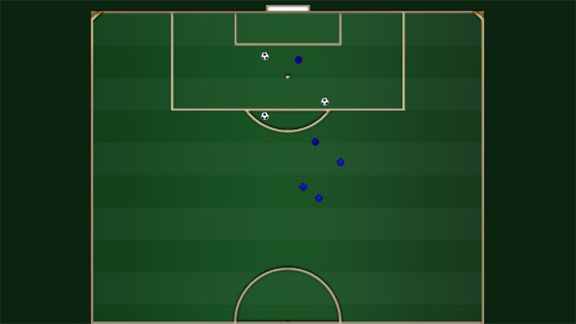 The range of shooting from Luis Suarez had his opponents on the back foot.

What the graphic also indicates is how a striker who used be criticised for his erratic finishing was not just hitting the target, but aiming for the corners of the net, where the goalkeeper will probably find it hardest to save them. Three of his four attempts near the corners went in; the other brought a fine save from Boaz Myhill. The fifth attempt and most central on target, his late overhead kick, required a fine save to prevent Suarez from scoring a fourth.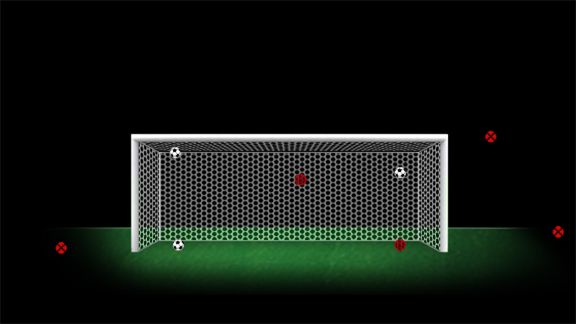 Luis Suarez made Boaz Myhill work hard in the West Brom goal.
MANCHESTER UNITED 3-2 STOKE

Many times a packed pitch map is used to praise a player. On this occasion, an almost empty one suffices as an illustration of his impact. Including added time, Javier Hernandez was on the pitch for only 28 minutes on Saturday. He touched the ball a mere nine times -- roughly once every three minutes -- but that included the winner. Less is more for the Mexican, hardly involved in the build-up but often deadly at the finish. It makes him ideal as a substitute, as someone who can make at an impact when both space in the penalty area and time are at a premium. What is still more impressive is that in the time when Manchester United needed a goal -- when they were first trailing and then drawing -- he had only four touches, but half of them were within 10 yards of the Stoke goal and one ended up in it. It highlights why he is the definition of a penalty-box player. He then had five further touches nowhere near the Stoke net as United saw the game out.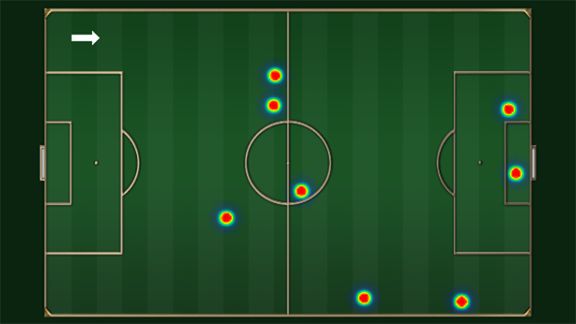 Once again, Javier Hernandez proved quality over quantity can be decisive.
CRYSTAL PALACE 0-2 ARSENAL

Much of the focus this season, understandably, has been on Arsenal's passing and attacking. At Selhurst Park, they had to defend, particularly when they were reduced to 10 men. It was then that Bacary Sagna became particularly important. The statistics showed that the right-back made nine important defensive contributions -- two tackles, two interceptions and five clearances. Eight of them came in a similar area vertically: between eight and 20 yards from his own goal and six of those came were after Mikel Arteta was sent off. What it shows is how deep Arsenal had to operate and how involved Sagna was in protecting what was, for most of that time, a one-goal lead.

Indeed, Sagna was busy throughout. He had 108 touches, the sort of tally normally associated with a midfielder in one of Arsene Wenger's sides, and the most of anyone, and ploughed a furrow along the right touchline. More than 80 percent of those touches came outside the width of the penalty box. Because Arsenal are playing without specialist wingers at the moment, they are more reliant on the fullbacks to provide the width.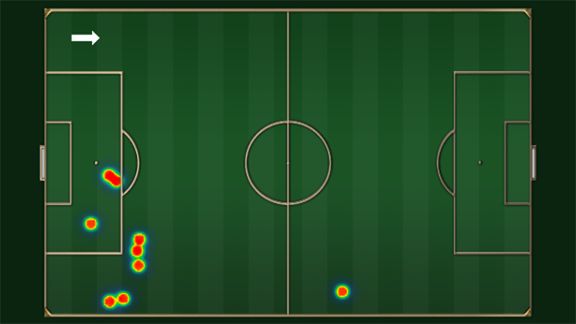 Bacary Sagna's contribution at the back has helped Arsenal continue their fine form.