Juventus meeting a historical reminder for Real Madrid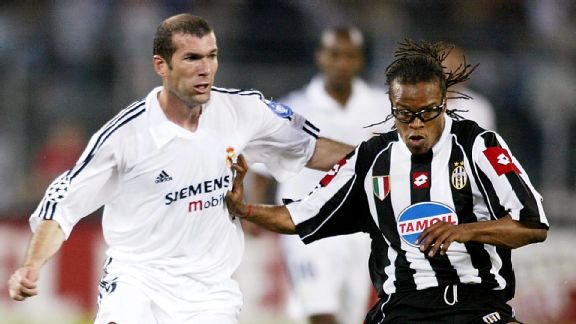 Clive Mason/Getty ImagesAn epic return leg performance against Real Madrid's Galacticos earned Edgar Davids and Juventus a spot in the 2003 Champions League final.
The last time Antonio Conte faced Real Madrid, it was a truly momentous occasion.

The current Juventus manager played a very small role during La Vecchia Signora's 3-1 win over Real Madrid in 2003, replacing Edgar Davids late on as Marcello Lippi guided his side through to an all-Italian Champions League final against Milan. However, that semifinal victory remains one of Juventus' most famous victories this century -- and it signalled the beginning of the end for Real Madrid's Galacticos.

- Rzouki: It's time for Real Madrid
- Report: Ancelotti opting for experience

It was mid-May in 2003, at a time when Juventus and Real were both on the verge of clinching their respective league titles, and a period when they were still considered the two major forces in European football. Real had won three of the previous five European Cups, while Juve had reached three finals in the previous eight years, triumphing on one occasion.

It was also a period where there was a genuine debate about which league was stronger: Serie A or La Liga. Italy had dominated the 1990s and historically was a more powerful football nation, but the success of Real and Valencia demonstrated Spain's outright quality at the start of the 21st century.

Although they would be crowned champions weeks later, AC Milan had not yet re-emerged as a major European force. The Rome clubs were enjoying great success domestically, but failing to produce good performances on the continent, and Inter were still floundering. Juve, at this point, were representing Serie A.

The first leg, played at the Santiago Bernabeu, had been an extremely tense but exciting contest, won 2-1 by the home side courtesy of a controversial Roberto Carlos free-kick -- scored when four Real players were in an offside position, and at a time when the rules regarding "interfering with play" had yet to be fully determined. Still, for the neutral, 2-1 for the home side was the perfect score to set up an enthralling second leg.

The cast list for the second leg was stunning; there were superstars everywhere. Roberto Carlos, Edgar Davids, Zinedine Zidane, Gianluigi Buffon, Pavel Nedved, Luis Figo, Gianluca Zambrotta, Iker Casillas, Alessandro Del Piero, Raul, Lilian Thuram and David Trezeguet. Ronaldo, only half-fit, started on the bench.

But a battle of superstars was precisely what the game wasn't about. Juventus prevailed not because they had better players, but because they were a superior unit. Their players all performed individual roles exceptionally; up front, for example, Trezeguet won aerial duels and held up the ball, Del Piero arrived a little later from deeper positions to provide creativity and neat touches, while Nedved drove forward powerfully, connecting the front two with a rather defensive-minded midfield trio. Ask Florentino Perez at the time, and he probably wouldn't have taken Trezeguet over Ronaldo, Del Piero over Raul or Nedved over Zidane.

That final battle is particularly memorable. Two years after leaving Juventus, this was Zidane's first return to the Stadio delle Alpi (on a rare occasion when it was absolutely packed) and he was still considered the world's greatest footballer. The truth, however, was that Zidane's sale was one of the best transfer decisions Juventus have ever made -- they received 48 million pounds for a player who was slightly past his best, and reinvested half that money in Nedved, a player who had not yet peaked, and sustained his form over a longer period after the transfer.

Nedved, who missed the final through suspension but still won the Ballon d'Or at the end of the year, absolutely ran the show -- and while Trezeguet's opener was a fine finish and Del Piero's goal a magnificent piece of trickery, Nedved's goal was the clinching moment. Eight minutes after Buffon had saved a Figo penalty, Nedved ran onto a through-ball from Zambrotta, outpaced the ageing Real backline, and acrobatically finished in mid-air. His celebration -- vaulting the advertising hoardings and saluting the crowd -- remains of the greatest moments in the recent history of the European Cup. The contrast with the understandably muted reaction of Zidane, who scored a last-minute consolation, proved who had triumphed.

Real were simply beaten by the better side, but the ramifications were extreme. They won La Liga that year, remember, but Perez took this defeat extremely badly. He sacked double league champion, double European Cup champion and future World Cup winner Vicente del Bosque, a widely respected coach who had been associated with the club since he was 20. They asked Fernando Hierro, the defensive lynchpin who had been at the club for 14 years, to leave. They sold Claude Makelele, famously considered the man who held the side together, plus his defensive midfield colleague Flavio Conceicao and Steve McManaman, another man who sacrificed his own game to indulge the superstars.

"Why put another layer of gold paint on the Bentley when you are losing the entire engine?" remarked Zidane, referring to Makelele's departure. "We will not miss Makelele," insisted Perez. "His technique is average, he lacks the speed and skill to take the ball past opponents, and 90 percent of his distribution either goes backwards or sideways." Furthermore, Fernando Morientes was loaned out to Monaco -- he guided them to the 2004 Champions League final. All five major departures were key allies of del Bosque.

In came David Beckham -- a fine footballer, but another lead singer when Real desperately needed an understated bassist. Carlos Queiroz was appointed the new coach -- despite his experience consisting primarily of international football and being an assistant. The next season, Real finished fourth in La Liga and exited the Champions League, mainly thanks to a terrible defence and a flimsy midfield. They failed to win La Liga until the season after Perez's resignation in 2006. Arguably, you can trace the failings to that Juventus defeat.

Perez has, to an extent, learned his lessons. He no longer regards defensive players as useless and has invested more intelligently in the squad during his second period as the club's president, but there remains a relentless obsession with the concept of the individual. Cristiano Ronaldo, for all his qualities, can be amazingly selfish -- and the man who has replaced him as the world's most expensive footballer, Gareth Bale, has become a similarly egotistical player in a pure footballing sense.

Despite the huge financial resources available at top clubs, the last decade of European football has underlined the importance of a unit -- the sport has never been more systemised. Swapping Mesut Ozil for Bale isn't quite as ludicrous as swapping Makelele for Beckham, but Real are still a rather perplexing club, routinely undervaluing reliable team players.

Conte's Juventus are the opposite: a unit that maximises individual abilities. Juve start Wednesday's meeting as underdogs, and a surprise victory wouldn't be nearly as significant as that 3-1 win over a decade ago, but it would hint at similar failings in Real Madrid's approach.