Tactics Board: Four different approaches to midfield play
ARSENAL 4-1 NORWICH

Jack Wilshere isn't a natural right-winger. Nevertheless, with Theo Walcott and Alex Oxlade-Chamberlain injured and Arsenal boasting a surfeit of central midfielders, he started on the right flank against Norwich. But as his pitch map indicates, that was only his starting position. Wilshere had a licence to roam infield -- as he did, brilliantly, for Arsenal's exquisite opening goal -- and could interchange, particularly with Mesut Ozil and Santi Cazorla.

Initially, Ozil's arrival meant that Wilshere moved to the left but he switched to the right at half-time in the draw at West Brom and it has helped him, given that it enables the Englishman to come in onto his favoured left foot. A cluster of dots around five or 10 yards from the right touchline show the pattern of him starting wide and ending up in more central areas.

It is also notable that he only had one touch in the final third on the right and outside the penalty box: It is an area into which a conventional, right-footed winger would be expected to run, before delivering crosses. But then Wilshere is no winger -- he left that space vacant for overlapping right-back Bacary Sagna, who delivered seven crosses to Jack's two. Unlike Wilshere, the vast majority of Sagna's touches were in the strip between the penalty areas and the touchline: he was really the wide man.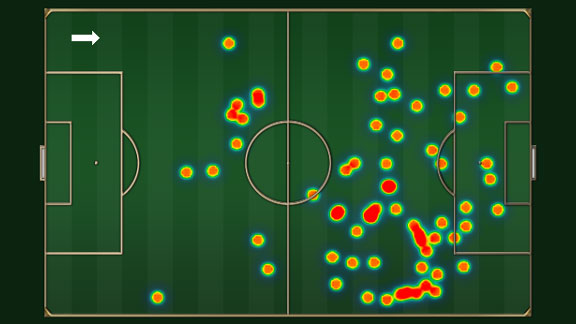 ESPN Stats & Information Jack Wilshere's station on the flank afforded him plenty of opportunity to cut infield and attack with purpose vs. Norwich.
TOTTENHAM 2-0 ASTON VILLA

Like Wilshere, Andros Townsend is young, English, left-footed and plays for a North London club. Unlike the Arsenal man, Tottenham's Townsend is a winger by trade. His pitch map makes for an interesting comparison with Wilshere's: While Townsend also likes to cut in on to his preferred foot and shoot, he is equally willing to hug the touchline and is on the ball nearer the corner flag far more often.

His ratio of touches to passes (76-38) is a sign that whereas Wilshere is a passer, Townsend is a dribbler. He ran at the Villa defence more often (five times) and delivered more crosses (10) than Wilshere did against Norwich, and while the Arsenal map swapped positions with teammates, Townsend was a specialist right-winger, stretching the Villa defence.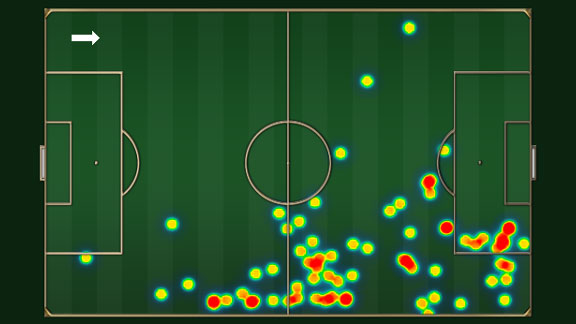 ESPN Stats & Information Andros Townsend's natural comfort as a winger showed vs. Villa. Not only did he use the flank as leverage for angled infield runs, but his wide work stretched the defense well.
NEWCASTLE 2-2 LIVERPOOL

The naked eye often suggests that Steven Gerrard is exerting a huge influence in the Liverpool or England midfield. His pitch map on Saturday shows just how involved the 33-year-old was in his area of the pitch. Very few will be more crowded for the simple fact that Gerrard touched the ball 120 times. The most significant of those, from the penalty spot, brought up his century of Premier League goals. What the diagram shows, though, is that although Gerrard remains a box-to-box midfielder, he operates largely within the width of the 18-yard box and in a zone about 30 yards to either side of the halfway line; apart from taking corners, he is rarely near either touchline.

The statistics are also a sign how effective Gerrard was: He had two shots, scoring on one, made four tackles and three clearances, put in eight crosses -- finding a teammate on five occasions -- and attempted 99 passes, completing 90 of them. It amounted to excellence in every respect.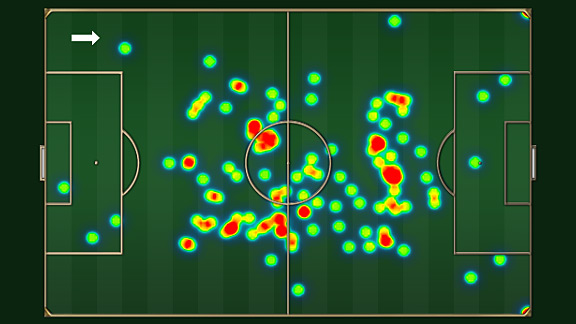 ESPN Stats & InfoSteven Gerrard's ubiquitous presence in Liverpool's midfield vs. Newcastle was a sight to behold, as witnessed by his heat map.
MANCHESTER CITY 3-1 WEST HAM

Sam Allardyce confounded footballing orthodoxy versus Tottenham a fortnight ago, playing without a striker and winning 3-0. He repeated that tactic against Manchester City but with less success. What his 4-2-4-0 formation meant was that City's two central defenders had no immediate opponents for much of the match. It is unsurprising, then, that they had the time and space to complete plenty of passes. Matija Nastasic attempted 68 with a 94 percent completion rate, while Javi Garcia tried 61, succeeding 92 percent of the time. One consequence was that they could find City's central midfield duo, Yaya Toure and Fernandinho, who in turn could complete more passes that West Ham's four central midfielders managed between them.

But in the West Ham midfield, who took turns being the most advanced man, it produced some odd pitch maps. Below is Mohamed Diame's. He was sometimes the furthest man forward, but at other times, as the diagram shows, he was on the right, and there is no area where he was consistently involved. One thing that stands out is how few touches he had in a central area in the City half. That was an area occupied more by Ravel Morrison, who was in the No. 10 position more and, like Diame, was sometimes the most advanced player.

The most sparsely populated pitch map of all was Kevin Nolan's: he had only 25 touches (in contrast, Toure had 112), including two in each penalty box, but not nearly enough in between.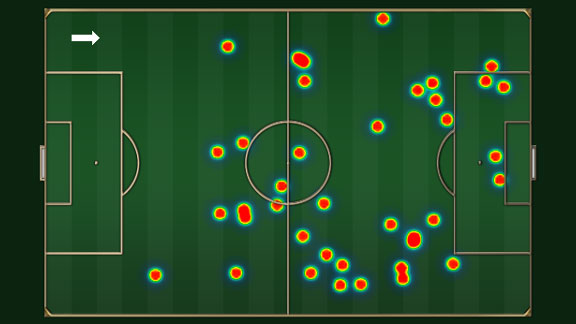 ESPN Stats & Information Mo Diame's role in West Ham's plans was most curious vs. Man City as the classic midfielder roved constantly and dominated nowhere.