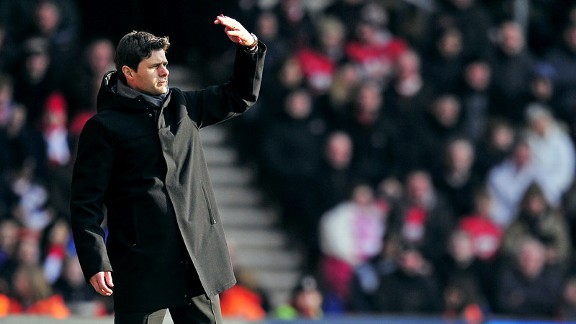 Glyn Kirk/AFP/Getty ImagesMauricio Pochettino's side have only conceded two league goals this season.
Fourth in the Premier League and the second-best defensive record in Europe: two things not even Mauricio Pochettino's most loyal fans from his time at Espanyol would have expected could describe this Southampton side seven games into the new season. But that is how things currently stand for the south coast club, having made a quietly spectacular start to the campaign.

It took them a while to get going, though. Saints scored only once in open play in the first four league matches of the season, after ending last season with only two goals in their last five matches. Even since they starting scoring relatively more freely, goals still haven't come all that easily for Saints, but that has mattered little. Pochettino has built this side to withstand the attacking efforts of opponents rather than go all out to score more goals.

That starts with those on the front line. Southampton press high up the pitch, a tactic based on the view that a large proportion of goals in football result from a turnover of possession near the goal. Thus, if it is your side picking up the ball within reach of the opponent's goalmouth more often than they do near yours, you have a better chance of scoring more goals.

- Rann: No Clyne call-up?

Under Pochettino, this side have executed his plan to perfection. Since he took over in mid-January, Saints have won possession in the attacking third of the pitch an average of 3.87 times per game, a tally greater than any other team in the Premier League. Leading from the front are Adam Lallana and Pablo Osvaldo, who rank first and second in the whole top flight for winning the ball high up the pitch, having done so eight and six times each, respectively.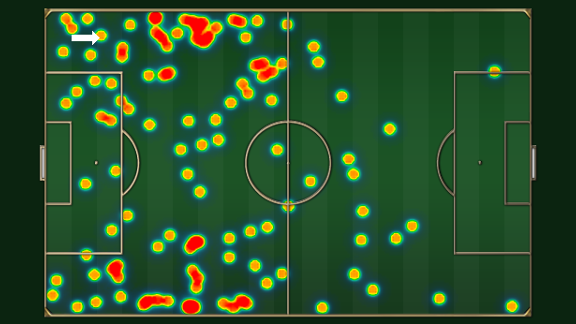 Other / ESPN StatsSouthampton tackling heat map in the Premier League.
That the players have taken to Pochettino's philosophy so readily will please the Argentine to no end, but it took a few of his own summer signings to take the team to another level, after stagnating somewhat toward the end of last season. For the majority of the second half of the previous campaign, feelings of bemusement regarding Nigel Adkins' dismissal persisted, with any improvement the new manager was supposed to have brought seemingly evading the common fans' stare.

While Southampton's defence has its roots in their attack, Dejan Lovren has been the most successful of those newly signed players. Ever-present in the league since arriving in England, Lovren is the best-performing defender in the Premier League this season, with a WhoScored rating of 7.73, which is good enough to rank him behind only Arsenal duo Olivier Giroud and Aaron Ramsey of all players in all positions to have made at least five appearances.

The Croat has been an integral part of a defence that has conceded just two goals in league games this season. Across the top five European leagues, only Roma (one) can boast a better defensive record, while European giants like Barcelona and Paris Saint Germain have shipped at least twice as many. The goals they have let in were a defensive lapse early on against Sunderland to allow little Emanuele Giaccherini to head home, and a long-range effort from Nathan Redmond at home to Norwich. Since the latter, Saints have gone seven hours and 52 minutes without conceding a single goal in any competitive match, including a 1-0 win at Anfield in which Lovren scored the winner.

That game epitomised Pochettino's Southampton side perfectly. A hard-working and committed group of players restricted their opponents to just 10 attempts on goal -- their lowest tally at home since August 2010 -- with more tackles (38) than any other side has made in a Premier League game since February 2012. Then, rather than aim to strike on the counter, Saints aimed to retain possession and build chances rather more patiently, or wait for chances from set pieces, and it was from a corner that Lovren struck.

It may not be pretty, but it is certainly effective, and Pochettino knows it. In fact, the vast majority of his team's meagre goal tally has come from set pieces (four), with only the league's top-scoring side, Manchester City, having netted more times from dead balls. All the while, Saints have yet to concede from such a situation all season, with Lovren and defensive partner Jose Fonte having made a colossal 113 clearances between them.

Such an outset will not work if the players aren't fully behind it, but there seems to be a genuine belief at St Mary's in what Pochettino is trying to do with the side, and the results have been astounding. Fourth place and Champions League qualification may be some way beyond the capabilities of this squad, but the talent in there is certainly sufficient to continue their run of mightily impressive form, providing the players stick to their leader's game plan.

All statistics courtesy of WhoScored.com, where you can find yet more stats, including live in-game data and unique player and team ratings.