Is France on the cusp of a golden generation of players?
It is tempting to conclude that every golden generation seems set to fail at international level.

The Portuguese golden generation seems the most authentic -- a country that had previously shone at one World Cup and qualified for only two other major tournaments, produced an astonishing array of talented players in the early 1990s, including Rui Costa, Luis Figo and Joao Pinto. Portugal's consistency around the turn of the century was highly impressive for such a previous footballing minnow, but their failure to win Euro 2004 on home soil remains a significant missed opportunity.

Since then, the English golden generation failed to take the Three Lions past the quarterfinal stage and is on the verge of retirement, while the Ivory Coast's golden generation started multiple Africa Cup of Nations tournaments as favourites, but failed to lift the trophy. Perhaps it's a self-fulfilling prophecy that golden generations are valiant runners-up: It would be odd to describe the current set of Spanish players as a golden generation because we focus upon their achievements rather than their raw talent. But it's becoming an increasingly unwanted tag -- the current crop of Belgians must beware.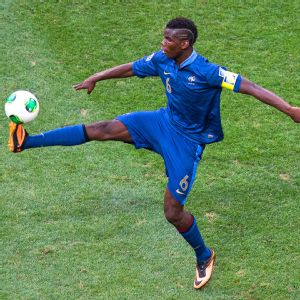 AP Photo/Gero BreloerPaul Pogba is one talented player who looks capable of dominating the national side for a lengthy period.
Over the border in France, something slightly different is happening. Following their success at this summer's U-20 World Cup in Turkey, the French can be assured that they have an extremely gifted generation of young talent coming through. In particular, the midfield combination of Juventus' Paul Pogba and Geoffrey Kondogbia, who moved from Sevilla to Monaco after the tournament, looks capable of dominating the national side for a lengthy period.

There's also Real Madrid's Raphael Varane, surely the most competent centre-back of his age anywhere in the world, while Marseille's Florian Thauvin, Saint Etienne's Kurt Zouma and Lyon's Clement Grenier also look highly promising. Four of these five players first represented France at U-16 level before steadily working their way up the youth ranks. Thauvin only started in the U-18s, but the idea remains the same -- France have cultivated these players from an extremely early age. It's the typical way to produce a winning side.

But while France is arguably the home of intelligent youth development -- 15 years ago, Clairefontaine was the football academy -- they also have a strange habit of unexpectedly finding useful internationals midway through their career.

Look at the current side, for example, and you'll find a raft of players who developed into top-quality footballers extremely late. Olivier Giroud was 24 during his first Ligue 1 campaign, and the same is true of his Arsenal teammate Laurent Koscielny. In fact, they played together in Ligue 2 at Tours.

Similarly, the wonderfully gifted Mathieu Valbuena was playing in the third division at 22, and only a Ligue 1 regular at 24. Right-back Rod Fanni was playing on loan at second division Chateauroux at 24, and while centre-back Adil Rami made his Ligue 1 debut at 21, before that he'd been an amateur, playing in the fourth division and working for the local government part-time. Mathieu Debuchy is another who came to prominence late on.

None of these players had been involved in the junior ranks of the French national side -- they don't have a youth cap between them. They made their debuts at, respectively, 25, 26, 25, 26, 24 and 26. All have progressed since the last World Cup, and -- perhaps aside from Fanni, now 31 -- should be peaking close to Euro 2016, held in their home country. It means France has not one, but two generations that have emerged recently: the Pogba, Varane and Kondogbia group, and the Valbuena, Koscielny and Giroud group. Include the remains of the previous side, and France are shaping up nicely.

"To become a professional player, you have two paths you can follow," explained Koscielny upon signing for Arsenal in 2010. "There's the traditional one which is joining an academy in your early teens or earlier, and the making your debut with the club's first team. Or you have the uncharacteristic one, like me. I joined the academy of a Ligue 1 side, Guingamp, very late at 17, before making my debut in that league ... I didn't think about becoming a professional footballer until really late."

But the approach Koscielny describes as "uncharacteristic" seems to be particularly prevalent within French football at the moment. "I simply didn't get my chance at youth level," says Giroud, who attended a training camp at Clairefontaine aged 16, but wasn't considered promising enough to keep tabs on, and worked his way slowly to the top.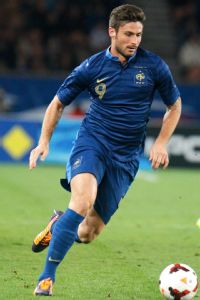 Xavier Laine/Getty ImagesPlayers such as Olivier Giroud help add some experience to the France side.
Perhaps the truth is that Valbuena, Koscielny and Giroud went unnoticed because they weren't physically impressive at a young age. There remains a great focus upon power, physicality and explosive pace among the French youth sides -- it's not difficult to imagine that a playmaker based around clever positioning, a technical but slender centre-back and a slow, rather one-footed striker didn't stand out among others.

But if France missed a trick in that respect, it's encouraging that players appear to be able to move up the divisions and into the national side so impressively at such a late age. Players who aren't spotted at a young age aren't consigned to the lower-league dustbin -- opportunities remain for them to step up into the top division, something that probably doesn't happen enough in Italy and England.

This trend in France isn't necessarily restricted to French players, of course -- Didier Drogba only turned professional at 21 and debuted in Ligue 1 at 24, Dado Prso was still in the second division at 25, and five years later played in a European Cup final with Monaco.

It's a peculiar trend, but it's tough to take many lessons. Rory Smith, writing about the current Belgian generation, essentially believes there's no obvious reason why they've produced so many talents at the same time. Similarly, when Serbia suddenly produced a raft of talented tennis players five years ago, Ana Ivanovic's explanation was: "I don't think anyone knows ... we didn't have perfect facilities, we didn't have too many good coaches, the tennis federation wasn't so supportive, the times were tough and there weren't so many sponsors." It made no sense, and perhaps France's sudden surge of players in their mid-to-late 20s is beyond rational explanation too.

Nevertheless, it has put France in a fine position. If Varane, Pogba and Kondogbia will inevitably be called the golden generation, perhaps we can declare the likes of Valbuena, Giroud and Koscielny as football's first-ever silver generation. That way, they're not doomed to fail.