The biggest problems facing World Cup contenders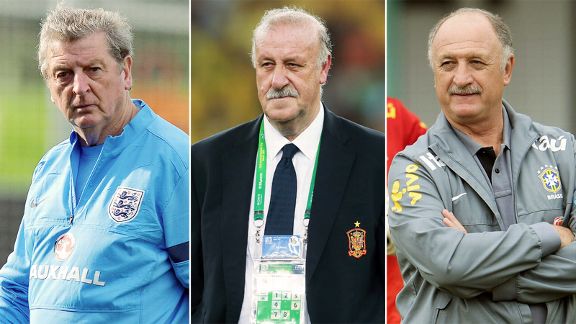 AllsportRoy Hodgson (l), Vicente Del Bosque (c) and Luiz Felipe Scolari(r) all possess strong teams but will need to resolve some issues to reach their ambitions.
The fascinating thing about international football is that managers must cope with a very definite group of players. Whereas at club level, weaknesses can be solved by signing new players, at international level it's not unusual for a top-class side to completely lack quality in one particular position.

Sometimes, this forces managers to formulate innovative new tactical ideas to compensate for that weakness – but often, it simply means the side has a weak link. With eight months to go until the World Cup, here's a look at six big international sides who have an obvious problem position.

England -- top-class centre-backs

A few years ago, England were blessed with arguably the best centre-back options in Europe. John Terry, Rio Ferdinand, Jamie Carragher and Sol Campbell were at the top of their game, while Ledley King and Jonathan Woodgate were talented, if injury-prone alternatives.

These days, Roy Hodgson doesn't have any world-class options at his disposal. Since Terry's and Ferdinand's retirements, England are depending upon two decent, experienced players in Gary Cahill and Phil Jagielka, and a couple of talented but raw options in Chris Smalling and Phil Jones, neither of whom regularly play in their favoured position for Manchester United.

Of those not in the current squad, Joleon Lescott and Michael Dawson fit into the former category, Steven Caulker the latter. Should Hodgson trust consistent but unspectacular players with experience, or risk playing younger defenders in the belief they'll become top-class in future?

Either way, England are struggling at the back.

Spain -- a reliable centre-forward

OK, it's all relative: almost every other country in Europe would enjoy having Fernando Torres, David Villa, Roberto Soldado, Alvaro Negredo and Michu to choose from. But none of the quintet are a perfect solution: the former two have declined significantly in the past three years, Soldado and Negredo aren't yet up to speed in the Premier League, while Michu lacks top-level experience.

Of course, the wealth of midfield options at Vicente del Bosque's disposal means he's frequently played without a natural centre-forward and used a "false nine" instead, but the Euro 2012 final actually saw Cesc Fabregas playing the role of a striker -- high up against the opposition defensive line, making runs in behind. In an ideal world, del Bosque would field a proper striker.

Diego Costa looks set to become another option following his change of nationality, but really this sums up Spain's problem.

While Costa is in great form for Atletico, Spain have been forced to "adopt" a Brazilian whose style of play doesn't necessarily fit into their gameplan, and who has only recently become prolific.

Belgium -- players comfortable at full-back

Full-back remains the least glamorous position on the pitch, and in theory it's probably the best area to be weak – it's not the most important area when it comes to scoring goals, preventing goals or retaining possession.

Nevertheless, it remains a hugely important role, and the last five World Cup winners have possessed the best full-backs in the competition. If the pattern continues, that rules out Belgium, who are frequently forced to name four centre-backs across the defence, with Toby Alderweireld at right-back and either Jan Vertonghen or Thomas Vermaelen at left-back.

None are disastrous out wide -- as you'd expect for players who rose to prominence as ball-playing centre-backs at Ajax -- but Belgium lack naturally overlapping full-backs, meaning their wide players often find it difficult to venture inside. The roles of the wingers (two of Dries Mertens, Eden Hazard, Kevin De Bruyne, Nacer Chadli and Kevin Mirallas) are compromised – so, somewhat strangely, Belgium's defensive problem makes their attack more predictable.

Portgual -- a goalscoring centre-forward

The same topics arise regularly before each major international tournament: the fear that newly built stadia will be incomplete, the concern that the new ball swerves more dramatically than usual, and the worry that Europe's major players will be exhausted after a long domestic season. To that list, you can add the classic Portuguese problem of 10 top-class footballers playing behind an average centre-forward.

In fairness, this is less of a factor than previously: Helder Postiga has started well for Valencia, Hugo Almeida is banging in the goals for Besiktas, while Nelson Oliveira has proved a decent super-sub and Braga's Eder continues to look good in the Liga Sagres.

Yet, regardless of whom Paulo Bento selects from this quartet, the lack of goals will continue to be a problem. Portuguese strikers are generally unselfish, and are either clever with their movement or good at holding up play, but there's still a suspicion that moving Cristiano Ronaldo upfront makes the most sense, at least on paper.

Colombia -- a No. 10

Colombia's recent record has been impressive, and they remain on track to qualify for Brazil – but Jose Pekerman still isn't sure of his best starting XI, and has experimented with a variety of shapes over the past two years, from a 3-4-1-2 to a 4-4-2.

It still seems natural for South American sides to play with a classic No. 10, and while Pekerman's experience with players in that mould has been mixed -- many can't forget him substituting Juan Riquelme against Germany in the 2006 World Cup when he was Argentina's coach -- he seems to want a central playmaker for this Colombia side. However, Pekerman's doesn't have as many assured options in the position as he did with Argentina.

Macnelly Torres is talented but has been inconsistent, Aldo Ramirez has often been used deeper, or as a super-sub, while James Rodriguez looks better out wide, and hasn't enjoyed a great start to life with Monaco.

Colombia might have the world's next great No. 10 – Juan Quintero was superb at the World U20 Championships, and has demonstrated great quality since signing for Porto. But will Pekerman be brave enough to use such an inexperienced playmaker?

Brazil -- a goalkeeper

This really shouldn't be an entry on this list -- Brazil have a very fine goalkeeper in Julio Cesar, who has been considered one of the world's best for majority of the last decade. He's a European Cup-winning keeper once nominated for the Ballon D'Or, and while probably past his very best at 34, he's still an acceptable age for a goalkeeper.

Cesar was also highly impressive throughout Brazil's Confederations Cup victory in July, keeping three clean sheets in five matches, and saving penalties from both Diego Forlan and Sergio Ramos in the semi-final and final respectively. Still, Cesar was unable to force a move away from QPR this summer, and now finds himself not even playing in the second tier of English football, with Harry Redknapp favouring Rob Green.

Luiz Felipe Scolari insists Cesar will remain his No. 1. "Even if he is not playing for his club, he will be there," the 64-year-old said recently. "Among the three places reserved for goalkeepers, there will be one for him." But that doesn't necessarily mean he'll start.

Botafogo's Jefferson is the most obvious back-up, but remains relatively inexperienced and lacks Cesar's raw quality. One way or another, Cesar must force a move away from QPR in January, or Brazil might have a problem.