England need consistency and chemistry to elevate their game
The use of well-worn football cliches can be frustrating, but the cliches themselves are generally easy to understand -- which, of course, is why they remain so frequently used by fans and pundits alike.

It can be confusing, however, when two accepted cliches completely contradict one another. This is particularly problematic when considering a player's true level of ability. On one hand, we're told that "Form is temporary, class is permanent." On the other, "You're only as good as your last game."

So how are we supposed to view Esteban Cambiasso, for example? Superb throughout the past decade, yet wretched during Inter's 3-0 weekend defeat at home to Roma -- if we follow both cliches, Cambiasso is simultaneously "class" and "not very good."

Among fans of the England national team, the latter method of thinking remains popular. Favoured starting XIs often appear to consider the last couple of weeks -- football has become frustratingly short-termist in its thinking, and the proliferation of online football media has inevitably given rise to an extraordinarily fast-moving media cycle, but the continued emphasis upon England calling up the next "bright young thing" remains remarkable.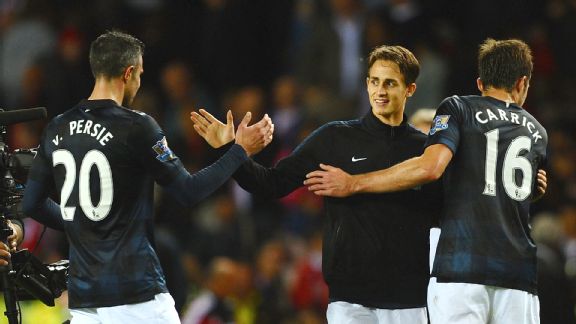 Laurence Griffiths/Getty ImagesEngland fans are excited by the possibility of Adnan Januzaj being eligible for the Three Lions but are their hopes in the right place?
This week's hot topic concerns whether England should, in the future, consider selecting an 18-year-old who has made one league start in Adnan Januzaj, and isn't even yet eligible for England selection.

Last week, Roy Hodgson named a predictable squad, comprised of players who have performed solidly in England national team colours previously. As always, especially at times when the national side has been underperforming (and the current consensus suggests the manager is doing a poor job) there was an immediate backlash, questioning why various players were overlooked.

At various points over the last 20 years, England have ignored genuinely top-class footballers. Steve McManaman, for example, was repeatedly overlooked while playing a key role in a European Cup-winning Real Madrid side.

"I was surprised when McManaman was left out of the last England squad," said club teammate Zinedine Zidane. "I couldn't believe they would ignore a player of his quality."

A few years beforehand, Manchester United won the double while captained by dependable centre-back Steve Bruce, yet the current Hull City manager never won a single international cap.

But the players many had hoped would receive an international call-up this week -- Adam Lallana, Fabian Delph, Jay Rodriguez, Tom Huddlestone, Andros Townsend -- remain somewhat underwhelming options. All are talented, but all could turn out to be "flash in the pan" acts -- it would be somewhat dangerous to put England's World Cup qualification chances in the hands of players who have impressed over a relatively short period of time. Hodgson, after all, was selecting for crucial qualifiers, not experimental friendlies.

Particularly worrying, fans seem to prefer these options over players who have reliably and consistently represented England -- even in extremely recent fixtures. For example, one of the selected players who supposedly should have been dropped in favour of Lallana, Rodriguez or Townsend was James Milner. Now, the Manchester City man might not be England's most exciting footballer, but he was one of the few players who performed well during the previous match, a 0-0 draw in Ukraine.

That might be damning Milner with faint praise but it would be somewhat ludicrous if Hodgson fielded a player with specific tactical instructions, the player carried out those instructions throughout a good all-round performance and he was then promptly dropped for the subsequent game. It would undermine Hodgson's authority entirely.

The same applied to Jermain Defoe last season. The Tottenham forward was used upfront away in San Marino, and scored two good goals in a decent all-round display. OK, it was only San Marino -- but Defoe is the perfect type of player to demolish a minnow, as his recent form for Spurs in cup competitions has demonstrated, and he did his job efficiently. The next time Hodgson named a squad, many questioned Defoe's place because of his lack of action at Spurs. But again, why are England performances given so little attention when it comes to selecting an England squad?

The three favourites for the World Cup oppose this frustrating culture, and instead name settled, consistent squads.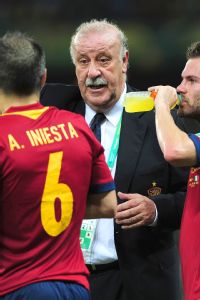 Shaun Botterill/Getty ImagesVicente Del Bosque has been successful because he knows which players operate the best within his system.

As Spain coach, Vicente del Bosque has a stunning array of options in almost every position -- a player like David De Gea, a regular for the Premier League champions, remains uncapped. There have been various opportunities for del Bosque to drop a particular based upon club form. In the 2009-10 season, for example, it was arguable that Pepe Reina was playing the best of Spain's goalkeepers, with Victor Valdes also enjoying a good season, De Gea superb in Atletico Madrid's Europa League victory, and Iker Casillas struggling at Real Madrid. But del Bosque was always going to keep faith in Casillas, a dependable performer, the captain of the side, and the most likely to turn in a performance in national team colours.

Squad selection isn't just about performance: it's about squad harmony, about maintaining the personal relationships within a group. On raw club form, del Bosque could have omitted Pedro Rodriguez from his Euro 2012 squad last year, but actively decided to keep a settled squad together. "One of the fundamental issues is the good relationship that exists within the group," he said at the time. "I have been fortunate to have a good group made up of nice people. It is important to reinforce the relations that exists between the players -- that was a key part of our success in recent years."

And Pedro proved invaluable at the Euros.

Perhaps it's easier when you have such grand options, and possess a winning side to try to keep together. However, other promising squads are similarly consistent: Joachim Low doesn't believe Stefan Kiessling fits into the Germany side tactically, and while it was a strange decision to tell the Leverkusen striker that he wouldn't be recalled the day before a recent Champions League game, Low is right not to be swayed by the forward's good start to the current campaign. Germany play with a clear identity, and they boast various players who have carried out the approach smoothly. These players must be rewarded for their past performances for the national team.

The defining feature of Brazil's preparation over the next year will be consistency, too.

"We are putting together a group which is on the right track," manager Luiz Felipe Scolari said at the Confederations Cup.

"There won't be many changes from this group until the World Cup," added captain Thiago Silva.

Of course, England are some way behind these countries in terms of overall quality and readiness for the World Cup, and it's natural for supporters consider alternative options. But assembling an international side isn't some kind of Fantasy League exercise -- it's about creating a cohesive, consistent and settled side that works as a reliable, solid unit.

There are certainly technical and tactical concerns, but it's arguable that England's major problem over the past decade has been the inability of its star players to replicate their club performances at international level. It's slightly odd, then, that supporters place such a great emphasis upon the man of the moment in the Premier League -- remembering who performed well in the most recent England game is a much better starting point.