Dwindling number of English players only part of the discussion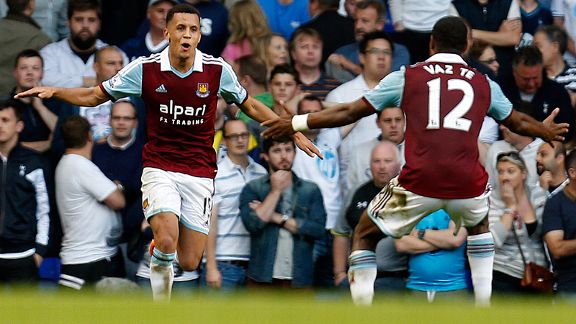 APRavel Morrison: a young Englishman who stole the headlines this weekend.
Ahead of two crucial World Cup qualifiers this week an on-looking Roy Hodgson was handed a timely reminder that there is young English talent in the Premier League right now as West Ham picked up a shock 3-0 victory at White Hart Lane. It was 20-year old Ravel Morrison who stole the headlines with a superb individual goal, while Andros Townsend was the only player for hosts Tottenham to come out of the game with any real credit.

Much has been made of the influx of foreign players in England's top flight, and at first glance the numbers don't make for encouraging reading, as WhoScored investigate. Of the 407 players to make an appearance thus far this season a record low of 132 have been English, or just 32.4 percent. On the face of it you could be forgiven for thinking that Hodgson has a thankless task, with exports from abroad often favoured over home-grown talent.


That figure of Englishman to have made an appearance this season is down from the 153 (37.2 percent of the overall total) to have done so in the previous campaign after as many matches. In the last five seasons the number of English players reached its peak after seven games in 2011-12; that year 37.9 percent (158) of the players to have made an appearance were English, and the dip this season from then is substantial after such a small number of matches.

Nevertheless, the performances of the likes of Morrison and Townsend this weekend, along with those from an ever-improving Ross Barkley have given cause for optimism. Of the 132 Englishmen to play thus far, 115 have started at least one match, which is in fact one up on the tally from the 2010-11 season. The figure may still be down on each of the last two seasons but as a percentage of the overall number of Englishmen to make an appearance, more have started matches this term than in each of the last five (87.1 percent).

It's clear that while the total number of Englishmen to play has dropped, those who play have been trusted to feature more predominantly. This is further reinforced when looking at the number of players to have featured in over half of their respective sides' matches this season. Of the 132 Englishmen to have played, as many as 94 have made four or more appearances, which is in fact up on the 92 from last season.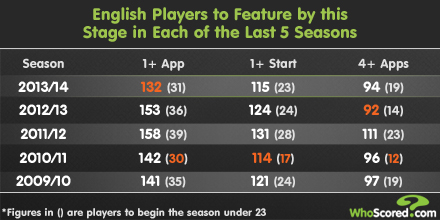 Other / WhoScored.com
As a percentage, 71.2 percent of the Englishmen to make an appearance this season have done so in over half of their teams' games. That figure is significantly higher than the 60.1 percent from last season and again at a peak across the last five seasons over the first seven matches of a campaign. Hodgson may have fewer players to choose from this season on initial reading, but those who have featured thus far are generally having more playing time to impress the current England manager.

Perhaps even more encouraging for the incumbent of English football's most high-pressure post is the fact that of the home-grown players featuring in the division, a decent amount are young players who have been bled into first-team action. The aforementioned trio of Morrison, Townsend and Barkley are among those to stand out, while Liverpool's Daniel Sturridge, at 24, is the top scorer in the Premier League (six) and, in turn, WhoScored's top-rated Englishman thus far (7.66).

Of the 94 Englishmen to have made four or more appearances already this season, 19 began the campaign under the age of 23. Only in the 2011-12 season were more of those to have featured in over half of their sides' matches under that age (23). However, as a percentage, the 20.2 percent from the current season is again at a high over the last five campaigns, and a considerable mark up from the 15.2 percent in 2012-13.

In summary, while the number of Englishmen to have made an appearance at this stage of a season is at an all-time low, Roy Hodgson has seen the younger players at his disposal given ample time to impress at club level thus far. The performances of a number of those will have given the former Fulham boss hope for the future. He now faces the unenviable task of ensuring that that immediate future of English football involves a World Cup campaign in Brazil next year.

All statistics courtesy of WhoScored.com, where you can find yet more stats, including live in-game data and unique player and team ratings.