Tactics Board: Luiz goes against the norm
NORWICH 1-3 CHELSEA

If the result was a tale of two substitutes, with Eden Hazard and Willian coming off the bench to score for Chelsea, the game was a tale of two centre-backs. John Terry's pitch map is fairly orthodox for a central defender, especially one whose lack of pace means he prefers to sit deeper.


Other / ESPN FCIt is clear that David Luiz is not the normal central defender.
From the conventional to the unconventional, however. David Luiz's pitch map is altogether different: far more touches in the Norwich half, more nearer the right touchline -- he has a tendency to act like an attacking right-back -- and generally giving the impression he was playing several yards ahead of Terry. Luiz's contribution also encompassed two dribbles -- two more than Juan Mata -- and two shots, one of them from 55 yards. Once again, it highlighted how different he is from most other central defenders.

While Chelsea still don't have a goal from a specialist striker in the Premier League this season, at least they have an assist. Demba Ba set up Oscar's opener at Carrow Road to cap an encouraging performance. The manner of it was significant, too: the Senegalese got in behind the Norwich defence before teeing up the Brazilian. His pitch map shows that, apart from wandering to the left to free up the centre of the pitch for the attacking midfielders to run into, Ba has the pace to stretch opponents, either allowing Chelsea to play a ball over the top, or by dragging a defence deeper, creating more space for Oscar and co. If Samuel Eto'o has lost his speed, Ba's mobility could offer Chelsea an extra dimension.

SUNDERLAND 1-2 MANCHESTER UNITED

A game decided not by tactics, but by talent. Adnan Januzaj's first Premier League start was a memorable one and included two goals. Yet besides showcasing his shooting ability, it also indicated a natural No. 10 is displaying more positional discipline when he operates on the left wing. Last week's Tactics Board showed that Januzaj played in a freer role when he came on against West Bromwich Albion.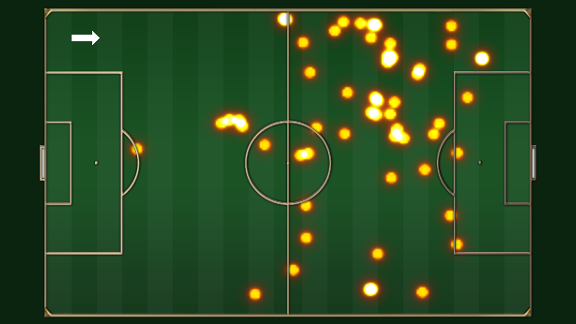 Other / ESPN FCAdnan Januzaj operated mainly down the left for Manchester United.
Compare it with his heat map this Saturday and the clusters of dots on the left and in the inside-left channel indicate how Januzaj operated, both doing his duties on the flank and coming inside when the opportunity afforded; indeed it created room for overlapping left-back Patrice Evra, who centred for Januzaj's first goal. And for a United team with only two central midfielders -- against Sunderland's three -- and with an out-and-out winger, in Nani, on the right, his movement was useful.

And when he left the touchline, Januzaj took aim at goal. The diagram of where his efforts came from is notable for their number -- not many midfielders have six attempts at goal in a game -- and his shooting range: the average distance is 22.8 yards, though he scored with the two when he was nearest the Sunderland net.

MANCHESTER CITY 3-1 EVERTON

Sometimes the statistics don't give a true impression of a stylish player's contribution. Not on this occasion, however: on his first Premier League appearance since August, David Silva had 98 touches, much the most of any player on the pitch; a 90 percent pass completion rate, the best of any City starter; and attempted 83 passes attempted, more than anyone else.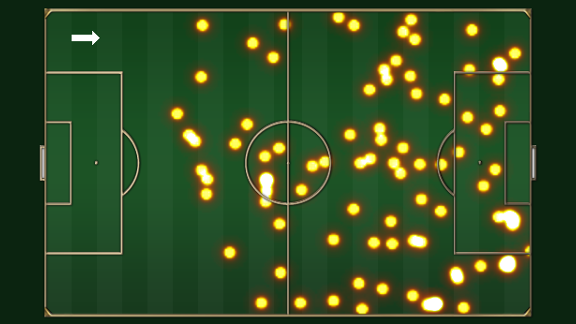 Other / ESPN FCDavid Silva often found his teammates in the final third of the pitch.
What his pass map shows is that Silva is a particularly influential passer in the final third. Indeed he found a team-mate 38 times in that area, often either just inside or just outside the Everton box. It also indicates that Silva picks players out all over the pitch.

Hi heat map shows is that it was a quintessential Silva performance; he is a player with no fixed position and while he was ostensibly the left-sided midfielder, in fact he wanders everywhere.

What that means is that stopping Silva is not a task for any one individual. At times, he is the responsibility of either full-back, at times he is the central defenders' sphere of influence but most often he looks for space between and behind the central midfielders.

So while Seamus Coleman was Everton's right-back, it was not exactly a duel, partly because of the Irishman's role. His heat map is hardly typical of a full-back away from home at one of the title contenders. It shows that, under Roberto Martinez, Coleman is more wing-back than full-back and has a wide starting position. Tellingly, albeit after he and Leighton Baines had swapped flanks for the second phase of possession when defending a corner, Coleman was caught on the outside, and the wrong side, of Pablo Zabaleta when he conceded the penalty for City's third goal.