The basic 4-4-2 is becoming trendy again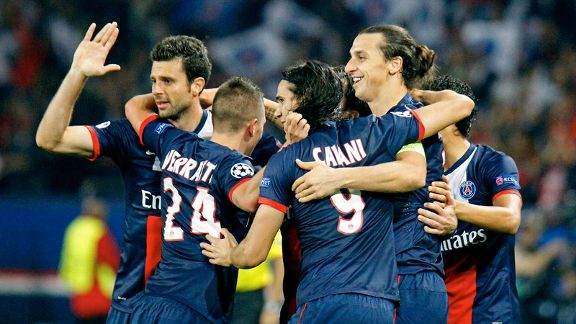 Xavier Laine/Getty ImagesAfter bringing in star names, PSG tried a 4-4-2 but it didn't work too well.
Some elements of football strategy evolve consistently in one direction over a long period, becoming increasingly extreme. Other elements appear more cyclical -- moving routinely between two opposing concepts, which come in and out of fashion.

Therefore, whereas there has been a steady shift toward technical possession football over the past 20 years, for example, a concept like the "box-to-box midfielder" appears to come and go in roughly five-year intervals.

The intriguing thing about the development of tactics is that the next step remains a mystery -- the progression is always simultaneously logical and unpredictable. When Barcelona were Europe's dominant force between 2009 and 2011, for example, it was extremely difficult to tell whether strategy would move in the first respect (further evolution) or the second respect (a shift toward an opposing style of play).

In the end, Bayern's success last year probably represented a hybrid of the two: They could tiki-taka almost as expertly as Barcelona, but they destroyed Tito Vilanova's club with power and counterattack.

One of those unpredictable concepts is the 4-4-2 formation. A couple of years ago, the shape appeared to have almost completely died out at the highest level, particularly in European and international competition, where the tempo of matches was slower and centered primarily around ball retention in midfield.

Whenever a 4-4-2 came up against a 4-2-3-1 or a 4-3-3, it faced an obvious problem with the lack of numbers in the centre of midfield, meaning it was unable to cope with opponents between the lines. The obvious solution was for one of the centre-forwards to drop deeper when out of possession and become, in effect, a third central midfielder. It meant the side essentially shifted to become a 4-4-1-1, or 4-2-3-1. Therefore, even when sides were attempting to play a 4-4-2, they ended up conforming to the obsession with the 4-2-3-1.

But was the sudden unpopularity of the 4-4-2 something that would continue as part of the increasing emphasis upon midfield ball retention, or was it merely unfashionable as part of a cyclical craze?

Judging by the start of the 2013-14 European season, there's been a subtle but noticeable return to prominence of the 4-4-2.

Paris Saint-Germain started the campaign playing both Zlatan Ibrahimovic and Edinson Cavani up front together, but that system's lack of success has forced Laurent Blanc to consider other alternatives, generally with Cavani wide-right in a half-hearted 4-3-3.

Their main challengers in Ligue 1, Monaco, have also been playing something closely resembling a 4-4-2 at times. Joao Moutinho has occasionally been favoured in the position behind Radamel Falaco, but Moutinho's free-kick goal against Reims last weekend was the first Monaco goal not scored by one of the two strikers, Falcao and Emmanuel Riviere.

The recent Manchester derby was a fine example of the 4-4-2 craze -- Wayne Rooney was fielded in close support of Danny Welbeck, while Sergio Aguero supported Alvaro Negredo. A few years ago, Rooney and Aguero would have unquestionably dropped off into the midfield zone to support the two deeper-lying midfielders -- but that didn't remotely happen. If anything, Aguero's sprints beyond his strike partner made him the more advanced forward. It was 4-4-2 versus 4-4-2.

Over in Madrid, last weekend's derby saw something extremely similar. Carlo Ancelotti fielded Cristiano Ronaldo as a mobile but central forward, drifting either side of main striker Karim Benzema. Going the other way, Diego Simeone played Diego Costa and David Villa: both started in very deep, defensive-minded roles, before charging forward into attack.

The game wasn't won and lost because of formations (it couldn't be, considering they were playing the same system) but in terms of organisation, work rate and cohesion. Still, it was highly unusual to see a flat 4-4-2 against a flat 4-4-2. It is almost like a game of chicken. Most managers would love to field two central attackers in tandem but if their opponent decides to drop one forward into the midfield zone, they're forced to replicate the move to prevent being overrun.

Yet, while pure ball retention isn't valued as greatly as two or three seasons ago -- with a slightly more direct, purposeful playing style becoming more popular -- it's still slightly surprising to see the 4-4-2 return.

In modern football, the midfield battle remains the most important zone on the pitch. It's not necessarily about getting the upper hand in terms of possession, but about controlling the tempo and feel of the contest.

The danger for some managers is that they've become forced to play 4-4-2 because of poor squad strengthening -- often by sporting directors, keen to recruit big names rather than useful team players. Too many big sides are top-heavy, overloaded with forwards when the midfield zone needed addressing more seriously.

Robin van Persie has clearly been a great success at Manchester United, but he and Shinji Kagawa were superstars signed when United needed a reliable central midfielder more desperately. Similarly, City's Negredo and Stevan Jovetic are fine forwards, but Jack Rodwell and Javi Garcia aren't great options as City's third-best central midfielder. Manuel Pellegrini could play only one forward, with David Silva or Yaya Toure behind, but that means three unhappy forwards sitting on the bench each week.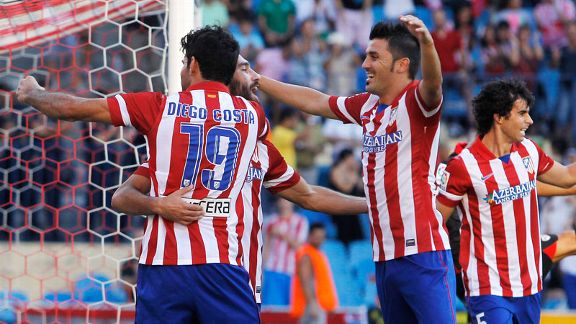 GettyImagesDiego Costa and David Villa have proved that it can work.
As Steve Bruce said last week: "Man management has become more relevant in my experience than coaching." If a club assembles a variety of talented forwards, a manager often feels compelled to play as many as possible, often at the expense of structure and control.

Atletico have demonstrated that you can succeed with 4-4-2 at the highest level. However, their incredibly compact shape asks a tremendous amount of Diego Costa and David Villa; against Real Madrid the duo played so deep that the system was often more like 4-4-2-0, with Costa charging forward into attack when in possession, running the channels tirelessly. It also means Atletico spend long periods without the ball, and therefore depends on an extremely solid defence.

That is the key when playing two strikers: Managers can't afford to let anyone shirk their responsibilities without the ball, and few top clubs are capable of playing two hardworking centre-forwards together. 4-4-2 is workable, but the forwards increasingly have to fulfill the tasks traditionally covered by midfielders. In that case, playing an extra midfielder remains the more logical option.