Man City mental game still a work in progress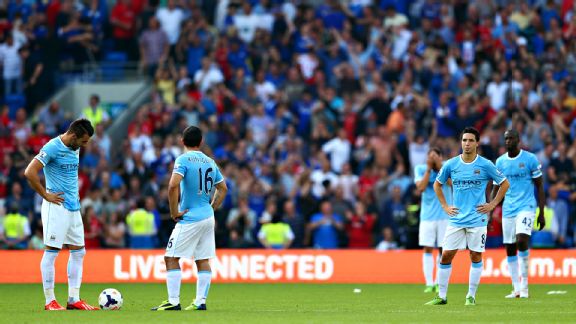 Michael Steele/Getty ImagesLapses in concentration cost Manchester City dearly in their loss at Cardiff.
This season, more than any other in recent memory, has demonstrated how the consensus about a particular side's predicament can change astonishingly quickly.

Arsenal, who were in crisis after the Aston Villa defeat, now are in dreamland five games later. Chelsea seemed to have returned to their ruthless ways following Jose Mourinho's return, then went three matches without a win. Liverpool were cool, calm and clinical after four matches, then lost at home to Southampton completely unexpectedly.

The fortnight of Manchester City's season sums it up nicely: The 4-1 victory over Manchester United was a staggeringly dominant display that announced Manuel Pellegrini's arrival in English football. It was City's first major contest this season, and the margin of victory could have been significantly greater.

That seemed to suggest the 3-2 defeat to Cardiff was something of an anomaly -- but City then followed the Manchester derby victory with another inexplicable 3-2 reverse, this time away at Aston Villa. Now, City have combined three dominant home performances (4-0, 2-0, 4-1) with three underwhelming away displays (2-3, 0-0, 2-3) in the Premier League.

- Mooney: Time for City to step up

It's tempting to ponder why City's record at Eastlands is so contrasting with their performances on the road, but this remains a relatively small sample size. Besides, the performances at both Cardiff and Aston Villa were not particularly bad -- the display at Stoke, despite the point earned, was arguably worse.
Nevertheless, the Villa defeat seems serious. As Simon Curtis, ESPNFC's Manchester City blogger put it: "How could a team in such full and enthusiastic control of a match complete it on the wrong end of a 3-2 score line against a team that started the game frightened, became gradually hypnotised and then ended it in exuberant and surprised waves of ole-accompanied calypso football?"

Let's be clear: Manchester City's overall strategy is not the problem. City are controlling games, averaging a higher average possession count than any other side in the league. That's not an end in itself, but it's what Pellegrini wants from his side: control.

On that note, City's possession share away from home is 65 percent, significantly greater than their possession share at the Etihad, which is just 54 percent. This owes a lot to circumstance; Pellegrini's side have won their home matches relatively early, and have eased off and allowed the opposition the ball. When City want to dominate, they can.

The problem seems to be a lack of concentration and organisation. At Cardiff, City lost primarily because of two concessions at corner kicks, which Pellegrini was extremely unhappy about. "Two corners decided the score," he complained. "Very disappointing -- it was just a moment of distraction and Cardiff scored their goals." He believed City should have won the game, and added that "the worst thing" was that City had gone ahead, but still lost.

It's hardly uncommon for managers to offer their side praise in defeat, but Pellegrini's attitude was understandable; City had dominated, but the defeat came down to small factors. Worryingly, however, the defeat at Villa Park on Saturday was similar. City were dominating and were ahead, but then had a terrible five minutes and threw the game away.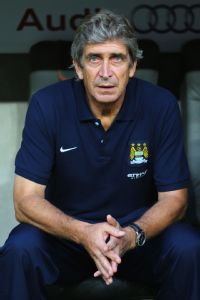 Alex Grimm/Bongarts/Getty ImagesManuel Pellegrini was none too happy following City's weekend loss at Villa.
"We did all we could to win the game, we played well and then in five minutes, we lost it," Pellegrini fumed. "It's incredible the way we lost this game. It's hard to take... we played well and deserved another goal," he continued. "It's very difficult to explain football -- we controlled the ball."

You can argue with the specific tactical features of Pellegrini's gameplan -- in particular, using Alvaro Negredo and Edin Dzeko, two number nines together, was unwise against a side deploying three-man central defence, who must have been delighted to face a couple of static target men, rather than players capable of stretching them. Nevertheless, City scored twice.

"We felt confident we were going to win the game but three [Villa] chances, three goals -- I think that sums the game up," captain Vincent Kompany complained. "We have to pick ourselves up and make sure next game we don't make the [same] mistakes."

While Pellegrini was widely expected to revolutionise City's playing style, perhaps his bigger task is improving the mental side of his side's approach. There's still a frailty and a lack of professionalism at times -- City possess outstanding individuals, particularly offensively, but such expensively-assembled squads also need dependable individuals and proper leaders. Theoretically, City shouldn't be short of that: Vincent Kompany and Pablo Zabaleta are both classic examples.

Kompany, however, feels rather less consistent than he should be -- at his peak, he's one of the finest central defenders in Europe and his approach toward the game is ultra-professional. But his 2012-13 was poor and he makes more individual errors than necessary. In combination with Joe Hart's poor form, City seem uncertain at the back.

It would be unfair to suggest the victory over United was a false dawn, but since the summer of 2010, when City's signings indicated they had become proper title contenders, they have consistently outperformed United strategically. They've destroyed them twice: in last week's 4-1 and the famous 1-6 at Old Trafford. They've won the highest-profile meetings 1-0 -- in 2010-11's FA Cup semi-final and 2011-12's effective title decider. When United were on course for the title last year, City still won 2-1 at Old Trafford.

Even in the defeats, City have often played better football: they switched off at half-time in the 2011 Community Shield match, losing 3-2 after having been 2-0 up at half-time. They lost 3-2 in that season's FA Cup tie -- but having lost Kompany early on, and been forced to play with ten men for 80 minutes, they arguably came out looking better. They lost 3-2 yet again last year because of Samir Nasri's poor attempt at blocking Robin van Persie's free-kick.

To generalise, City have generally outperformed Manchester United, occasionally appearing significantly superior to their city rivals. But they've let themselves down with the small details, a problem that continues to haunt them.

To put it another way, if City can thrash Manchester United, why are they incapable of playing similarly against significantly weaker opposition? Roberto Mancini can boast that he consistently got the better of Sir Alex Ferguson in a tactical sense, in meetings when the league table would suggest the sides were evenly matched.

But was Mancini getting things right in those matches, or were the Manchester derby performances City's 'true' level, and they fell down elsewhere because of sloppiness? Player for player, City have been the strongest XI in the Premier League for the past couple of seasons, and on paper, their victories against United shouldn't have been a surprise.

A manager's impact at a new club is increasingly considered in terms of "philosophy," which is taken to mean on-pitch playing style. However, Pellegrini's major impact at City must be in terms of discipline, concentration and dependability. Mancini struggled with those concepts, partly because of troublemakers such as Carlos Tevez and Mario Balotelli. Pellegrini has a more professional, resilient squad, and City shouldn't be liable to moments of poor concentration.