Tactics Board: Suarez puts in a hard shift
SUNDERLAND 1-3 LIVERPOOL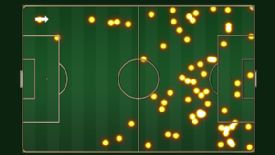 OtherLuis Suarez was all over the pitch on his return to Premier League action at Sunderland.
Brendan Rodgers had five months to ponder how he would use Luis Suarez and Daniel Sturridge in the same side upon the Uruguayan's return from suspension. A manager who had invariably used one-striker systems -- either 4-3-3 or 4-2-3-1 -- in his Premier League career opted to pair them in the 3-5-2 formation he also used in Wednesday's Capital One Cup defeat to Manchester United. It worked.

Sturridge got the opener and then supplied both of his strike partner's brace. Yet, whereas some centre-forwards prefer to operate close together, the Liverpool pair combined effectively because they were often far apart. Their pitch maps show both roamed far and wide in their attempts to stretch the Sunderland defence and to compensate for the absence of wingers in Rodgers' shape (with Victor Moses playing as a No. 10).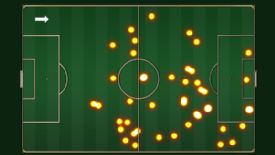 OtherDaniel Sturridge was less involved in the play and did not spend as much time out wide.
Suarez was particularly busy -- he had 72 touches to Sturridge's 46 -- and his heat map illustrates the work he did on either flank. Sturridge did more of his work in the middle, sometimes dropping deeper to hold the ball up to give the Liverpool defenders an outlet, while Suarez often orbited around him. The Englishman has a tendency to go to the right more than the left -- indeed, Chelsea used him as a right winger -- and he cut in from that side to set up the Uruguayan's first Liverpool goal since April.

MANCHESTER UNITED 1-2 WEST BROM


OtherAdnan Januzaj could be found all over the pitch and was not restricted to one wing.
One of the season's shock results was also notable for the roles played by two young substitutes who both replaced the chosen left winger. Many a Manchester United supporter wants to see more of Adnan Januzaj and David Moyes granted the teenager a free role when he came on for Shinji Kagawa at half-time. As his pitch map shows, Januzaj figured as much on the right as on the left when he came on. Yet that meant left-back Alexander Buttner was exposed -- especially when West Brom's right-sided midfielder Morgan Amalfitano went on a 50-yard solo run to score Albion's first goal -- with no one directly in front of him.

Saido Berahino, who came on for the injured Scott Sinclair, also strayed into the middle, most notably to score West Brom's winner. But while he is a striker by trade, he operated as more of an orthodox left-sided player than Januzaj. He had plenty of possession by the touchline and there were times when he was clearly shielding left-back Liam Ridgewell.

ASTON VILLA 3-2 MANCHESTER CITY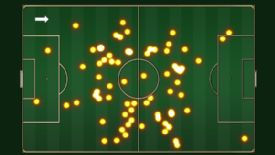 OtherFernandinho was given licence to get forward rather than simply concentrate on defending.
Stylistically, one of the key changes Manuel Pellegrini has implemented at Manchester City has been to get them playing higher up the pitch. When they have worked, as in the games against Newcastle and Manchester United, Pellegrini's tactics have succeeded spectacularly. One concern, however, is that leaves City liable to be counter-attacked, as they were by Aston Villa.

A key element in Pellegrini's plans has been central midfielder Fernandinho, who has the pace and energy to play in the opposition's half. His heat map in Saturday's 3-2 defeat at Villa Park shows how much time the Brazilian spends on the front foot.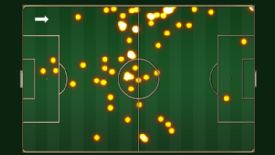 OtherGareth Barry was more disciplined when playing against West Brom last season.
Contrast it with his predecessor in the midfield, Gareth Barry, who was loaned out to Everton by Pellegrini. In an away game in the Midlands last season, the 2-1 win at West Brom, the Englishman operated largely in his own half. Barry was less dynamic but perhaps prevented City from being caught on the break.

Nevertheless, it required real discipline from Villa, who only had 33 percent of possession, to win. Central midfielder Fabian Delph epitomised their effort and his role was very different from Fernandinho's. His defensive touches -- tackles, clearances, interceptions and blocked shots -- came almost exclusively in or just around his penalty area. It shows how deep the Villa midfield were forced to operate.

TOTTENHAM 1-1 CHELSEA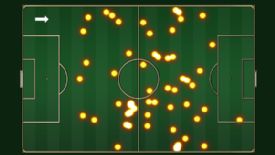 OtherJuan Mata showed he could do the defensive work in the draw at Tottenham Hotspur.
Jose Mourinho sent for Juan Mata at half-time, when Chelsea were trailing 1-0, and the sidelined playmaker rewarded the manager. His pitch map shows the range of the Spaniard's contribution. Mata had 30 touches -- per minute, the most of any attacking player on the pitch -- and his pass completion rate (85 percent) was far better than those of Oscar (68 percent) and Eden Hazard (60 percent). Mata ended the game playing as a striker after Fernando Torres' sending off but, as the diagram shows, he also found the time to drop back and help out his defence. Moreover, his movement, both vertical and lateral, made it harder for Tottenham to pick him up.