Espanyol are embracing their role as Barcelona's second team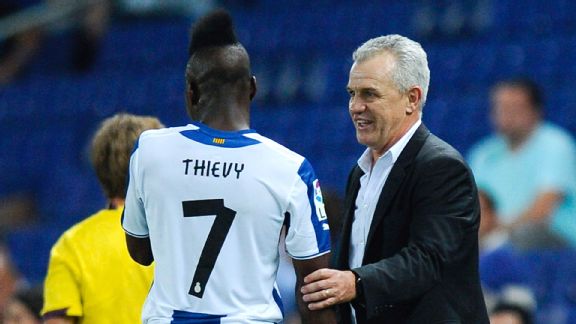 David Ramos/Getty Images
Big football cities are defined by rivalry.

There's the odd one-club settlement and some countries like France and the Netherlands that barely feature any intracity conflicts. However, travel to Milan, London, Madrid, Manchester, Moscow, Lisbon, Glasgow, Athens, Barcelona, Liverpool, Munich, Rome or Istanbul and there is more than one major club to choose from.

Usually, the identity of the "second team" in the city is formed in deliberate opposition to their more illustrious rivals.

Manchester City are a perfect example. When Carlos Tevez moved from United to the blue half of the city, the famous "Welcome to Manchester" billboard was a continuation of a long-standing theme, the idea that while United had supporters across the globe, City was the local club, the people's club.

In Barcelona, there's a particularly interesting case. The city's primary football club remains the most respected in world football, but you hear relatively little about the second club, Espanyol.

Espanyol have always been the underdog, always the alternative to the mainstream, as explained by Jimmy Burns in "Barca," his history of Espanyol's fierce rival: "From its inception, Espanyol challenged the middle-class backers of Barcelona and the way they appeared to claim a full monopoly on civil and patriotic virtue ... In the city of Barcelona, there were monarchists and royalists who wanted to go on living in a part of Spain, and not become separate from it."

Espanyol's identity was shaped by not being Barcelona. Their name underlined the point that, unlike Barca, they were formed by Spaniards. Whereas Barcelona's crest featured the Catalan flag and the cross of St. George (patron saint of Catalonia), Espanyol had the royal crown.

The club's identity has certainly evolved over the past century. It's less than 20 years since the club changed to the current, Catalan spelling of its name, rather than Español. If the linguistic and political features of the club's identity have changed, the hostility toward Barcelona has not.

This season, Espanyol are the anti-Barca in an entirely different respect. Not only have Barcelona been immensely successful over the past five years, but they've also cultivated an extremely distinct period of play, concentrating on short passing and ball retention. The club has been a huge influence on the national team's success too, primarily because of the midfield trio of Sergio Busquets, Xavi Hernandez and Andres Iniesta. But Espanyol are providing an alternative and have started strong. With three victories and two draws in their first five matches, they're currently in fifth position, and there's a positive feeling around the club under Mexican coach Javier Aguirre.

Assess the statistics involving Espanyol's matches and an interesting pattern becomes clear. After five rounds of La Liga, Espanyol had the worst pass completion rate in the league at 69 percent -- a full 20 percentage points fewer than Barcelona. La Liga's reigning champions place the strongest emphasis on ball retention; Espanyol care less than anyone.

Similarly, while Barcelona win fewer aerial duels per game than any other side -- just nine -- Espanyol are the league's most dominant aerial force, winning 23 battles per match. Espanyol are weak at everything Barcelona excel at, and vice versa.

Aguirre is an unlikely exponent of this form of football. He is most famous for his spell in charge of the Mexican national side, where he insisted upon a free-flowing, flexible formation that was beautiful rather than effective. With Barcelona's Rafael Marquez playing a holding midfield role but often dropping back to form a defensive trio with the fullbacks pushing on, Mexico were genuinely thrilling at times. They were excellent in midfield but weak at either end, so it's unusual that Aguirre is now leading the fight against tiki-taka.

Still, it's important to emphasise that Espanyol are not playing defensive football. Lining up in a 4-2-3-1 formation, like the majority of other Spanish sides, Espanyol are often a 4-2-4 in possession, with wingers Simao Sabrosa and Christian Stuani pushing high up against the fullbacks. They're given that freedom because of the excellent performances of midfield duo Victor Sanchez and David Lopez, both full of energy and tackling.

Upfront, Espanyol aren't an ugly side. Pizzi was signed from Deportivo to play in the number 10 shirt and acts as a forward rather than a midfielder. Sergio Garcia continues to lead the line, but while the statistics would suggest a side like this would favour a target man upfront, Garcia is brilliantly inventive with his movement and runs.

In the 3-2 win over Athletic Bilbao on Monday night, Garcia constantly darted toward the wings, dragging centre-backs out of position and creating space for Pizzi to exploit. Garcia scored the crucial third goal -- an extremely scrappy strike, but it originated from his unusual positioning out on the right. Espanyol are desperate to get the ball forward to him as quickly as possible, which explains the low pass completion rate.

Espanyol's unbeaten start to the season has captured the imagination of supporters, and the win over Athletic established their position in the top five. They have the same number of points as Villarreal ahead of their trip down the coast to El Madrigal tonight.

This, perhaps, is the most important game of the Liga season so far. A win for either side and Champions League qualification becomes a realistic target for the campaign. With Valencia out of sorts, Sevilla suffering a poor start to the campaign, Real Sociedad distracted by the Champions League and Malaga losing their best players in the summer, fourth spot in La Liga is up for grabs.

It remains to be seen whether Espanyol can mount a genuine challenge, but in a league full of teams that conform to the stereotypical national style, they're the outsiders providing an alternative. As a second club in a major city, it's a role they're fully accustomed to.