Liverpool needs to put away red carpet for Luis Suarez's return
One of the reasons to be thankful for the popularity of the 4-2-3-1 in recent years, as opposed to the brief 4-3-3 obsession following Jose Mourinho's success in his first spell at Chelsea, is the semi-return of the strike partnership.

Whereas the 4-3-3 depends upon one strong centre-forward to fend for himself, the 4-2-3-1 offers the possibility of playing a deep-lying forward behind the main striker. In Sunday's Manchester derby, Sergio Aguero partnered Alvaro Negredo, and Wayne Rooney played a similar role just behind Danny Welbeck. In newspapers they were depicted as 4-2-3-1; in reality they weren't far from 4-4-2. There are few greater things in football than a natural, cohesive partnership between two players, and it's particularly enjoyable when two star centre-forwards are on the same wavelength.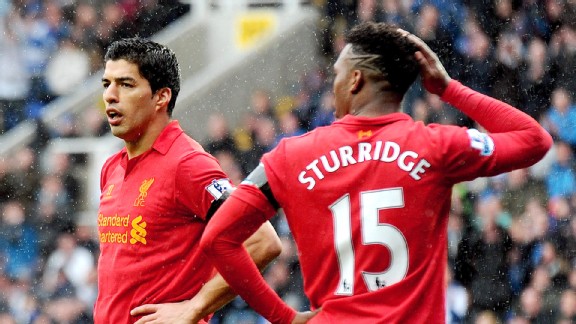 Andrew Powell/Getty ImagesLuis Suarez and Daniel Sturridge have a natural understanding up front and can pose problems for opponents -- given the right roles.
Brendan Rodgers has switched between the 4-3-3 and the 4-2-3-1 during his time at Liverpool, effectively "flipping" the midfield triangle when a shift is necessary. The 4-3-3 was generally used in the first half of last season, when errors in the transfer market left Rodgers without many attacking options. Luis Suarez was forced to shoulder a huge goal-scoring burden, supported enthusiastically but inconsistently by Raheem Sterling and Suso, neither of whom is prolific.

The arrival of Coutinho and Sturridge in January, plus the good form of Jordan Henderson when played in advanced positions, encouraged Rodgers to play a 4-2-3-1 system more regularly. Coutinho can play either from the left or in his favoured No. 10 position without any problems, but Sturridge, while also versatile, has more questions about his role -- and particularly, his relationship with Suarez. Ahead of the Uruguayan's return to the first team against Manchester United on Wednesday evening, Rodgers will be considering his tactical options.

Unlike many pairs of centre-forwards, Suarez and Sturridge appear to have a natural understanding together up front. In the first match they started together, Suarez scored a fine goal after Sturridge excellently dummied Lucas Leiva's forward pass, tricking the Norwich centre-backs and giving Suarez time to convert. He immediately ran to Sturridge to celebrate, thanking his new colleague for the assist that won't be recorded as an assist.

Actually, that goal was rather an inaccurate representation of their roles. Suarez was actually playing behind Sturridge, in the No. 10 role he supposedly prefers, rather than in advance of him. In theory, the goal should have been the other way around -- but in a way, that's the point of playing two centre-forwards together in the 4-2-3-1. You have that unpredictability and variation up front, making it more difficult for the defenders to guess where the runs are coming from.

Rodgers didn't always stick to that combination in central positions, however. Away at Arsenal, he fielded Suarez on the left and Sturridge up front, using Henderson to press from the No. 10 role, which worked excellently. Later in the season, for example in the frustrating 0-0 draw at Reading, Suarez was up front with Sturridge cutting inside from the right. For the 2-2 home draw with Chelsea, Suarez's last appearance before his ban, Sturridge was only a substitute. Both players' versatility means tactical tinkering is natural, but one wonders whether the strike partnership should have been given time to develop.

Without Suarez, both Coutinho and Sturridge have thrived. Sturridge has played up front on the shoulder of the last defender, while Coutinho -- particularly toward the end of last season -- played some delicious through-balls. Suarez's greatest footballing weakness, aside from his disciplinary problems, is his insistence upon doing everything himself. He attempted the most shots and the most dribbles last season in the Premier League, both by a considerable distance; it's tough to define such a hard-working player as selfish, but when in possession the Uruguayan always looks for goal, rather than a teammate.

Without him, Liverpool seem rather more structured and defined. In the eight games with both Sturridge and Coutinho in the side, Liverpool have won six and drawn two -- the weekend defeat to Southampton came when the Brazilian was out injured. Suarez remains Liverpool's best player but could disrupt a happy, settled side.

"It will be interesting to see whether [Rodgers] puts Suarez or Sturridge in to a wide position. I think he tried that a bit last year and it didn't work," former Liverpool centre-back Jamie Carragher said last week. "I don't think either Sturridge or Suarez are really comfortable in that No. 10 role, because if you are that you've got to put a defensive shift in."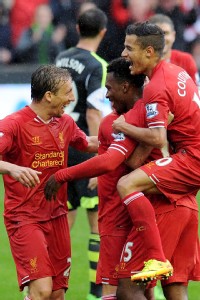 Andrew Powell/Getty ImagesDaniel Sturridge (center) and Coutinho (right) have thrived without Luis Suarez, who insists on shouldering Liverpool's burden.
Earlier reports had suggested Rodgers' intention was to field Coutinho behind Sturridge, with Suarez operating from the flank. That seems the most logical option, not merely because Coutinho and Sturridge's relationship needs to be preserved up front, but also because it's dangerous to place such a troublesome individual, and someone who arguably hampers the performances of other attackers, directly in the middle of the Liverpool attack. From the perspective of morale and team spirit, returning him to such a pivotal role after his self-induced ban would be difficult. In fielding Suarez out wide, Rodgers would both be making an astute tactical decision, and subtly informing the Uruguayan that his importance to the team has lessened in the past few months.

All this might not be entirely relevant for Wednesday night's game, when Rodgers is likely to make changes and is without Coutinho through shoulder surgery. But when it comes to Premier League matches, Suarez might find himself playing in a relatively unfamiliar position. Sturridge has established himself up front, and Rodgers wants Coutinho to play as a No. 10.

Liverpool also need to be intelligent enough to recognise the potential of losing Suarez in January -- it's extremely rare for a player of his quality to be not playing in European competition at all this season, which means he's not cup-tied. Many big European clubs are lacking depth up front, and the two clubs linked most strongly with his signature in the summer, Arsenal and Real Madrid, are both depending heavily upon a single centre-forward, although it's unlikely Arsenal would return with another bid. Still, the point remains -- this is a player who said he wanted to leave in the summer and is hardly likely to prove a reliable base to build around for the next few years.

You can look at this from a variety of perspectives but in terms of tactics, discipline and long-term planning, it's difficult to see why Rodgers should roll out the red carpet for Suarez's return. He unquestionably has a role to play for as long as he remains under contract at Liverpool, but Rodgers must avoid Liverpool depending upon him too heavily.