Tactics Board: City find right path to thrash United
MANCHESTER CITY 4-1 MANCHESTER UNITED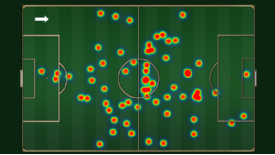 Other / ESPN Stats & AnalysisYaya Toure put in an all-star display against Manchester United.
Yaya Toure provided the definition of an all-action midfielder in his man-of-the-match derby display. Defensively, his performance included a tackle, two clearances and two interceptions. In attack, he had two shots and scored a goal. With the ball, he recorded an 85 percent pass completion rate. He was capable of leading incisive breaks on the right wing and as his heat map shows, it was all the more impressive as he did much of his work in the Manchester United half. It was also indicative of Manuel Pellegrini's style of play: He prefers his central-midfield players to operate on the front foot, aided by having a high defensive line. In the first half, which ended with Toure scoring, they drove Manchester United back.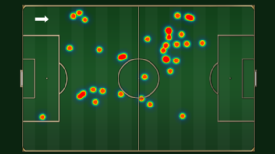 Other / ESPN Stats & AnalysisMarouane Fellaini struggled to make an impact in the first half of his debut Manchester derby appearance.
Compare him to his United counterpart in the decisive opening 45 minutes. Marouane Fellaini was never on the ball within 25 yards of the City goal but also had comparatively fewer touches in the central area in front of his own goal. Fellaini had more attacking possession after City went 4-0 up, but then it mattered less.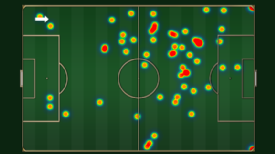 Other / ESPN Stats & AnalysisSamir Nasri was decisive cutting infield for Manchester City against Manchester United.
Samir Nasri covered more ground than any other player and had more touches than any of his City teammates, and his heat map shows why. Nasri had a roving brief: He was able to appear in the No. 10 position, which was one of the reasons why United struggled to pick the Frenchman up. His goal summed up how City benefited from being a little lopsided: Jesus Navas, an out-and-out right winger, crossed for Nasri, who had come infield, to finish.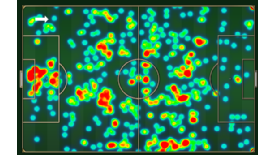 Other / ESPN Stats & AnalysisJesus Navas and Pablo Zabaleta linked up to great effect in the Manchester derby.
Look at City as a whole and it shows Navas' effect. Pellegrini's team play with more width than Roberto Mancini's did, but largely on the right flank. The combination of Navas and Pablo Zabaleta meant they were on the right touchline far more often than the left -- but rarely in their own third. That, in turn, indicates how little defending Zabaleta had to do near his own goal. Ashley Young, his immediate opponent, was substituted after 51 minutes.

CHELSEA 2-0 FULHAM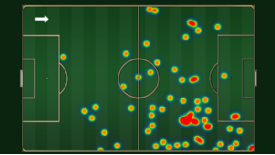 Other / ESPN Stats & AnalysisOscar received the ball from team-mates in deep-lying positions against Fulham.
Jose Mourinho has made it clear that Oscar is his first-choice No. 10, rather than Juan Mata. His passing map in the 2-0 win against Fulham gives an idea why he is the Portuguese's preferred playmaker. The Brazilian played a pivotal part in getting Chelsea into Fulham's penalty box, normally after receiving the ball from a player in a deeper position, as the diagrams show.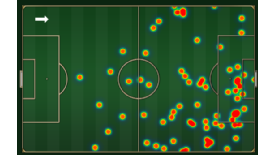 Other / ESPN Stats & AnalysisOscar was Chelsea's link man against Fulham playing the ball into the opposition penalty area.
Statistics showed that Oscar attempted 43 passes in the final third, succeeding with 27. A pass completion rate of 63 percent over the whole pitch would be deemed poor, but in a crowded final third -- Mourinho noted Fulham played with a low defensive block and with a midfield four directly in front, trying to prevent space between the lines -- it is excellent. As Mourinho has said, his second Chelsea team don't have an aerial threat like Didier Drogba, so it is even more important they can thread passes through a packed penalty area.

LIVERPOOL 0-1 SOUTHAMPTON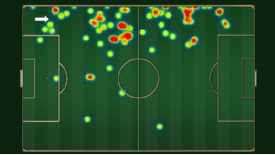 Other / ESPN Stats & AnalysisMamadou Sakho struggled during Liverpool's defeat against Southampton.
Brendan Rodgers' decision to pick four specialist central defenders meant that, until he made substitutions, he did not have the attacking full-backs that are normally a feature of his side. Recent signing Mamadou Sakho started in place of Jose Enrique and had more touches than any of his teammates. But as his heat map shows, he was rarely on the ball in the final 30 yards and, as he did not find a teammate with any of his three crosses, he did not create a chance. What it indicates is that, when not pressing high up the pitch, Southampton were content to let Sakho have the ball because he was unlikely to harm them.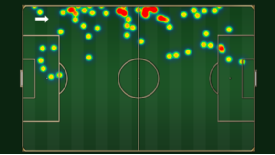 Other / ESPN Stats & AnalysisJose Enrique's performance against Stoke showed what Liverpool were missing against Southampton.
In the end, Rodgers brought on Enrique, and the Spaniard's heat map from Liverpool's opening home game, against Stoke, shows how different the two players are. He was involved far more near the opposition goal, got in the penalty area and had three shots.