Patrice Evra's resurgence makes him hard to ignore
Patrice Evra's first appearance in English football was in a derby at Manchester City, and it proved a baptism by fire.

Surprisingly named in the Manchester United side just four days after signing, he endured a horrendous afternoon at Eastlands, as City ran out 3-1 victors. The first goal, scored by Trevor Sinclair, originated from a right-wing cross. Evra wasn't responsible for the concession, but his positioning was odd -- dragged out from the back four, he made no attempt to get back into defence. At this point, he was still convinced his future was on the left of midfield.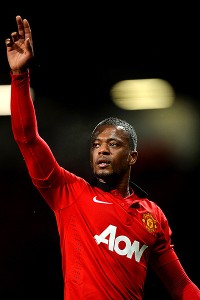 Michael Regan/Getty ImagesOver the last year, Patrice Evra has been one of just a few United players who have been guaranteed their place.
Things got worse. Sinclair easily outjumped Evra to a long ball, flicking it on for Darius Vassell to double Manchester City's lead. Evra wasn't culpable for City's other goal -- because he was no longer on the pitch, hauled off at halftime.

Alex Ferguson must take some responsibility for his curious selection decision that afternoon in 2006. He admitted after the game that it was "a gamble" to thrust Evra straight into the action, and there was no good reason to break up the back four (Gary Neville, Rio Ferdinand, Wes Brown and Mikael Silvestre) that had kept a clean sheet at Arsenal the previous weekend. Oddly, in selecting Evra at left-back, Ferguson also convinced himself to disrupt the centre-back partnership, picking Silvestre over Brown because the former spoke French and therefore could guide Evra through the game.

But Evra played poorly, and Ferguson let him know. "I could tell he was angry," Evra said. "He just looked at me, deadly serious, and said, 'Mr. Evra, now just watch and see what is English football. And learn.'"

To Evra's credit, he did. Just a couple of years later, he was regarded as the world's best left-back as United won the European Cup in 2008.

Since then, Evra's career has been rather eventful. There was the altercation with a Chelsea groundsman at the start of 2008-09, his role as France captain during their embarrassing World Cup 2010 campaign and the fallout from the Luis Suarez incident in 2011-12. This period coincided with a sharp fall in Evra's form.

But if there's one thing you must never do when discussing Manchester United players, it is to consider them "past it." Paul Scholes' career once seemed to have ended prematurely because of tactical and health concerns; he reinvented himself and came back stronger. Ferdinand and Nemanja Vidic's declining pace means they should surely have been replaced by now, but they've started the campaign as United's first choice at the back. Ryan Giggs, meanwhile, has seemed one year away from retirement for about six years.

His resurgence won't be appreciated to such an extent, but Evra's performance over the past calendar year has been truly exceptional. During that period, probably only Michael Carrick and Robin van Persie have been so guaranteed of their place in the United side. David De Gea has been rotated out, Vidic was omitted for the game at the Bernabeu last year, Wayne Rooney missed the return leg, and Ferdinand needs to be rested every few weeks.

Evra has beaten off the challenge of Alexander Buttner, signed last season from Vitesse Arnhem. It was a peculiar signing. Buttner wasn't particularly highly regarded in Holland and is yet to win a Dutch international cap despite the Netherlands looking for alternatives in that position since Giovanni van Bronckhorst's retirement in 2010.

Buttner has played only five Premier League games since signing, scoring two goals. Evra continues to be United's first-choice left-back and has started 146 of United's last 156 Premier League games. His defensive work has improved, and his attacking remains consistent. Last season, he managed to score four league goals -- double his previous United tally combined -- discovering a knack of heading in from set pieces.

Strangely, David Moyes still seemed reluctant to depend upon Evra. His desire to bring in two old favourites, Marouane Fellaini and Leighton Baines, was an obvious sign that Evra wasn't trusted. United would have had to pay at least £15 million for Baines, 29 in December, so he would surely have become first-choice. Focusing upon, and completing, the Fellaini signing made sense -- but then, on deadline day, United were desperate to sign another left-back, Fabio Coentrao. "I just felt we needed to make sure we had good cover for Patrice," Moyes insisted last week. It's difficult to believe Moyes was targeting a backup.

Failure to land either Baines or Coentrao has been a blessing in disguise, because Evra has been one of Manchester United's standout performers this season. He created the first goal of the Moyes reign with a pinpoint left-wing cross for van Persie in the 2-0 Community Shield victory over Wigan and produced two almost identical chances for the Dutchman the following weekend against Swansea.

It's the type of goal Baines used to provide for Tim Cahill and Fellaini at Everton and demonstrates that Evra is more than capable of playing that role. Evra used to charge forward in possession or overlap speedily to allow the left-sided midfielder to move infield. Now he seems to hang back slightly, advancing into space when the ball is in the opposite side then waiting for a lateral pass before crossing. In a sense, he's playing the Baines role.

Baines, for all his quality, might actually be in the ideal side at Everton. The statistics involving chance creation make the Everton left-back look tremendous, but they can be misleading. He's created 10 chances for teammates this season, but half of them have been from set-piece situations. In open play, he's created only five chances, whereas Evra has managed seven in the league alone. He recorded his first assist of the campaign Wednesday night, with an accurate cross for Rooney's volleyed opener against Leverkusen.

It's testament to Evra's good form that Manuel Pellegrini will be nervously pondering his options on the right of midfield ahead of Sunday's derby. Naturally, he would like to include Jesus Navas to attack down the outside or perhaps Samir Nasri to drift inside and help City dominate possession. But given Evra's status as United's joint-most creative player alongside Rooney so far this season, can Pellegrini afford not to use James Milner, tracking Evra up and down the line?

In 2006, Evra was exposed as United's weak link in this fixture. A couple of years ago, his disappointing form meant he was approaching that status again. In 2013, though, he's re-established himself as one of United's best players -- and don't bet against another crucial assist Sunday.