Bojan still struggling to find his feet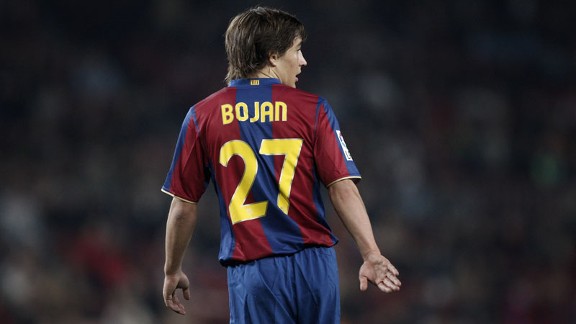 GettyImagesBojan Krkic is Barcelona's youngest-ever league scorer, but his career has suffered a real downturn since he left Camp Nou.
It certainly isn't the group of death; it's not even the second-most exciting group in this season's Champions League. But there was something rather magical about Barcelona, AC Milan, Ajax and Celtic -- four previous European Cup winners -- being drawn together in Group H.

Even before Celtic, from the fourth pot, were drawn alongside their more illustrious opponents, the three other sides together already provided an intriguing group. There's the ideological link between Barcelona and Ajax, and past finals between Barca and Milan (1994) and Ajax and Milan (1995).

There have also been a variety of past greats that have represented more than one of these clubs. There are a few in the centre of the Venn diagram, having played for Ajax, Milan and Barcelona -- many because of Barca's relentless pursuit of Dutch signings in the mid-to-late 1990s. Patrick Kluivert, Edgar Davids, Michael Reiziger, Frank Rijkaard, Zlatan Ibrahimovic and Winston Bogarde have all represented all three.

But there's a more current link between the trio: Bojan Krkic. On loan at Ajax this season, on loan at Milan last season, and still owned by Barcelona, this was theoretically the perfect draw for the Spanish forward.

But Bojan doesn't seem particularly excited. He's already returned to the Camp Nou while playing for Milan last season, but it was still surprising to see quite how underwhelmed he was at the draw. "The draw neither made me happy nor bothered me," Bojan told Mundo Deportivo. "I was watching and I had not even thought it could happen. But I have taken it as something positive. In the end, they are difficult opponents but also attractive games."

In everything he says and does, Bojan exudes an air of sadness and resignation about his current plight.
Underwhelming at both Roma and Milan, his loan move to Ajax is something of a step down. The Amsterdam club remains one of Europe's greatest names, but they are considered a breeding ground for Europe's best young talents, a stepping stone to the first-rate clubs.

Of the 47 first-team and reserve players currently owned by Ajax, only one is over the age of 27 -- defensive midfielder Christian Poulsen was signed to provide some experience among a host of promising kids. As evidenced by the recent departures of Toby Alderweireld and Christian Eriksen, when players are about to hit the big time, they depart.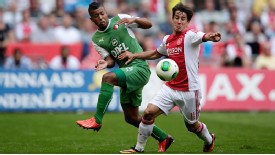 GettyImagesBojan is hoping for a new lease on life at Ajax following failed spells at Roma and AC Milan.
Bojan should have already hit the big time. Supposedly the next promising attacker off the La Masia production line, his breakout season was 2007-08, the year before Pep Guardiola was appointed as coach. His initial impact in the side was superb -- he broke Lionel Messi's record as the club's youngest-ever player, scored 10 league goals (still his highest tally to date), and received a Spain call-up at the end of his first season, which remains his sole cap.

Ultimately, Bojan wasn't quite good enough at Barcelona. He didn't contribute enough assists or enough goals, and he fell out with Guardiola. Bojan was particularly frustrated that he remained an unused substitute in the two Champions League finals the club competed in, and won -- both times when the club had a comfortable two-goal lead over Manchester United going into stoppage time.

For most players, leaving Barcelona is a disappointment -- but for Bojan, it has proved devastating. It might sound strange to say, considering that Barca have been the most successful side in Europe over the past five seasons, but Bojan had more chance of making it there than any other top club.

He'd been raised in La Masia, brought through the youth system and junior sides, before making his bow in the first team alongside Ronaldinho, Thierry Henry and Samuel Eto'o. He was the typical Barcelona forward -- 5-foot-7, quick, versatile. He simply looks like a Barca player -- a theory that took a strange turn when he was discovered he was distantly related to Messi.

Even when Bojan was struggling, he could rely upon his familiarity in the Barcelona system. He passed at the right moments, pressed well and combined nicely with his teammates. He was the epitome of Barcelona DNA.

The problem, however, is that these talents aren't completely transferrable to a lesser team. Bojan required a team that were in constant control, that had possession,that needed attackers to move and press and rotate. Bojan isn't a remotely creative player, nor particularly effective on the counterattack. He needed to be on the fringes of Barca, leaving midfielders to control the game and more prominent attackers to score the goals. Bojan should have been what Pedro is -- playing a clever tactical role, rarely the star, but always useful.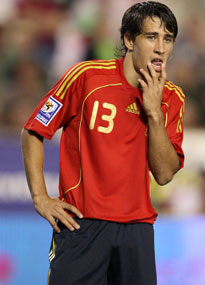 GettyImagesBojan has not appeared for Spain since making his international debut against Armenia in 2008.
The move to another team was always going to be difficult. No other side has as much possession; no other side's defensive work is so significantly based around pressing. In games in which Bojan's side are being dominated, the game bypasses him. Bojan needed Barca.

It's as if Bojan knows this -- since leaving Barcelona he's joined both Roma (who were attempting to recreate the Barca system under former Barcelona B manager Luis Enrique) and Ajax (who, along with their well-established connections to Barca through Rinus Michels and Johan Cruyff, are now being coached by a one-time Barcelona defender, Frank de Boer). It's like Bojan has a specific place within a very definite template, and both he and his coaches understand his limitations.

It feels somewhat sad that Bojan's career seems to have peaked already -- he's only 23, is playing at one of Europe's major clubs, and has at least 10 years of football left in him. Nevertheless, it's difficult to imagine him being selected for Spain again in the foreseeable future, and the past disappointment at "only" being on the bench for a Champions League victory seems something of a distant dream.

This is essentially an example of a footballer being typecast. Stylistically, Bojan was perfect for Barcelona -- but just as few other top clubs can fully replicate their football, few other top clubs will find a place for Bojan.