Tactics Board: Ozil does No. 10's work for Arsenal
SUNDERLAND 1-3 ARSENAL
The number on the back of Mesut Oezil's shirt is 11 but in terms of position, Arsenal's most expensive player ever is their new No. 10. Yet while the 42.5 million pound man starts behind the main striker, his Gunners debut showed just how far and wide Ozil will roam. Lateral movement is a major feature of his game and it was no coincidence that his first assist for his new club came from the left flank, where he set up Olivier Giroud for the opening goal at the Stadium of Light. The German's heat map reveals how often he goes to the inside-left and inside-right channels -- or even the wings -- to find space.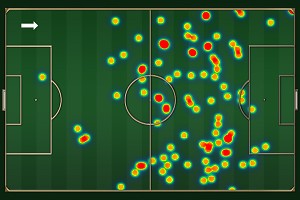 ESPNAs Mesut Oezil's touches show, he has plenty of license to roam in search of space and possession.

Ozil's statistics also illustrated much he was involved and the level of his contribution. He had 97 touches -- second only to Aaron Ramsey -- in Arsenal's 3-1 victory and enjoyed a 90% pass completion rate, bettered only by the Welshman and the Gunners' two central defenders, all of whom operated much further from the Sunderland goal. Indeed, Ozil completed 34 passes in the final third of the pitch -- the most, according to WhoScored.com, of any player in a Premier League match this season.

TOTTENHAM 2-0 NORWICH
Gylfi Sigurdsson is a player who would prefer to operate as a No. 10 himself. Instead, because of Christian Eriksen's signing, the Iceland international started on the left wing. As his pitch map shows he followed the instructions closely and was often on the ball within 10 yards of the touchline. He rarely ventured infield but when he did, he looked for goal.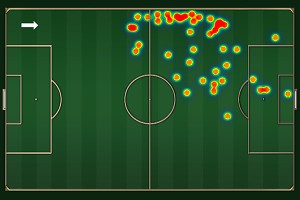 ESPNGylfi Sigurdsson played with discipline on the left flank, cutting inside only to shoot -- and scoring twice when he did.

Sigurdsson had four shots, all from central areas, and scored from both efforts inside the Norwich box. After Gareth Bale's departure to Real Madrid, Sigurdsson became the first Tottenham winger to score.

MANCHESTER UNITED 2-0 CRYSTAL PALACE
When is a centreback not a centreback? One answer is when he is playing in defence for Manchester United, at home, against a relegation-favoured team that only fields one striker. Because United's full-backs play further upfield and are, in effect, wingbacks, their central defenders have more touches on the flanks than their counterparts elsewhere.

As Nemanja Vidic's pitch map shows, he spent plenty of time in what would be regarded as the leftback area while Patrice Evra worked ahead of him, often in the Palace half. What it means is that when in possession, the United centre-backs split, widening the pitch but leaving the area directly in front of David de Gea's goal empty.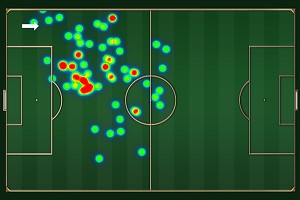 ESPNGiven Crystal Palace's preference of a lone striker, Nemanja Vidic played much wider in defense than he would against a strong team.

The contrast with Vidic's performance against Palace came in United's previous home game against Chelsea. When taking on title rivals, the Serbian spent much more time in a conventional centreback's place partly because Evra, in turn, was less focused on attack.

EVERTON 1-0 CHELSEA
Much of the attention was on one Everton central midfielder. It wasn't Leon Osman, who was overshadowed by the debutant Gareth Barry. However, the long-serving Osman made a vital defensive contribution for Roberto Martinez's team. He blocked one shot, made four interceptions and five clearances. He also made five tackles and the location of them indicated why it was a game of two halves for Everton.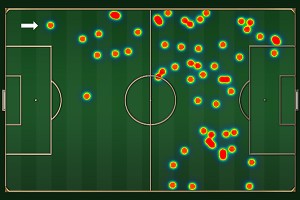 ESPNEden Hazard worked hard against Everton but couldn't get more than one touch inside the penalty area.

The three nearest the halfway line came in the first half, when Everton were pushing up. The two closest to his own goal came in the second half, when the Merseysiders were mounting a fine rearguard action.

While Jose Mourinho criticised Andre Schurrle and did not appear impressed by Juan Mata, he was effusive in his praise for Eden Hazard, the third flair player in his starting lineup. Yet what the Belgian's heat map illustrated was that Chelsea struggled to get him on the ball inside the Everton box. Hazard only had one touch inside the penalty area, which could be seen as a sign of how well Seamus Coleman did against him.