'Big three' managers shaping new Premier defensive era
Three weeks into the Premier League season, and we've witnessed three big games between five clubs likely to finish inside the European places this season: Manchester United versus Chelsea, Liverpool versus Manchester United and Arsenal versus Tottenham.

The common theme, quite obviously, was a lack of goals. 0-0, 1-0, 1-0. In fact, it's been one of the most cautious starts to a Premier League campaign on record -- the current goals-per-game average of 1.93 is alarmingly low.

OK, we're only three games in -- which isn't the most comprehensive sample size. We could quite easily have a deluge of goals in the next round of the Premier League, and the figure will be back toward the usual mark, around 2.8. In big games, however, we might have to become accustomed to caution.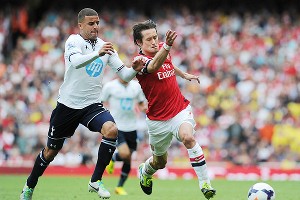 Stuart MacFarlane/Getty ImagesArsenal's 1-0 win over Spurs is reflective of the defensive football present in big Premier matches early on.
That's particularly true when assessing games involving the Premier League's new "big three" coaches -- David Moyes, Manuel Pellegrini and Jose Mourinho. Over the past few years, we became accustomed to goal-crazy matches between the big boys. City's 6-1 win at Old Trafford and United's 3-3 draw at Stamford Bridge were standout examples. There was a free-flowing, attack-minded feel to the fixtures, and they produced tremendous entertainment.

However, a large contributing factor was the utter shapelessness on display throughout some of these matches. Each side, at one point or another, has been guilty -- whether because of Chelsea's lack of midfield shape under Roberto Di Matteo, because of United's lack of a strong central midfield partner for Michael Carrick or because of City's experiments with a back three.

When Rafael Benitez took charge of Chelsea last summer and immediately ordered his midfielders to form a boxy, defensive shape without the ball, it felt rather underwhelming -- but, without wanting to be simplistic, this is how things used to be. Big matches traditionally were tight, tense and defensive, and settled by minute factors.

The 0-0 between Moyes' and Mourinho's sides should not have come as a great surprise. Both are naturally reactive managers; Moyes' biggest task at Old Trafford, in a tactical sense, is to get his side playing positive, proactive football to dominate games, rather than primarily to shut out the opposition, as frequently seemed the case at Everton. In the true sense of the word, Moyes is a tactician -- chopping and changing his side to suit the demands of the opposition, pinpointing opponents' strengths and weaknesses before instructing his players accordingly.

Meanwhile, it would be unfair to dismiss Mourinho as a purely defensive manager; each of his sides, at one point, have played good attack-minded football, even if there's sometimes been an overreliance upon counterattacking. Mourinho is unquestionably extremely reactive, though, often changing formations midway through games to stifle the opposition's play rather than increase his own side's attacking potential. Against top quality opposition, Mourinho is almost always defensive.

The surprise contributor to these cautious big games might be Manuel Pellegrini. Granted, it's difficult to make judgments considering City are yet to play any genuinely impressive opposition under his tenure, but while Pellegrini favours good football, that's not necessarily the same as attacking football. The Chilean emphasizes the importance of controlling the game against good opposition, which sometimes results in Spain-style defensive tiki-taka, rather than enthralling attacking play.

Check out Pellegrini's previous results against English clubs, for example, when his Villarreal side faced Manchester United. The four scores? 0-0, 0-0, 0-0, 0-0. Against Arsenal in 2005-06? 0-1, 0-0. His Villarreal prided themselves on playing intricate, controlled possession play -- but they also contributed to some rather dull spectacles.

Cautious, organised, defensive football is certainly the way to succeed in Europe, however, and it's impossible to ignore the link between English football's recent obsession with gung ho, attack-minded football and their underperformance in Europe. Chelsea, of course, are the obvious exception with their victory in 2012 -- but look how they achieved it.

In stark contrast, the relative golden age of Premier League clubs competing in Europe came between 2004 and 2009. The Premier League topped the UEFA league coefficient table, and it wasn't uncommon to see three out of four English semifinalists in the European Cup. It was no coincidence that the arrival of Mourinho and Benitez -- two reigning European champions in the Champions League and UEFA Cup, respectively, at the time of their move to the Premier League -- kick-started the upturn in form. Both coaches were, in varying ways, defensive. Premier League games became less frantic.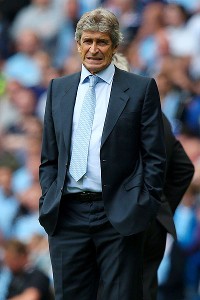 Alex Livesey/Getty ImagesManuel Pellegrini's record against English clubs means he could stand to gain the most from a league-wide defensive approach.
It's also no coincidence that the last time everybody was concerned about defensive Premier League football was the start of that same period, 2004-05. Mourinho's Chelsea seemed to prompt an obsession with defensive-minded 4-5-1 formations (which generally didn't have Chelsea's counter-attacking prowess), simply removing a centre-forward and introducing a holding midfielder.

There were features in the "serious" sections of newspapers about the sudden defensiveness, the goals-per-game ratio plummeted, and Mourinho somewhat amusingly complained about it in the most memorable terms, castigating Tottenham for "parking the bus" in a 0-0 draw at White Hart Lane. Mourinho can hardly be blamed for the return of defensive football, but 2013-14 feels like 2004-05 repeating itself. If the pattern is to follow, English clubs might start competing in Europe again, too.

Should the low goals-per-game average continue over the next month, however, it will be particularly interesting. Analysis by Sarah Rudd of OnFooty a couple of years ago demonstrated that Premier League goalscoring was generally at its highest in October, November and December, before falling in the spring. Therefore, we should expect a positive shift over the next few weeks.

Perhaps this is all irrelevant, however, for goals don't necessarily equal entertainment. United's 0-0 draw with Chelsea wasn't an awful game of football, while Arsenal's 1-0 victory over Tottenham on Sunday had technical quality, tension and one extremely well-worked goal. Arguably the defining feature of football is the relative lack of point-scoring compared to every other sport around; rather than complain about the lack of goals, we should probably embrace it.