Tactics Board: Ramsey does Gunners' dirty work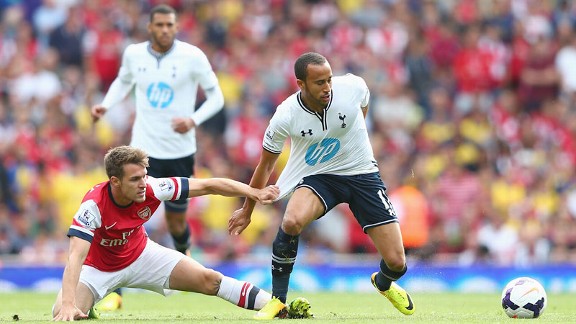 Clive Mason/Getty ImagesArsenal's Aaron Ramsey, left, wasn't above using every trick in the book to hold back Tottenham in Sunday's 1-0 victory.
ARSENAL 1-0 TOTTENHAM HOTSPUR

It is often said that Arsene Wenger doesn't have a defensive midfielder. But while there may be no modern-day equivalent of Patrick Vieira or Gilberto Silva, certainly in terms of their physical stature, and while Aaron Ramsey is regarded as more of a passer, he did a defensive midfielder's job in the North London derby win.

The Welshman's statistics -- he blocked one shot, made three interceptions, four clearances and seven tackles -- compare favourably with those of many a more negative player.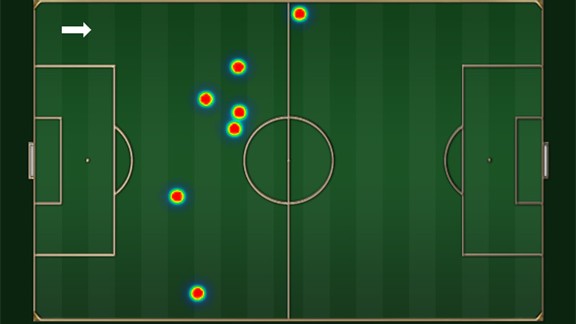 ESPN Stats & Information
The map of his tackles (above) indicates his mobility but also shows the positions where he did his work, winning the ball back before Tottenham could attack the back four.

One of the features of Andre Villas-Boas' style of football is his willingness to play a high defensive line. It is why goalkeeper Hugo Lloris sometimes doubles up as a sweeper.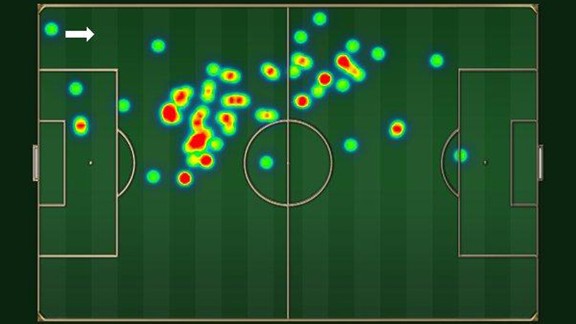 ESPN Stats & Information
A look at centre-back Jan Vertonghen's heat map (above) shows why Lloris has to. The Belgian likes to come into midfield anyway, but it is notable how often he is on the ball 40 yards or more from his goal. Tellingly, Arsenal found room behind Vertonghen to score.

In comparison, while Arsenal, too, have defended near the halfway line in the past and while Laurent Koscielny's pace means he is often content to try to nip in front of forwards to win the ball, his heat map ...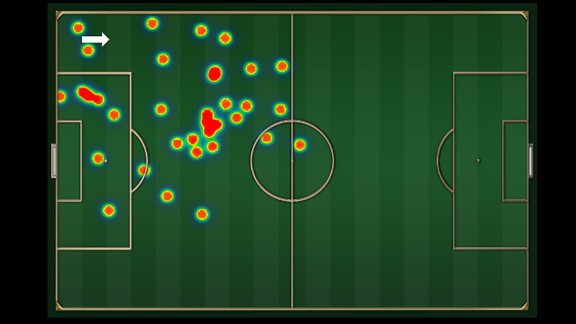 ESPN Stats & Information

... is very different from Vertonghen's. Arsenal are now defending a little deeper -- perhaps because the slower Per Mertesacker is his partner, perhaps because they had a lead to protect -- but there is less space in behind the Arsenal back four than behind their Tottenham counterparts.

Tottenham got their first look at Erik Lamela, the closest thing to a direct replacement for Gareth Bale. The Argentine was on the pitch for only 21 minutes but his touches (below) show a right-winger who is prepared to come infield and get into goal-scoring positions.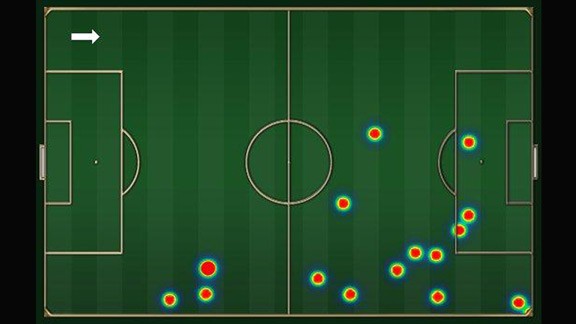 ESPN Stats & Information
LIVERPOOL 1-0 MANCHESTER UNITED

The scoreline is becoming familiar for Liverpool, who won 1-0 for the third time. The defence and goalkeeper Simon Mignolet have rightly earned some of the praise. As important, too, have been Lucas Leiva and Steven Gerrard, the two holding midfielders.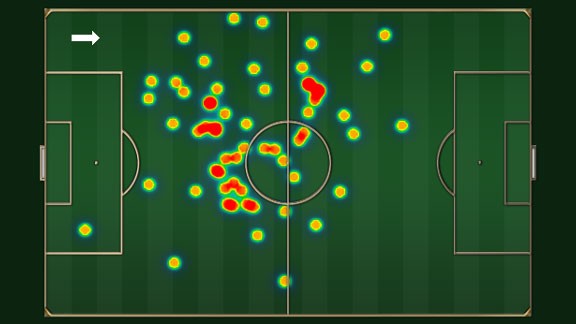 Other / ESPN Stats & Information
If Lucas is the more defensively oriented, his heat map (above) illustrates the job he does, operating almost exclusively in his own half and normally in the centre of the pitch. His sphere of influence is the area where the opposition create; as that shows, he consistently erects a barrier in front of the back four.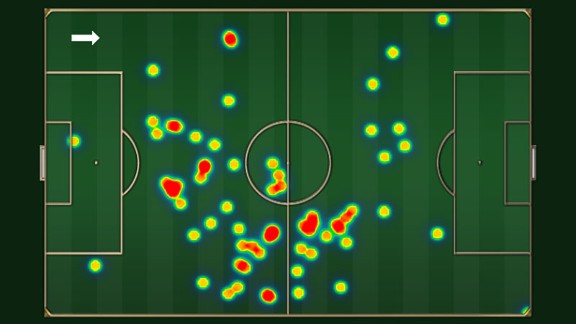 Other / ESPN Stats & Information
Gerrard has a wider remit, as his pitch map (above) reveals. The Liverpool captain played a greater part in the Manchester United half but, like Lucas, also patrols a central area when his side don't have the ball.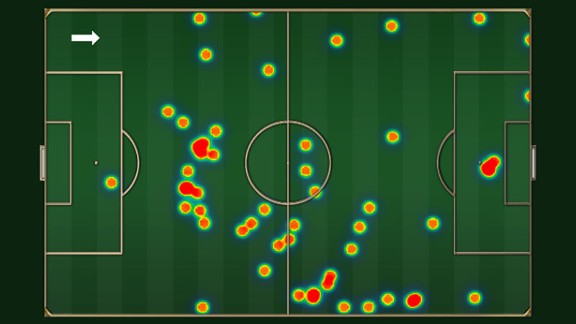 Other / ESPN Stats & Information
Another indication of Gerrard's greater ambition is his passing map (above). Raking diagonal balls have long been a feature of his game and he played nine long passes to Lucas' one. He spread the ball to either touchline, particularly in attacking areas, more than the Brazilian. As Gerrard was on the right of the pair, it was natural the Englishman looked to that side more often, but it indicates he is either inviting right-back Glen Johnson forward or finding Jordan Henderson, the right-winger, in dangerous positions more often than Lucas ...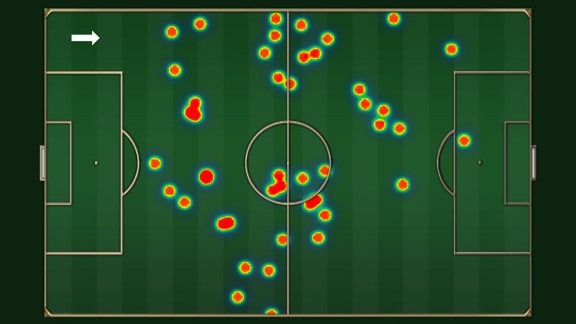 Other / ESPN Stats & Information

... links up with the left-sided pair of Jose Enrique and Philippe Coutinho on the flank. It also reflects the fact that Coutinho plays further infield than Henderson.

One indication of the impact of Gerrard and Lucas is how far and wide Robin van Persie had to go to get the ball. The United striker had 35 touches but only three were inside the penalty area, testament to centre-backs Daniel Agger and Martin Skrtel, but the majority of those outside the box were in wider areas ...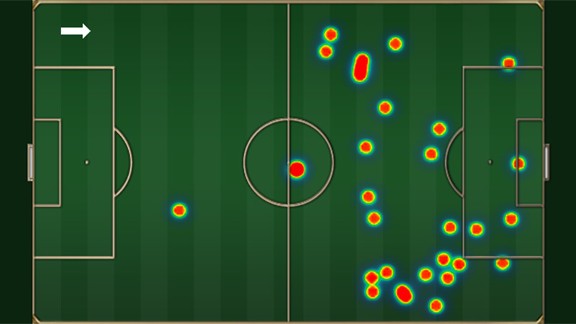 ESPN Stats & Information

... rather than the zones patrolled by Gerrard and Lucas. In short, he was in positions where it was harder to create or score a goal.