Pep Guardiola, Jose Mourinho are each other's windmill


"Both of us want to win," Pep Guardiola once said when asked about the differences between him and Jose Mourinho. "But our paths are very different."

The rivalry between Guardiola and Mourinho wasn't supposed to be quite so bitter. In fact, it started as a perfectly pleasant rapport -- if not a friendship, certainly a good working relationship.

Mourinho's spell as an assistant to two Barcelona coaches, Bobby Robson and Louis van Gaal, was a crucial period of his coaching development. It wasn't simply about the basics -- the training ground exercises, the tactics, the physical conditioning -- but also about the personalities, the egos and the dressing-room spirit. Mourinho, of course, had never experienced a football club from the inside as a player, and while he had worked with some fine footballers under Robson in Portugal, at the Camp Nou he was dealing with bigger stars.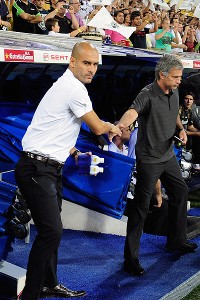 Dani Pozo/AFP/Getty ImagesThe rivalry between Pep Guardiola and Jose Mourinho has turned bitter, but the two giants have no doubt influenced one another.
In the beginning, those stars weren't particularly concerned by the views of the "interpreter," as he was repeatedly referred to in Catalonia. Two, however, found Mourinho engaging and were interested in his thoughts: Laurent Blanc and Guardiola. Amazingly, 17 years later, PSG's Blanc, Mourinho and Guardiola might guide their respective sides to three major league titles this season.

It remains impossible to deduce quite how much influence Mourinho and Guardiola had upon each other -- Mourinho certainly wouldn't dare to credit Guardiola (at that time, a player he was supposed to be in charge of) for helping his coaching development, while Guardiola is rather coy. "We would exchange ideas," he admitted. "But I don't see that as something that defined our relationship."

Nevertheless, it remains a genuinely fascinating and relatively unexplored relationship between the two highest-profile coaches currently active in club football: Two men who despise one another were once on the same side. Guardiola found Mourinho's antics particularly insulting given their previous cohabitation. "I only want to remind him that we were together for four years," he said when the rivalry was at its nastiest.

"It is difficult," legendary Italian coach Arrigo Sacchi said, "when you have two Picassos in the same period." He was speaking about this great coaching rivalry: Guardiola against Mourinho, the only two current club managers included in ESPN FC's list of the 20 greatest managers of all time.

It's a great quote, but it probably misrepresents the situation. Guardiola and Mourinho have more than an influence upon their side -- their dominant personalities have transcended the footballing battle. We're talking about Pep versus Jose, not Bayern versus Chelsea, ahead of the European Super Cup game in Prague. Modern football has increasingly placed great emphasis upon individual managers -- their personalities, their appearance and their rhetoric -- rather than their actual creation: the team. To adapt Sacchi's phrase, Guardiola and Mourinho aren't two Picassos; they've become two Mona Lisas.

They've achieved this in different ways. Guardiola became the epitome of Barcelona almost helplessly: He grew up in Catalonia, was a ball boy at the Camp Nou, rose through the ranks at La Masia before spending the majority of his career at the club. When he returned to the club, he furthered Barcelona's ideological obsession with a certain type of football and fielded, at times, nine youth-team products together.

Mourinho's rise into his club's central figure is more cunning, more strategic. There is an element of pure personality involved. Mourinho wants to be the star; he wants the attention. However, there is also a tactical element to his prominence -- it takes the pressure away from his players, who can get on with playing football. When Guardiola was at Barca, Lionel Messi was still the star -- but Mourinho has never coached a player more famous than himself.

The two have produced some tremendous games, but when you think of their rivalry, you don't think about the football. You think of Mourinho's post-match sprinkler-interrupted celebration at the Camp Nou, of Guardiola's rant, of Mourinho poking Guardiola's assistant Tito Vilanova in the eye, of Guardiola giving Zlatan Ibrahimovic tactical instructions with Mourinho sneaking over to interrupt. These incidents occur before the games, or after them. On the sidelines or in the press conferences. The happenings on the pitch are often forgotten.

Managers are not supposed to dominate so much -- their influence should be reflected in the way their players act, the way the team functions. Both managers are excellent in this respect -- Guardiola's Barcelona genuinely revolutionised passing football, Mourinho has created devastating counterattacking sides in Portugal, England, Italy and Spain.

The meetings between the two have been fascinating because they approach matches so differently. Guardiola is about possession and control, Mourinho is about position and counter. The 2010 meeting between Guardiola's Barcelona and Mourinho's Inter at the Camp Nou was one of the modern classic matches -- not because they attempted to outdo each other at a particular concept, but because they were using entirely different strategies. Guardiola preached the importance of the ball; Mourinho told his players to give it away. Few other sports are capable of evenly balanced contests between two competitors doing utterly opposite things.

Anyone can squabble in a press conference or poke an opponent in the eye -- events that sometimes feel like planned, scripted prefight bust-ups between two boxers attempting to boost pay-per-view figures. Very few can create football sides as brilliant as these two.

On a pure footballing level, Guardiola loves his battles against Mourinho. "It becomes like the basketball playoffs -- you do one thing, they respond with another, you answer in another way," he said in Guillem Balague's biography of him. "The guessing, the changing, the preparing, the switches during games ... this is what makes everything enjoyable, which gives meaning to everything. It is the thing that made those encounters fascinating."

Mourinho's various strategies against Guardiola's sides, with Inter and then Real Madrid -- defend and lose, then defend and win, then attack and lose, then defend and survive, then defend and win, then attack and win -- were truly fascinating. This week should see the latest instalment of a brilliant sporting rivalry, rather than an unbearable personal war.