Is Joe Hart really in decline?
English football fans have become accustomed to tactical inflexibility and technical inferiority in the past half-century, but there has been a general and deserved pride in a string of fine goalkeepers.

Indeed, the national side went 40 years (1963 to 2003) with a constant stream of excellent men between the posts. Gordon Banks, Ray Clemence, Peter Shilton and David Seaman were all highly dependable. The subsequent absence of a regular No. 1 in the past 10 years, with the likes of Paul Robinson, Robert Green, Scott Carson and David James all making high-profile errors in an England shirt, meant that everyone was crying out for a new world-class keeper.

Then came Joe Hart. If overhyped in his formative years, Hart justified the attention received in Manchester City's 2011-12 season -- he demonstrated strength, agility and concentration throughout the campaign. His shot-stopping was excellent, his distribution improved and he saved crucial penalties. By common consensus, he was the best goalkeeper in the division -- and one of the best in Europe.

Since then, Hart has undeniably regressed. He is not the only Manchester City player to decline after the title victory, but he's acknowledged that his 2012-13 campaign was particularly poor, and it's worrying that his bad form has continued into the new season, with mistakes against both Scotland and Cardiff costing his side cheap goals. The question, of course, is why Hart is making so many mistakes.

We can broadly separate goalkeeping into two sections -- mentality and technique. Every top-class goalkeeper must excel in both respects, as Hart certainly did in 2011-12. But right now, it's fair to question both aspects of his game.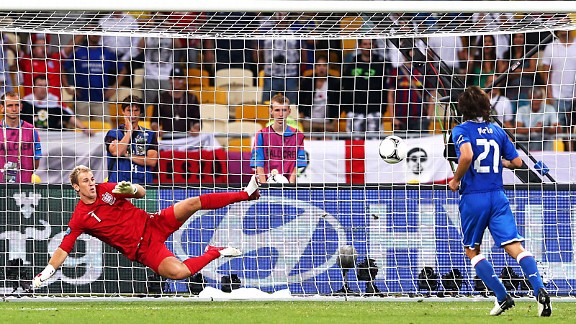 Alex Livesey/Getty ImagesMany have criticized Joe Hart's apparent cockiness. Andrea Pirlo's famous penalty chip at Euro 2012 was intended to knock him off that pedestal, which it did.

With regard to mentality, Hart often has been criticised for being cocky. This started after Andrea Pirlo's famous chipped "panenka" penalty at Euro 2012, where the midfielder commented that Hart "looked very confident in himself, so I thought we had to bring him down a peg or two."

More followed from former Manchester United midfielder Roy Keane. "There's a fine line between confident and cocky, and I think he's been a little bit too cocky," Keane said last season. "He just relaxes a little bit and takes his eye off the ball... and he needs a bit more competition around him."

The concept of not having a challenge around him is interesting -- ESPN FC pundit Shaka Hislop also has questioned Hart's concentration level -- and it's tempting to wonder whether Hart has simply become too comfortable for both Manchester City and England.

Hart's early career was notable in two ways: how early he became involved in professional football, and how he faced a variety of challenges on his way to the top. He was a substitute for Shrewsbury at 16, while still at school more than 10 years ago. From there, Hart climbed through the ranks rapidly: He was a first-team regular at Shrewsbury by 18, was signed by City and made his Premier League debut at 19 before loan spells at Tranmere and Blackpool.

Upon returning to City, he was a first-team regular for 18 months, becoming an England international. However, the arrival of Shay Given meant competition for his place at club level, and Hart was farmed out again, this time to Birmingham. After an excellent season, he returned to City and was immediately placed in the first team by Roberto Mancini, turning in a superb man-of-the-match display on the opening day of the 2010-11 season against Spurs.

Every step of the way, Hart was always pushed beyond expectations and always forced to impress immediately. The past couple of years have represented Hart's first period of real stability: no progression up the ranks, no challenge from behind. He's started every league game since returning from his Birmingham loan, and it's entirely possible that Hart has become a little complacent.

There is also a worry that Hart doesn't take criticism well. "I've heard the criticisms, I read the papers and I understand people are paid to express an opinion," he said earlier this year. "But when the experts have a go, I'm usually not particularly interested in what they have got to say. Criticism certainly doesn't affect my life." Again, there is a fine line between being bloody-minded and being ignorant.

In terms of technique, meanwhile, it is worrying that Hart has made mistakes in two ways: misjudging crosses and mishandling "savable" shots. It is interesting to revisit what Hart told the football magazine FourFourTwo about the art of claiming crosses. He believes a goalkeeper should "keep your eye on the ball while being aware of the opposition's challenges" and "arrive as late and as strong as possible, so you reach the ball at the height of your leap."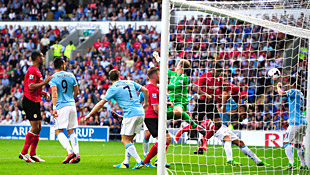 Stu Forster/Getty ImagesJoe Hart's errors come from ignoring his own advice. Against Cardiff, he lost sight of the ball and was too preoccupied with the nearby opponent.

His error against Cardiff at the weekend saw him ignoring his own advice, however -- he's too concerned with an opponent blocking him at the corner, doesn't pay enough attention to the ball and therefore doesn't leap high enough. He also made an error in a similar situation against Poland last year, punching fresh air when trying to clear a corner and allowing Kamil Glik to head home and cost England the victory.

More of Hart's errors have concerned basic shot-stopping, however. Believing that improving yourself as a goalkeeper is about "simplifying the game," Hart believes the most important part of saving shots on goal is about getting "set" as the player is striking the ball.

Again, Hart's mistakes often have been committed while contradicting his intentions. When conceding a late Cristiano Ronaldo winner at the Bernabeu last season, his footwork looked uncertain -- there's a mini-leap just as Ronaldo hits the ball, not taking him toward the flight of the shot but instead meaning his dive is delayed. As a result, he's slow to get down and block the shot. Similarly, when he conceded a long-range shot from former teammate Adam Johnson last season in a defeat at Sunderland, Hart didn't seem to be prepared for the shot, one that crept inside his near post after he was slow to get across.

There also have been simple handling errors -- he spilled Rickie Lambert's shot straight to Steven Davis in a 3-1 defeat at Southampton last season; allowed Andy Carroll's limp effort to squirm between his legs against West Ham; and succeeded only in helping James Morrison's drive into the net in England's 3-2 win over Scotland this month. On these occasions, Hart's body position and footwork have been fine; it's his reactions that were simply poor.

New City coach Manuel Pellegrini was forced to defend Hart following that Scotland error before Hart had even played a single game under him. Perhaps Hart owed some of his initial development to Pellegrini's predecessor, Roberto Mancini, whose goalkeeping coach, Massimo Battara, claims that "not many managers understand goalkeepers the way Mancini does," pointing to his development of Julio Cesar at Inter, too.

However, former assistant David Platt's recent revelation that he and Mancini had lined up Asmir Begovic for this season suggests even Mancini had started to question Hart's form.

Hart's relationship with Xabier Mancisidor, Manchester City's new goalkeeping coach, will be particularly vital. As Rory Smith notes when considering Pepe Reina's time at Liverpool, the departure of Liverpool goalkeeping coach Xavi Valero was a key reason for Reina's decline. Though not the most visible member of a coaching staff, a goalkeeping coach can have a huge influence upon a side.

Hart is now in a peculiar position -- criticised for being cocky just a year ago, he now appears to be lacking confidence.

"To go into a game wondering, 'What if I do this wrong?' is a terrible way to think," Hart said shortly before making his competitive England debut three years ago. All goalkeepers make mistakes, but thinking about errors simply produces more, and Hart must remain focused.