Tactics Board: Cazorla digs deep to boost Gunners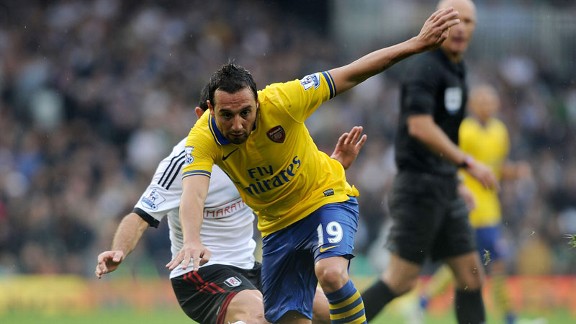 GettyImagesSanti Cazorla operated in a deeper role than usual against Fulham.
FULHAM 1-3 ARSENAL

Since signing for Arsenal last summer, Santi Cazorla has largely been deployed in two roles: either as the left-sided or central attacking midfielder in a 4-2-3-1 formation. At Craven Cottage, with Arsene Wenger lacking players accustomed to operating deeper, a change in shape resulted in slightly different duties.

With Jack Wilshere rested until the 70th minute and Mikel Arteta, Abou Diaby and Alex Oxlade-Chamberlain all injured, Wenger selected Aaron Ramsey alongside two men accustomed to playing as the No. 10 -- Cazorla and Tomas Rosicky. It meant that, to borrow a phrase Brendan Rodgers once used, he 'flipped the triangle' in midfield: instead of having one man at the tip and two at the base, it was the other way around.

The practical implications, however, were that Cazorla had more defensive duties and was in a more withdrawn role. For instance, he was on the verge of his six-yard box when Darren Bent scored Fulham's consolation goal.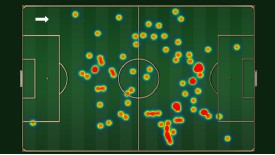 OtherSanti Cazorla played in a deeper role than usual.
His heat map shows Cazorla touched the ball in his own half more than normal.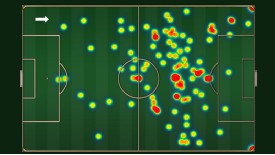 OtherCazorla's performance against West Ham last year was a more typically attacking display.
Compare it with his heat map from another 3-1 away win in London, at West Ham last October, where he operated as a No. 10, and it shows how much nearer his own goal he played.

As a more conventional central midfielder at Craven Cottage, Cazorla played 63 passes with a 94% success rate. Crucially, however, he was still able to create, being involved in both of Lukas Podolski's two goals. Some of his touches in the inside-right channel came after Wilshere replaced Rosicky and Cazorla moved across the triangle.

ASTON VILLA 0-1 LIVERPOOL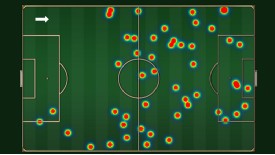 OtherDaniel Sturridge had an influence across the pitch.
Daniel Sturridge has been vocal about his desire to play as a striker and has scored both of Liverpool's games this season. However, he is not just playing as a centre-forward, as his performance at Villa Park shows.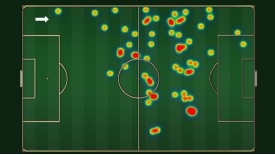 OtherPhillippe Coutinho often moves infield.
Many a lone forward will only operate within the width of the penalty area. In contrast, Sturridge is willing to get involved on both touchlines. In part, that is a sign of Rodgers' style of football. The Liverpool manager wants fluent football and for his attackers to be capable of interchanging. In Philippe Coutinho, who started on the left but who prefers to play as a No. 10, Liverpool have a creator who wanders infield, sometimes to take up the positions Sturridge has vacated, as his heat map shows.


OtherIago Aspas had little involvement in the Villa penalty area.
The problem at the moment for Liverpool, with Luis Suarez suspended, is that when Sturridge is not in the penalty box, neither is anyone else. A look at where Coutinho and Iago Aspas, who was deployed as the No. 10, appeared shows neither was really on the ball in the 18-yard area. It explains Rodgers' summer-long pursuit of players such as Henrikh Mkhitaryan and Diego Costa, who, while starting deeper, can get into goalscoring positions and would thus complement Sturridge.

CARDIFF CITY 3-2 MANCHESTER CITY

A meeting of two Cities was a tale of two right-backs. Indeed, in the job description, one of them was back rather than more than the other.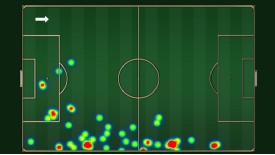 OtherMatthew Connolly was conservative in his attacking efforts.
Even though Cardiff were at home, Matthew Connolly was much the less adventurous. As his heat map shows, he hardly ever entered the final third. The number of touches in, or parallel to, his own penalty area is also an indication how deep Cardiff defended.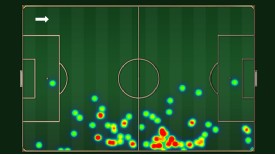 OtherPablo Zabaleta spent much of the game looking to score, rather than prevent, goals.
In contrast, Pablo Zabaleta operated much further forward. His heat map indicates he was on the ball more in the Cardiff half than the Manchester City half, was in possession near the opposition's corner flag and near the penalty spot, all in open play. Only one of Zabaleta's 72 touches came inside his own box: as he was marking Fraizer Campbell at corners, his side must wish he had got to the ball there on a further two occasions to prevent the Cardiff striker twice heading them in.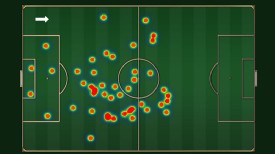 OtherGary Medel's focus was squarely on defence.
Manchester City manager Manuel Pellegrini accused Cardiff of playing with "ten men near their box". If that is not strictly true, an analysis of the influential central midfielder Gary Medel, who made three tackles, four interceptions and two clearances, suggests that, like Connolly, he did not venture into the final third of the pitch. The Chilean did not touch the ball more than about ten yards into the Manchester City half.