Marek Hamsik's creativity ideal for Rafa Benitez's Napoli revolution


It has been an exciting summer of coaching changes across Europe: The top seven favourites for the Champions League, the top three in England, the top two in Spain, plus the champions of France, Germany and Portugal all started 2013-14 with a new manager.

In Italy, somewhat surprisingly, it's been quieter. Of last season's top four, Juventus' Antonio Conte, Milan's Max Allegri and Fiorentina's Vincenzo Montella remain in their positions having performed extremely impressively, albeit in different ways, last season.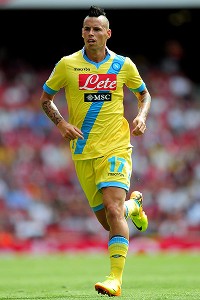 Jamie McDonald/Getty ImagesNapoli's Marek Hamsik created more goals than he scored for the first time last season.
If it's unusual to see few coaching changes amongst the top four in Serie A, it's particularly odd that Napoli are the exception. Previous coach Walter Mazzarri was the longest-serving coach in Serie A, but his departure led to the appointment of Rafael Benitez, back in Italy after a season at Chelsea, which was preceded by his disappointing period in charge of Inter.

Of all the major coaching changes across Europe, perhaps Benitez is set to embark upon the grandest revolution. So far, we've noted how David Moyes' approach has been broadly similar to that of Sir Alex Ferguson, how Pep Guardiola has still used flying wingers and a proper centre-forward, how Gerardo Martino still wants heavy pressing from Barcelona, how Jose Mourinho has stuck to the 4-2-3-1 Chelsea have played over the past couple of seasons. Benitez's approach, however, will differ completely from that of his predecessor.

Napoli were one of the most distinctive sides in Europe over the past three seasons, playing a counterattacking system featuring three centre-backs, flying wing-backs and a versatile front three. Benitez has a completely dissimilar approach and is set to introduce his template system: 4-2-3-1, defending in two banks of four, remaining compact and using genuine wide players. The transformation is enormous.

In conjunction with the change in strategy, Napoli also need a new leader. Not necessarily a leader in the old-fashioned sense, not an inspirational captain -- but instead a "technical leader," someone who Napoli can depend upon to inspire their attacking play. Edinson Cavani, last year's capocannoniere, was previously Napoli's key man -- and while his departure to PSG was followed swiftly by the signing of Gonzalo Higuain to play the centre-forward role, the Argentine doesn't quite have the same aura, the same character as Cavani.

Instead, Benitez's key player will be Marek Hamsik. After the departure of Ezequiel Lavezzi and Cavani to PSG in consecutive summers, Hamsik is the final piece of Napoli's terrific attacking trio remaining. Earlier this month, he signed a new contract, tying him to Napoli until 2018.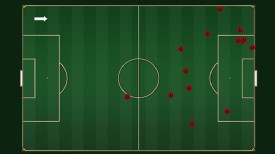 OtherScatter chart showing the position of Marek Hamsik's 14 assists during the 2012-13 Serie A season.
Until last season, Hamsik always appeared rather overrated. Immediately noticeable because of his haircut rather than his football, the Slovakian didn't offer the raw creativity needed from a man in that position, perhaps because Napoli played on the counterattack and therefore didn't require a neat midfielder capable of playing through-balls. He was famed for his energy and the timing of his runs into the penalty box, and he describes his best quality as "an eye for goal -- I'm drawn towards the goal, and I'm always looking for an opening."

Things changed last season, however, and Hamsik became a different player, a creative force. He topped the Serie A assist charts with 14, partly because he was afforded a greater, more prominent role in the side following Lavezzi's departure. In all competitions, he recorded an assist every 2.5 games, up from every 4.5 games the previous campaign. It was also the first season he created more goals than he scored.

Under Benitez, he should become even more pivotal. Throughout Napoli's preseason, he's been tremendous, driving the side forward like the Hamsik of old, yet providing the incision of last season. He was the standout performer at the Emirates Cup, providing an assist for a Goran Pandev goal with a clever, well-timed pass with the outside of his right foot.

"What's my ideal position? I just adapt, I really don't have a preference," Hamsik insisted. "I can operate in a three-man attack or just behind two front men. It's all fine by me."

The central attacking midfielder in a 4-2-3-1 is neither of those things, however, and that player has generally excelled in Benitez's teams. At Valencia he signed the wonderful Pablo Aimar before moving on to Liverpool, where (after a surprisingly long period) the manager realised Steven Gerrard was best placed at the top of a midfield triangle. Questioned about whether Hamsik can play the Gerrard role for Napoli, Benitez didn't reject the comparison.

More recently, Juan Mata had an outstanding campaign last season when fielded in his favoured, central No. 10 role by Benitez. Interestingly, the form of both Aimar and Gerrard dipped after they stopped playing for Benitez, while Mata seems unlikely to receive such support from Jose Mourinho.

The exception to the rule is Wesley Sneijder, who hated playing under the Spaniard at Inter and grumbled about his positional duties. "I got frustrated under Benitez ... he wanted me to play as a striker," Sneijder complained. In truth, however, Sneijder was using this as an excuse for his own underperformance -- he had played a similar role under Mourinho in the Champions League, and the acclaim he received for his 2010 World Cup was primarily because of his goal scoring.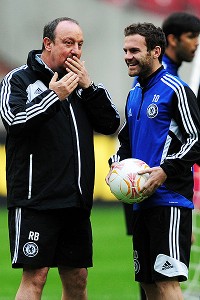 Jamie McDonald/Getty ImagesJuan Mata, who thrived in a central role under Rafa Benitez at Chelsea, isn't likely to get the same support with the manager gone.
There are a couple of interesting subplots as Hamsik becomes Napoli's key player. The first concerns whether he can play consistently well outside of Mazzarri's system. There's a sneaking suspicion that Mazzarri got the best out of individuals because they were perfectly suited to such an unusual formation, and, as mentioned 18 months ago, few Napoli players have replicated their Napoli form outside Mazzarri's structure. Lavezzi's poor displays for PSG and Christian Maggio's inability to play right back effectively for Italy, having grown accustomed to a wing-back role, have added to that impression.

The second is about the nature of Hamsik's No. 10 role: whether he plays more as a proper playmaker, or as a midfield driver. As previously discussed, Serie A has slightly fallen out of love with the No. 10 and currently prefers powerful, energetic attacking midfielders.

Either way, it will be fascinating to see Hamsik's development this season. His agent, Juraj Venglos, said earlier this week that "there is already a good understanding [between Hamsik and] Gonzalo Higuain" -- and with Jose Callejon and Dries Mertens attacking from the flanks, Hamsik finds himself with great responsibility in a side that should challenge for the title.