Oscar emerging as Chelsea's key player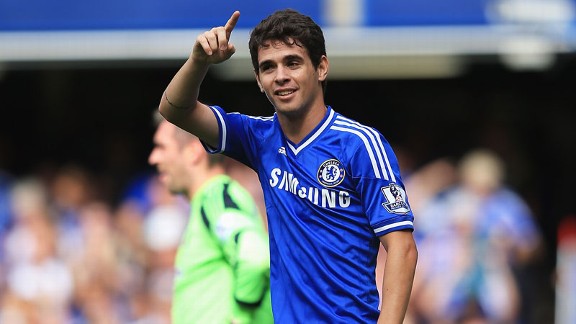 GettyImagesOscar opened the scoring for Chelsea against Hull.
There exists a strange paradox in the skill set of many No. 10s. They're placed in the centre of the pitch and instructed to act as their side's chief playmaker, yet the positional freedom that often comes with the role convinces the player he's beyond tactical instructions, and their ego becomes inflated. They cease to play with the selflessness that is fundamentally important for a playmaker, occasionally believing the rest of the side is a mere backing band.

- Worrall: Striking question remains

Oscar, however, doesn't remotely have these faults. An outstandingly gifted individual who was parachuted into the central creative role for both the European champions and imminent World Cup host Brazil upon his transfer to Chelsea last year, Oscar might be Europe's most selfless, responsible playmaker.

When watching a highly rated youngster for the first time, you inevitably start with preconceptions about his style based upon his name, position and nationality. You rather expect a young South American playmaker to be flashy but inconsistent, talented but prone to overindulgence. Oscar proves you wrong almost immediately. His work rate is particularly impressive -- he presses high up the pitch and tracks back to tackle in midfield. In his Champions League debut last year, he scored two fine strikes against Italian champions Juventus, yet also spent the majority of the game pressing Juve's deep-lying playmaker, Andrea Pirlo, denying him the chance to influence the game.

But it's not merely Oscar's ability to defend that makes him selfless –- it's what he does when his side has the ball. Many playmakers feel obliged to be involved in every move, to always be the man to play the killer pass. Perhaps that's understandable in some sides –- it's not uncommon to see a No. 10 playing in an Argentina 4-3-1-2, and him to be practically the only creative outlet in the side. In that situation, the No. 10 is necessarily omnipresent.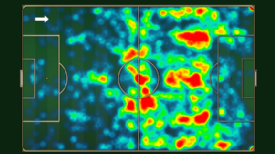 OtherOscar's Premier League touches show how he tries to influence the play from inside the opponents' half.
Such an approach isn't required for No. 10s in many top sides, however, and the interesting feature of Oscar's game is how he's entirely happy to facilitate attacks by not receiving possession. That was particularly obvious during Brazil's victorious Confederations Cup campaign in the summer, where he and centre forward Fred were the functional players in the middle of the pitch, designed to get the best out of the two stars on the flanks, Neymar and Hulk. Fred held the ball up and occupied centre backs, while Oscar would drift wide and allow the wingers inside. Neymar wouldn't have enjoyed such a fine tournament had Kaka or Ronaldinho played in the centre -- he needed someone to overlap, to cover, and to defer.

Oscar carried that form into the 2013-14 season with a superb opening-day performance against Hull City. Again, this is a side with many creative forces -- the major debate about Jose Mourinho's likely regular XI is about how many playmakers he'll be able to embrace simultaneously. Oscar didn't start every attack, or play every killer pass. Instead, his movement allowed others space and freedom.

Hull's performance was dreadful. Its manager, Steve Bruce, arrived with an air of resignation and he showed a peculiar deference to Mourinho -- laughing and joking with him during the game with his side 2-0 down, fawning over "The Special One" in his post-match news conference. During the game, he instructed midfielders Robbie Brady and Robert Koren, either side of the midfield trio, to press Frank Lampard and Ramires when they received the ball -- often scampering too high up the pitch.

This left David Meyler, playing at the base of the triangle, isolated against Oscar. In these situations, with the holding midfielder in a 4-3-3 up against a No. 10 in a 4-2-3-1, it's imperative the former isn't dragged out of position. The increasing popularity of a double pivot is because if one holder is drawn wide, the other can cover. Oscar's key job was to drift toward the flanks, bring Meyler away from his natural role, and leave a gaping hole in front of the defence.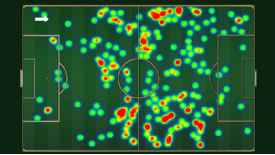 OtherOscar spent more time in wide positions with Brazil at the Confederations Cup.
There were three separate players who exploited that space. Lampard and Ramires were both given license to storm forward, often powering past their opponents on the way. Debutant Kevin De Bruyne started on the right but darted inside repeatedly, interchanging positions with Oscar. Chelsea had so much time on the ball in dangerous central positions early on -- it wasn't always Oscar playing the pass, but he was always indirectly responsible for the move, with his clever positioning. He opened the scoring by combining with De Bruyne and played some good through balls, but his main contribution was much more subtle.

It's no surprise that Mourinho clearly likes such a tactically disciplined playmaker, and it may be the case that Oscar, rather than Juan Mata, is this side's key attacking footballer. Mata was Chelsea's outstanding performer last season and prefers a central role, but Mourinho has outlined his intention to play Mata from the right because of his preference for a left-footed player on that side.

There's a nice balance among Mourinho's options in the attacking band of three behind the striker -- he possesses three direct alternatives in Eden Hazard, Andre Schurrle and Victor Moses, and three more patient creators in Mata, Oscar and De Bruyne, although the latter is probably the closest to a blend of the two concepts. Traditionally, Mourinho has favoured ruthless counterattacking players in that zone, and Schurrle's signing underlines his intention to continue with that approach, but this will be a calmer, more artistic side at times.

Of course, whether playing alongside direct players or creators, making space for others remains crucial. This is a side based on multiple playmakers rather than a prolific striker. By getting the best out of other playmakers primarily with his positioning rather than his personal invention, Oscar perhaps should be considered a facilitator rather than a pure creator.