Tactics Board: Welbeck work helps United to victory
SWANSEA 1-4 MANCHESTER UNITED

The most eye-catching element of Danny Welbeck's performance at Liberty Stadium was found on the score sheet. A player who only registered one Premier League goal last season got two on the opening day of this campaign.

Tactically, however, Welbeck's role extends far beyond scoring. Indeed, in both the Community Shield and the Premier League opener, he has been job-sharing with Ryan Giggs. They have been alternating, one playing on the left wing and the other operating just behind Robin van Persie, and then swapping.

Giggs was removed after 63 minutes and when he was replaced by Wayne Rooney, Welbeck moved to the left. While both were on the pitch together, however, they touched the ball in remarkably similar areas.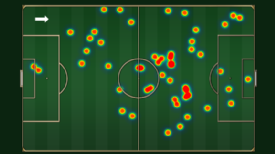 OtherDanny Welbeck's defensive duties are clearly shown on his heat map from the Swansea game.
Welbeck's heat map shows there were several occasions when he was near the left touchline in his own half, supporting left-back Patrice Evra, a concentration in a central striking area and one –- his first-half tap-in -– in Swansea's 6-yard box.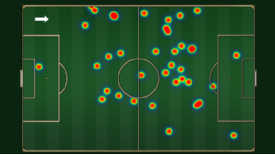 OtherRyan Giggs was able to play more advanced.
Giggs' heat map reveals he spent a little more time going forward on the left wing –- while Welbeck's younger legs were used to do some of his defensive duties -– and that he, too, spent much of his time in the No. 10 area, where he supplied the pass that led to van Persie's opener.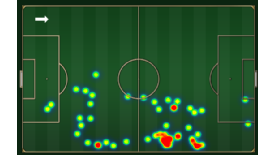 OtherAntonio Valencia spent most of the game hugging the right side of the Man United attack.
The contrast with United's multipurpose left winger, support strikers and attacking midfielders is provided by Antonio Valencia. His heat map shows the Ecuadorian operated as an orthodox right winger, never straying into the opposite half of the pitch.

ARSENAL 1-3 ASTON VILLA

In a 4-3-3 or 4-2-3-1 formation, Jack Wilshere can operate in any of the three central midfielder roles – as a No. 6, a No. 8 and a No. 10, or as the holding player, the box-to-box player or the man in the hole.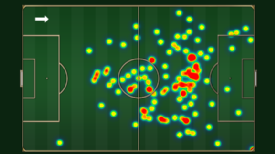 OtherJack Wilshere was used as an attacking influence against Aston Villa in February 2013.
In February's 2-1 win over Aston Villa at Emirates Stadium, Wilshere played as the most advanced of the trio, as his heat map shows.The red blobs show he saw a lot of the ball in a key position to create, around 10 yards outside the visitors' penalty area.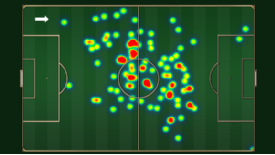 OtherJack Wilshere was forced to play in a more withdrawn role in Arsenal's season opener.
Then, however, Mikel Arteta was available to anchor the midfield. With the Spaniard injured, Wilshere played as the deepest of the trio in Saturday's 3-1 defeat to Villa. The fundamental difference is that Wilshere was involved a lot in his own half in Saturday's game but barely touched the ball in the final third.

Wilshere actually recorded a higher pass completion rate (92 percent) against Villa on Saturday but that was largely because he was operating further from goal.

CHELSEA 2-0 HULL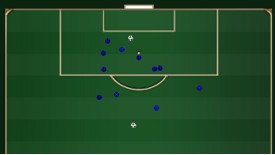 OtherChelsea shots v Hull, first 25 minutes.
It was no coincidence Chelsea's goals came in the first 25 minutes. They began the game at pace, subjecting Hull to a bombardment. As the diagram shows, they had 13 attempts at Allan McGregor's goal in that time. Five were from outside the box, indicating a willingness to shoot from long range. Frank Lampard was farthest out of all when he struck the free kick that doubled their lead.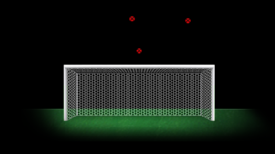 OtherKevin de Bruyne's shots v Hull.
Kevin de Bruyne was particularly happy to let fly from outside the box. In his impressive debut, the Belgian had three efforts from an average of 29.7 yards but, as the graphic illustrates, all were wayward.