West Ham tactic a cross to bear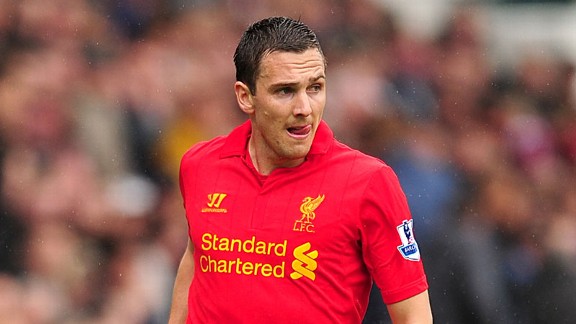 PA PhotosStewart Downing has been added to West Ham's armoury of cross-laden players.
The raw statistics tell an alarming story - in 2011/12, the Premier League player who created the most chances without registering an assist was Liverpool's Stewart Downing. In 2012/13, that 'honour' fell to West Ham United's Matthew Jarvis. Between them, in those respective seasons, they created over 100 chances without making a goal.

• Thorne: For now, being middle men will do
• Cox: AVB, Rodgers require strong second wind

The common theme, of course, was Andy Carroll. There's no point using a 6-foot-3 striker famed for his aerial ability if you're not launching crosses towards him - but by combining Jarvis, Downing and Carroll at West Ham next season, Sam Allardyce is taking a significant risk given the previous underperformance of those two crosser-header combinations.

Granted, Carroll wasn't responsible for spurning all 100 of those chances, but it remains a troublesome statistic. There's no secret about why Downing has been signed - "Stewart will be able to produce the kind of ball we need," says Allardyce. "He'll have the opportunity to cross the ball, just as he did at Aston Villa."

Allardyce famously uses statistics more than most other managers - indeed, upon Downing's unveiling he pointed to (unspecified) performance measures. "If you look at his technical and physical stats, it puts him right up there among the top players we have at the club," he boasted. It's almost unthinkable that Allardyce wouldn't be aware of Downing and Jarvis' statistical ducks when playing with Carroll, but he's clearly focused upon different figures.

Jarvis and Downing are predominantly crossers, of course, and Allardyce pays particular attention to the number of crosses his side attempt in each match. In the frustrating 1-1 home draw to Queens Park Rangers in January, for example, he used that measure as evidence of his side's dominance. "46 crosses - it just never stopped," he said. "But only one goal, which I have to say isn't good enough."

On that day, Joe Cole crossed the ball 22 times, Jarvis 21 times, and right-back Guy Demel six times. Interestingly, left-back Joey O'Brien didn't contribute at all, despite West Ham's dominance, which demonstrates why Allardyce has strengthened in that position with the signing of a proper, left-footed attacking full-back, Razvan Rat.

Anyway, while Allardyce also cited how many shots West Ham had attempted, and how many were on target, the truth is that crossing remains an extremely unreliable method of scoring goals. Managing just one goal from 46 crosses is a particularly bad example, but there's an increasing feeling that basing a side predominantly around whipping the ball in from wide isn't particularly fruitful.

A particularly amusing illustration was provided last season from an unlikely source - a Hamburg training drill. The wingers cross from wide areas, the strikers had to convert the deliveries. The video is a curious watch - although the strikers score after three crosses, the players then attempt no fewer than 39 crosses without success. What makes it particularly troublesome, however, is that there are no defenders to stop the crosses, challenge for the aerial balls, or block the shots. Even without any outfield opponents, Hamburg could barely muster a goal.

That is anecdotal, humorous evidence from a non-competitive environment, but match data involving crossing isn't particularly promising either. Although the statistics clearly vary hugely between players (and, of course, assembling a side featuring dedicated crossers and aerial specialists is likely to be more rewarding) the average cross completion rate is just over 20 percent.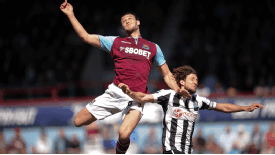 GettyImagesAndy Carroll can expect another season of challenging for high balls.
Research by Mark Taylor, who runs an excellent blog looking at various statistical parts of football, reveals what happens when the crosses reach their intended target. Taylor measured the distance headers were attempted from, then calculated how often those headers found the target. The graph makes for interesting reading - if you attempt a header from 10 yards, there's only around a 40 percent chance of it being on target.

Taylor's research also revealed the likelihood of a goal being scored from headers. There's an amazing drop-off between headed attempts from four yards (over 50 percent likely to score a goal) and eight yards (only around 10 percent likely to score a goal). From 10 yards, it seems there is only around a 5 percent chance of a header ending up in the net.

If it takes 20 headed attempts to score a goal from 10 yards, and roughly five crosses to find a teammate in the box from a cross, theoretically it will be 100 crosses before a goal is scored in this situation.

Again, this assumes the attempt is with a header, from 10 yards. Many chances with be from closer range, and some will be struck with the foot, rather than the head. Occasionally there will be an own goal from a cross (this happened when West Ham played Liverpool last season - Steven Gerrard headed in a Jarvis cross, which amusingly means Jarvis has set up an opponent more frequently than a teammate for West Ham), and sometimes a cross will sneak into the goal itself, as Jarvis managed against Wigan. Nevertheless, it becomes increasingly clear to see how West Ham can cross the ball 46 times in one game, yet register only one goal.

A lengthier analysis by Jan Vecer comes to a similar conclusion - he believes that "only one open play cross out of 91.47 leads to a goal."

A more positive angle for West Ham, however, comes when you introduce Kevin Nolan as the third key player, after the crosser and the target man. The West Ham midfielder has a fine relationship with Carroll, thriving on his knock-downs.

Another interesting blogger on football statistics, Colin Trainor, analysed data last season and discovered that Nolan's 78 shots were taken from, on average, closer range than any other major Premier League player. He reached double figures last season - only Marouane Fellaini, Santi Cazorla, Juan Mata and Frank Lampard also achieved this from midfield.

Nolan's shot conversion rate was actually quite low last season, but by having so many attempts per game, from such a close range, he's seemingly guaranteed a few goals. At Bolton, Allardyce tried to find the most frequent positions of the 'second ball' - and Nolan, one of his players from those days, remains a master of it.

It would be foolish to form a solid conclusion about West Ham's conclusion based upon small pieces of research from various sources, plus a touch of simplification and assumption. A personal inkling is that Allardyce will guide the club to a comfortable upper-half finish, despite the statistical problems with his likely approach.

Nevertheless, with a stat-obsessed manager, a very obvious strategy based around one key feature of football, the increasing availability of football statistics and the presence of some genuinely excellent independent number-crunchers, West Ham's 2013/14 will be fascinating for those interested in football's statistical revolution.