Andre Villas-Boas, Brendan Rodgers require strong second wind
With the top three clubs simultaneously appointing new managers -- the first time this has happened in the Premier League era -- there has inevitably been plenty of focus upon David Moyes, Manuel Pellegrini and Jose Mourinho ahead of the new campaign. Equally intriguing, however, will be the performances of two managers beginning their second season in charge of major clubs.

Both Andre Villas-Boas and Brendan Rodgers have grander expectations the second time around. Perhaps it's evidence of Mourinho's significant impact upon English football that he returns to find three of the five clubs that finished directly behind Chelsea last season (Spurs, Liverpool and Steve Clarke's West Brom) coached by men who were mere subordinates to Mourinho when he left in 2007.

While Clarke will strive to avoid "second season syndrome" after a promising debut Premier League campaign, Villas-Boas and Rodgers both have an obligation to improve upon last season's performance. Each frequently referred to his job as a long-term "project" last season -- now, we must see tangible progress.

The coaches

Villas-Boas and Rodgers are somewhat similar. In addition to their shared history under Mourinho, they're both young, lack significant playing experience, are studious and media-friendly and have a defined, unwavering visualisation of their ideal football -- they're template managers, happy to apply the same philosophy at various clubs.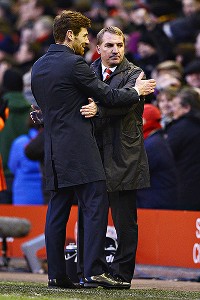 Michael Regan/Getty ImagesOf the two managers, Andre Villas-Boas is under more pressure to deliver in his second season than Brendan Rodgers
They experienced similar debut campaigns: decent in the league, disappointed to finish just behind their main rivals, promising but ultimately underwhelming in Europe, and embarrassed by lower-league opposition in the FA Cup.

Both can also legitimately claim their squad was somewhat inadequate at the beginning of last season. This summer has been about strengthening the squad with players who suit their respective playing styles, although both coaches are nervous about losing their star player before the end of the transfer window.

The transition seasons

Spurs and Liverpool started last season poorly -- Spurs failing to win their first three, Liverpool their first five. Both recovered impressively, but neither squad was in shape for the preferences of their new manager.

Villas-Boas is a 4-3-3 man but lacked the midfield options to play that formation. Instead, he settled for a 4-2-3-1 system but found neither Clint Dempsey nor Gylfi Sigurdsson perfect for the No. 10 -- and then even experimented with a 4-4-2 system featuring Emmanuel Adebayor and Jermain Defoe up front together. The January arrival of Lewis Holtby improved things, as did Gareth Bale's increasing prominence centrally.

Liverpool, too, started last season without the appropriate tools in attacking positions. The failed bid for Dempsey (which, in hindsight, might have turned out nicely) plus Fabio Borini's bad form and Andy Carroll's departure left Rodgers with few forward options. Suso was briefly a regular despite appearing many years away from being ready, while Raheem Sterling was fast-tracked into the first team when he needed to be eased in.

The January arrivals of Coutinho and Daniel Sturridge provided Liverpool with a playmaker capable of playing through-balls, and a pacey striker to sprint onto them. Liverpool's increased efficiency in attacking positions was primarily a result of their introduction, rather than an increased understanding of Rodgers' philosophy.

The projects

The situation at Spurs is particularly interesting, for we've yet to actually experience an "Andre Villas-Boas Second Season" -- he stayed at both Academica and Porto for just a single season, then was dismissed midway through his sole campaign at Chelsea.

"It was the owner who dismissed me and the owner who decided to cut short the project," Villas-Boas recounted at his Spurs unveiling. However, the reality is that Villas-Boas has yet to demonstrate a capacity for improving the fortunes of a club in the long-term. It will be interesting to see whether his preference for high-energy, fast-tempo football is sustainable into a second season -- whereas Rodgers emphasises the importance of possession, Villas-Boas is all about verticality and penetration.

That means Spurs lose the ball more frequently, and without possession, Villas-Boas wants his players to close down energetically and use a high defensive line. Such an approach is mentally and physically exhausting, as Marcelo Bielsa experienced at Athletic Bilbao. Villas-Boas is not quite such an ideologue and has adjusted his pre-determined strategy after the failure at Chelsea, but his philosophy might be best suited to a short-term impact.

Rodgers had a lengthier spell in charge of Swansea City -- guiding them to promotion via the playoffs, then finishing in the top half in the Jacks' debut Premier League season.
However, many would argue that the "project" at Swansea started earlier, with Kenny Jackett and Roberto Martinez. Their success owed much to various men -- Rodgers was effectively the striker who got his name on the score sheet, when the central midfielders had started the move and the wingers had created the opportunity. That shouldn't diminish Rodgers' achievements at Swansea -- there's no question that he performed his role excellently -- but he wasn't actually the instigator of their footballing style.

"It is going to take time to build and create an identity again," Rodgers said early last season -- but it's worth remembering that this, in itself, is a new experience for him.

The transfer business

Now there are no excuses for either manager. Given a second summer of recruitment, both have the right tools to play their desired style of football. Spurs signed the three immediate players Villas-Boas lacked for a 4-3-3 -- an energetic, forward-thinking midfielder in Paulinho, an outside forward in Nacer Chadli and a natural lone striker in Roberto Soldado. Etienne Capoue is another physical central midfielder, also capable of deputising at the back in a high defensive line.

Rodgers, meanwhile, has replaced Pepe Reina and Jamie Carragher with Simon Mignolet and Kolo Toure -- roughly a like-for-like swap in terms of ability, although certainly a downgrade in terms of leadership. Further forward, Liverpool have lost the services of Jonjo Shelvey, Stewart Downing and Carroll (permanently) who represented the rather more rudimentary approach favoured by predecessor Kenny Dalglish.

Newcomers Iago Aspas and Luis Alberto aren't guaranteed successes, but they're exactly what Rodgers desires -- versatile, technical and mobile. Along with Suarez, Borini, Sturridge, Coutinho and Sterling, Rodgers now has seven talented attackers, five of whom he has signed himself. He can hardly claim the attacking section of his side isn't ready.

Clearly, both managers' preparation for the new season has been dominated by talk of their star player departing. For second-tier clubs like Spurs and Liverpool -- those attempting to break into the Champions League elite -- selling a star player can be beneficial, if the money is reinvested in strengthening the squad as a whole. By this stage of the transfer window, however, there are fewer replacements to choose from, and it means beginning the campaign with a side lacking cohesion.

The expectations

Both clubs desire Champions League qualification, but Villas-Boas' task is more immediate -- after all, his predecessor, Harry Redknapp, guided the side to fourth in his final season. It will be a tricky task should Bale depart, but Spurs finished only one point behind Arsenal last season -- and with Arsene Wenger's side yet to strengthen and Spurs making some impressive signings, Villas-Boas must deliver if Bale remains.

Rodgers doesn't have an obligation to finish in the top four just yet, but a repeat of last season's finish of seventh would be unacceptable. The reward for finishing fifth or sixth is questionable given most British clubs' reluctance to take the Europa League, but Liverpool must demonstrate progress in terms of the league table, rather than merely in their style.