Pep Guardiola will live under Bayern microscope
Two months on, it's worth remembering how staggeringly successful Bayern Munich were in the 2012-13 season.

Not only did they complete the treble, they won the Bundesliga in astonishingly convincing fashion -- with more points than any other side in history; biggest points gap; most wins; fewest losses; fewest goals conceded; and the best goal differential in history. Furthermore, by virtue of being handed an opening-day fixture against the hapless Greuther Furth, they topped the table from the first weekend until the last. It was an unprecedented campaign of dominance.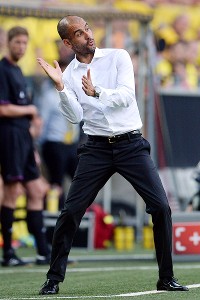 Patrik Stollarz/Getty ImagesPep Guardiola finds himself in a situation at Bayern where anything short of greatness will be considered a failure.
So what did Bayern do? Well, they replaced their manager. Granted, Pep Guardiola's appointment was revealed halfway through, before the extent of Bayern's success was obvious -- and yes, Jupp Heynckes' contract was ending. Still, the fact remains that Heynckes was keen to continue, and Bayern actively decided to replace him at the end of the most successful campaign in their history.

Guardiola, of course, is a world-renowned coach who achieved extraordinary success in his first campaign at Barcelona. He eventually won two European Cups and three league titles, enabled Lionel Messi to become the best player of his generation and helped to evolve modern football -- inspiring coaches and players across Europe, including (indirectly) the Bayern players he's now coaching.

A treble-winning coach is taking charge of a treble-winning side -- you almost certainly know those two parts of the equation. The result? No manager in the history of football has such lofty expectations.

Furthermore, Bayern have recruited extremely aggressively during the summer transfer window. The manner in which they nabbed Mario Goetze from Dortmund -- and sniffed around his partner Robert Lewandowski, too -- suggested a brash arrogance about Bayern. There's nothing fundamentally dishonest or inappropriate in their dealings: This is a basic part of professional football, and Bayern snapping up Germany's best youngsters is anything but a recent development. Nevertheless, so dramatically weakening their key domestic rival means Bayern's title victory should be a formality.

Bayern are currently favourites for the Champions League, with Barcelona their closest rivals. So Bayern goes about and purchases Thiago Alcantara from Barcelona, again via a clause in the player's contract (and with Guardiola's brother acting as Alcantara's agent). Bayern were purposeful in leaving their mark. We beat you 7-0, we've appointed your old manager, and we're snapping up your most promising recent La Masia graduate. It is quite a statement.

Those three reasons -- best side in Europe, ultra-successful new coach, recruiting from main rivals -- means every small thing Guardiola does will be scrutinised, analysed and criticised.

That's why, for example, the Super Cup defeat to Dortmund was not entirely excusable. OK, for anyone else it's a preseason game, a showcase event, something not entirely meaningful. But Bayern wouldn't have lost that game to Dortmund under Heynckes, having consistently triumphed over Dortmund throughout his final season in charge. Guardiola's methods temporarily made Bayern a weaker side, which is entirely natural whenever a new coach takes over, with different beliefs and innovative ideas. There's little doubt Bayern's players will adapt, improve and eventually grow into an excellent side -- but with these expectations, and with the modern-day insistence upon immediate success, early questions are natural.

There's been an abundance of speculation about Guardiola's potential tactics at Bayern -- whether he'll play midfielders in the centre of defence again, whether he'll attempt to replicate his strikerless system with a "false nine," to what extent Bayern will press. The continued experiment with Philipp Lahm in midfield throughout preseason also has been interesting. However, such detailed conjecture remains relatively pointless until Bayern actually play a competitive fixture.

Guardiola's key decision is much more basic, and revolves around how reactive and variable he wants to be. At Barcelona, Guardiola's overall philosophy remained intact from game to game, but he was always modest enough to assess the opposition's strengths and weaknesses, varying small things from game to game. For instance, during a 5-0 win over Sevilla he once pushed Dani Alves even higher up the pitch than usual, asking Sergio Busquets to cover -- he spotted a weakness down that flank, and Barca dominated down the right. He would move Xavi Hernandez higher, or push Andres Iniesta wider, tell Busquets to drop into the centre of defence more or give his centre-backs greater freedom to swap sides. There was consistency in the basics but variation in the small details.

Last season's Bayern, while borrowing Barca's obsession with ball retention, were more flexible on a broader level. When the two clubs were drawn together in the Champions League semifinal, many wondered whether Barcelona would finally record less than 50 percent possession in a game. In the end, the debate was irrelevant -- Bayern may have been posting Barcelona-style passing statistics throughout the season, but they realised their comparative advantage wasn't in terms of passing, but in terms of physicality, counterattacking and set pieces.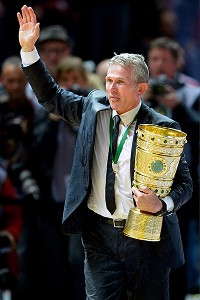 Getty ImagesJupp Heynckes, who left after the most successful campaign in Bayern's history, likely wouldn't have struggled against Dortmund in the preseason.
The defining moments of the contests were how Javi Martinez bullied Iniesta off the ball, how Franck Ribery and Arjen Robben counterattacked down the flanks, how Bayern's tall players overpowered Barca at set pieces. They didn't beat Barcelona at their own game -- it was just the standard approach for exploiting their weaknesses, achieved with remarkable fluency.

Guardiola never had those options at Barcelona -- he never had traditional wingers like Ribery and Robben, rarely had height in the side, and aside from the failed Zlatan Ibrahimovic experiment, rarely had a typical No. 9, either. If Bayern face Barcelona again in the European Cup, would Guardiola play the same way Heynckes did? Or would he attempt to outpass his former side?

Essentially, Guardiola has to find a balance between two approaches -- his core footballing beliefs and a more variable strategy that Bayern are accustomed to. It's a key decision -- most new coaches at top European clubs are expected to merely win trophies, but this unparalleled situation means Guardiola is expected to turn Bayern into one of the all-time great sides.