Steven Gerrard's Liverpool legacy intact, but one regret looms
It may be a fortnight before the new Premier League season begins, but Anfield will be a sellout this weekend. The occasion? Steven Gerrard's testimonial -- Liverpool probably could have sold out the stadium twice over for the contest against Greek champions Olympiakos, such is the enthusiasm for the Reds' long-serving captain, both within Merseyside and from Liverpool's legions of supporters across the globe.

The original point of a testimonial has rather been eroded in the age of multimillion-pound contracts, and Gerrard -- like many others -- is donating the proceeds to charity. A testimonial is now almost solely about paying tribute to a club legend. But what, precisely, will Gerrard's legacy be once he's retired?

First, and somewhat obviously, he'll be remembered primarily as a Liverpool player. Gerrard's personal link with Liverpool Football Club is extraordinary: One of his cousins, Jon-Paul Gilhooley, was the youngest of the 96 Hillsborough victims in 1989, when Gerrard was just eight. The disaster claimed so many lives that surely every Liverpudlian knows someone who was affected, but for Liverpool's captain of 10 years to be personally related to one of the victims is remarkable, and particularly poignant when he has supported the Hillsborough campaigners in their long fight for justice.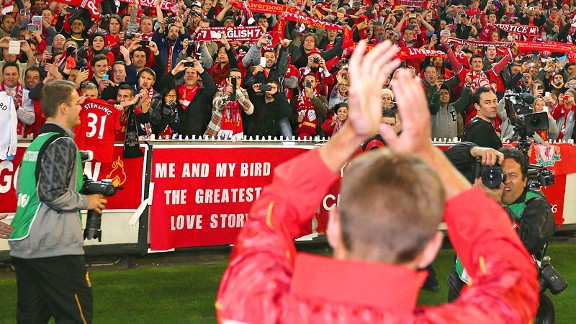 Michael Dodge/Getty ImagesSteven Gerrard will remain a Liverpool player through and through, having earned the adulation of fans worldwide.
Gerrard has spoken of how "seeing the reactions of [Jon-Paul's] mum, dad and family helped me drive on to become the player I have developed into." In the age of foreign owners and multinational starting XIs, his personal link to the tragedy is a throwback to when clubs were local, community organisations, and the supporters having "one of their own" as captain continues to be extremely meaningful. Having become captain at 23 and spent his entire career at the club -- it seems unlikely he'll move elsewhere before he retires -- Gerrard and Liverpool have become synonymous with one other.

Second, Gerrard will be remembered as one of the greatest "big-game" footballers of recent years. He's the only man to have scored in the finals of the European Cup, UEFA Cup, FA Cup and League Cup, and his most outstanding single quality has been his extraordinary, superhuman ability to inspire his teammates at the most crucial moments.

His performance in the 2005 Champions League final, more than Milan's drop in performance or Rafael Benitez's tactical switches, was the reason Liverpool recorded the most unlikely European Cup final in history, while a year later his incredible 30-yard strike rescued the FA Cup final -- Liverpool eventually won on penalties. (Of course, Gerrard had already scored in the final and assisted Liverpool's other goal.) Realistically, Liverpool were outplayed against both Milan and West Ham, but Gerrard's self-belief, determination and natural leadership qualities resulted in the two major trophies Benitez won in his Liverpool spell.

Third, Gerrard was an amazingly complete footballer at his peak. These days he's matured into a calmer, more reserved passing midfielder, but in the middle of the last decade, arguably no other footballer could claim to be such a genuine all-rounder. He could pass, shoot, tackle, head and cross; he had pace, stamina and strength. By 2005, when Gerrard was named as one of Europe's three best footballers, arguably only Juventus' Gianluca Zambrotta could compete in such a range of technical and physical footballing characteristics.

It may be true, as Arrigo Sacchi once said, that Gerrard lacks "knowing-how-to-play football" in a tactical sense, and his versatility and evolution into a more attacking player created a strategic riddle various Liverpool managers took too long to solve. Nevertheless, in terms of the raw ingredients that create an excellent footballer, Gerrard ticked every box.

Finally, however, there's one negative legacy -- Gerrard has never won a league title. To focus upon such a shortcoming ahead of his testimonial may seem rather uncharitable, but the fact remains: This is one of the greatest footballers never to be crowned league champion. Gerrard risks being seen what Jimmy White is to snooker, what Gilles Villeneuve is to Formula One, what Colin Montgomerie is to golf.

No other player since Gary Lineker has been voted as one of the top three players in Europe yet never won a league medal. Only Jamie Carragher has played more games for Liverpool without winning English football's greatest honour, and no other player in history has lifted the European Cup as captain without winning at least one domestic title.

He would almost certainly have triumphed had he left Liverpool after the 2005 European Cup victory -- coming eight years into Gerrard's 16-year spell as a professional so far, the midway point of his career was also his peak. That would have been the optimum time to leave, and with Jose Mourinho's Chelsea calling, Gerrard publically announced he was set to depart, only to quickly revise his decision and sign a new contract.

"It will be a miracle if I now realise my dream of winning the title with Liverpool," he said in his autobiography, "My Liverpool Story." "Because of my age and where we finished in the league the past couple of years ... it'll be a miracle if we win the title before I finish." Gerrard will console himself with the unwavering admiration and support of one of England's biggest clubs, but even he is preparing for a frustrating, unfulfilled finale to his playing days.

Perhaps Gerrard is comparable to Roma's Francesco Totti -- the trequartista was captain at 21, spent an entire career with his boyhood side despite the advances of other clubs, and repeatedly outlined his faith in staying loyal rather than moving elsewhere for medals. "A league title won in Rome," Totti once said, "is equivalent to 10 won anywhere else." By his mathematics, Totti's 2001 title takes him into double figures, more than he could have won elsewhere -- but the multiplication doesn't help Gerrard's zero.

Sadly, Liverpool are now further away from winning the title than at any point in Gerrard's career. Their average league finish of seventh over the past four years is the Reds' worst run of form since they were promoted back to England's top division in the early 1960s. Breaking into the top four remains an outside objective, yet they'll surely have to reach that level first before they can re-invest, push on and mount another serious title challenge.

When Carragher retired this summer, he predictably opined that his biggest regret was not winning the league title, although he was always destined to spend his career at Liverpool, regardless. "I never really had the option to leave -- I don't know whether it was a good thing or bad thing," he joked. "Maybe no one rates me!"

But everybody rated Gerrard, and while there was a sense of helplessness about Carragher's quest to win a league title, Gerrard has that nagging feeling of half-regret that he could have moved elsewhere -- not necessarily to Chelsea, but perhaps to a continental side -- and completed his trophy haul.

The game's not up yet, of course. Bryan Robson -- whom Gerrard has often been likened to -- failed to win a league title in his first 11 years at Manchester United, then won two consecutively in his final two seasons at the club as he was winding down his playing career. Besides, there have been other legendary English players who retired without a league medal -- Bobby Moore, Jimmy Greaves and Gary Lineker.

However, Gerrard is the greatest footballer of this century never to win a league title. With loyalty an increasingly endangered concept in modern football, and title challengers hoovering up promising young talent quickly, that unwanted status may stand for a good few decades -- but it will only contribute, in its own way, to underlining Gerrard's amazing faith in his football club.