Modric too good to be part-exchange sweetener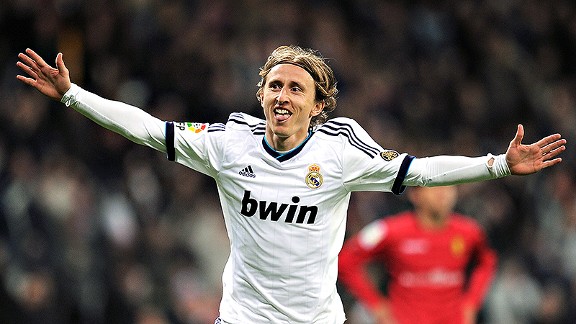 Denis Doyle/Getty ImagesLuka Modric had a better pass completion rate (87.7%) than Xabi Alonso (83%) at Real Madrid last season.
The off season is a time of desperation for the football section of newspapers. So much space is dedicated to a topic about which there is so little to write for three months every year. That desperation might indeed explain the emergence of rumours that Luka Modric could be on his way back to Tottenham, used as a makeweight in any move Gareth Bale is supposedly craving to Real Madrid.

Modric would be a fantastic consolation prize for Spurs if it were to happen. The fans adore him. When he left a year ago he was more important to Tottenham than the now €145 million-rated Bale and while Mousa Dembele did much to ease the pain of the Croatian's departure, there is still a Modric-shaped whole in the heart of their midfield. Tottenham would love to have him back at White Hart Lane, even with Paulinho's arrival this summer, but the truth is there is little chance of him moving. Not only would Modric himself be wholly unlikely to agree to return to the club he engineered a move away from, but Madrid too have little reason to be looking to get rid.

- Spurs want Modric in Bale deal - report

Back in December, Modric - along with Alex Song - was voted by readers of Marca as the worst signing of the season in La Liga; something of a tough appraisal after only a few months in the Spanish capital at one of the world's biggest and most daunting clubs. It is hardly unusual for a player to take time to settle in at a new club. Take Gonzalo Higuain and Karim Benzema for example. The former scored just two goals in 19 appearances in his debut season in the white of Real Madrid, before going on to net eight in 25 games the following season and 22 in 34 the year after. Benzema, too, did not do as well in his first season as he did in subsequent campaigns; he scored eight goals in 2009/10, 15 in 2010/11 and 21 in 2011/12.

So was it really a surprise the Modric was not an instant hit at the Bernabeu? Not really. And there is most certainly reason to believe he will come good. There have been plenty of signs in the past six months alone; his WhoScored rating in the first half of the season of 7.08 increased to 7.22 in the second half as he began to establish a more important role for himself in the first eleven.

That is exactly what he had at Tottenham and he thrived. With an average rating of 7.57 he was the third best player in the Premier League in his final season there, behind Wayne Rooney and Robin van Persie. Only David Silva and Juan Mata created more chances than the Croatia international (96), whilst he completed more passes (2215) than any other player in the league and ranked in the top 20 for attempts on goal (83). Given the freedom to roam the pitch, there are few better creative central midfielders around than Modric.

In the 4-2-3-1 formation under Mourinho, many would have thought his best position would be behind the striker, but in fact he is at his best collecting the ball from the back four and bringing play forward, thus being able to dictate the pace of the game from deep. As he moves forward, he needs a holding midfielder to sit behind him and maintain defensive cover, but he does enough defensive work himself to justify a deeper role.

In the recent friendly win over Paris Saint Germain, Carlo Ancelotti deployed Modric alongside Sami Khedira in the double pivot, with Mesut Ozil ahead of them. Modric excelled, comfortable in this role and controlling the game for long periods. The question for him now remains whether he can displace Xabi Alonso in the new manager's starting line-up.

The Spaniard was the only Real Madrid player to complete a pass more often (every 84 seconds) in La Liga last season than Modric, who did so every 98 seconds. However, Alonso also misplaced passes more frequently, maintaining a success rate of 83% compared to Modric's 87.7%, which was the second highest such rate in the squad behind Michael Essien (88.5%). Both stats are particularly impressive given that eight of the Croatians' 33 appearances came from the bench. It is often difficult to quickly adapt to the pace of the game as a substitute and Modric's passing stats would probably be even better if he were given more opportunities from the start.

The Bernabeu side are a carefully constructed goal machine, though, and that is where Modric is lacking. He was responsible for only three goals and three assists of Madrid's 103 league goals this season; even Kaka, who started only 12 games contributed to more goals (three goals, four assists). Of course he is a more attack-minded player, but given the creative capabilities of the diminutive Modric, it would not be harsh to expect slightly greater return in front of goal.

That said, his value in the team does not go unnoticed. He is the fulcrum of just about everything teams he plays in do, and certainly has the ability to be that man at Real Madrid. Given increasing amounts of game time there is reason to believe he will be. Tottenham, meanwhile, can only dream of getting Modric back any time soon.

All statistics courtesy of WhoScored.com, where you can find more stats, including live in-game data and unique player and team ratings.